Celebrating fall with dessert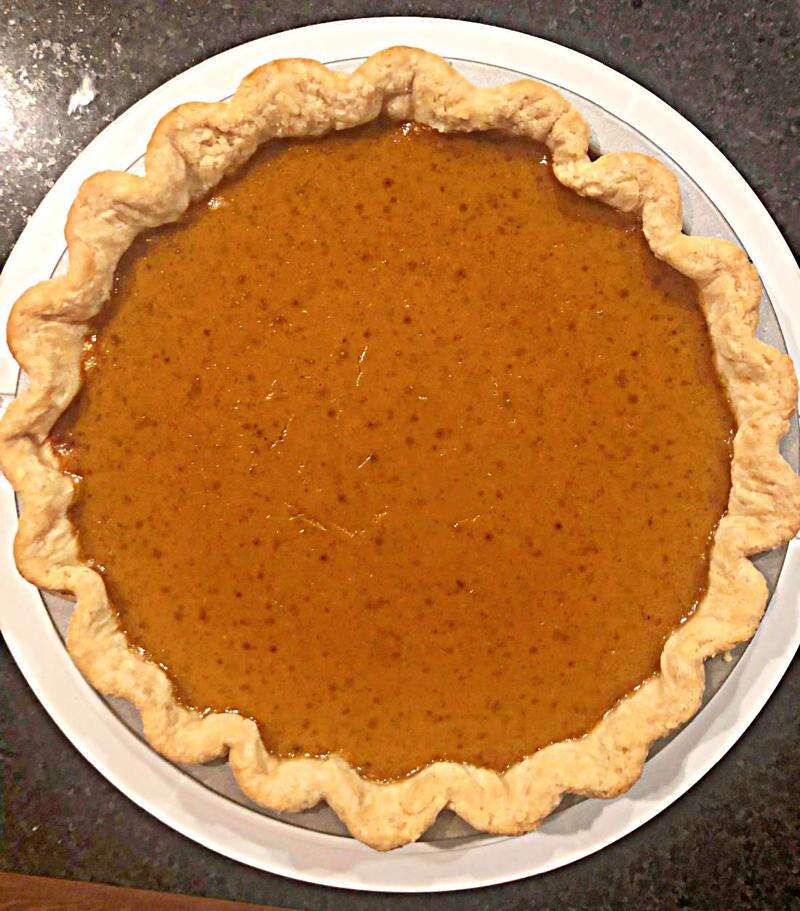 Published October 20. 2021 12:33PM
With the holidays coming, why not practice your desserts now, right? What better way to celebrate fall, a special weekend event and then on to Thanksgiving than with a homemade pie.
Little honey-nut squash are so sweet, delicious and wonderful for making homemade pies. They are easy to find at your local farm stand or in a neighborhood grocery store. I am finding that honey-nut squash is getting easier and easier to find in the fall.
The crust recipe is for two bottom crusts for two pies. You can make two pies now and double the filling ingredients or you can freeze one crust and leftover squash puree for later use.
From bringing the squash home, to roasting and processing them, honey-nut squash are fall gems that make the most wonderfully delicious pies. If you are short on time, buy a pie crust and make my squash puree filling. Just simply have fun with this recipe.
Honey-nut squash pie
Pie crust
2¾ cups all-purpose flour
1 tablespoon sugar
½ teaspoon salt
¼ cup vegetable shortening; cold from the refrigerator
1½ sticks unsalted butter; cold from the refrigerator
8-10 tablespoons water
In a large bowl, place your flour, sugar and salt. Cover with plastic wrap and store in the refrigerator until chilled. Put your food processor bowl and the blade in the refrigerator, too, to get them cold.
After these items are cold, add your flour to the food processor bowl with the sugar and the salt. Process the ingredients for a few seconds. Add the cold shortening and the butter. Pulse until the butter is about the size of large peas.
While pulsing the machine, gradually pulse in the water until all the water is combined. Your dough should slightly come together but not completely.
Remove the crust from the processor bowl and place it onto an un-floured clean work surface. Fold the dough over a few times to make one large section of dough.
Divide your dough in half and place each half onto a piece of plastic wrap. Working the crust with the plastic wrap, form each section of crust into a disc.
Cover each disc with the plastic wrap and store in the refrigerator overnight.
When ready to bake your crust, preheat your oven to 425 degrees Fahrenheit. Set out your pie dough for five minutes.
Roll out your pie crusts, one at a time, still pretty cold, to fit 9-inch pie pans.
Place your rolled-out pie crusts into your pie pans and crimp the edges to your liking. Place one of the ready-to-bake crusts into the refrigerator for about 15 minutes or even overnight (covered). Place the other pie crust into a Ziploc freezer-safe bag and freeze for another time.
Line the unbaked pie crust with parchment paper and fill with dry beans. The beans will help the crust stay in place and hold it from rising in the center.
Bake the crust for 15 minutes. Then take out the parchment and beans and bake your crust for 3-5 minutes more. Now, lower the oven temperature to 325 degrees Fahrenheit. Set aside the crust to cool completely before adding your filling.
Pie filling
15 ounces of roasted honey-nut squash puree (Equals 1 can of pure pumpkin puree)
1¼ cups half-and-half, at room temperature
¾ cup light brown sugar
3 large eggs, room temperature
1 tablespoon all-purpose flour
1 teaspoon cinnamon
½ teaspoon ginger
¼ teaspoon nutmeg
1/8 teaspoon allspice
¼ teaspoon kosher salt
1 teaspoon pure vanilla extract
Cut each little honey nut squash in half, scraping out the seeds with a spoon.
Place each squash half cut-side down on a parchment-lined baking sheet. Roast the squash for 30-45 minutes or until tender at 400 degrees Fahrenheit. When the squash is done roasting, flip each squash half over to allow the steam to release. Remove the squash skins and puree the squash in a food processor until smooth.
Measure out 15 ounces of squash puree and freeze the rest of the squash for later use.
In a large bowl, mix all of your filling ingredients together and pour into your crust. Bake uncovered at 375F for 55-65 minutes, until the filling slightly jiggles in the center. Allow to cool completely.
Garnish with whipped cream, walnuts and pecans and enjoy.
Sarah Schweitzer is dual-certified in Culinary Arts and Baking & Pastry from the Escoffier School of Culinary Arts. She is a former line cook for Chef Robert Irvine at "Fresh Kitchen by Robert Irvine" which was located at the Downtown Allentown Market. Sarah is currently working as a Sous-Chef at Ateira's on First and has her own blog simplysarah.online. She can be reached at sarah.schweitzer18@gmail.com.