Blue Bombers run past MA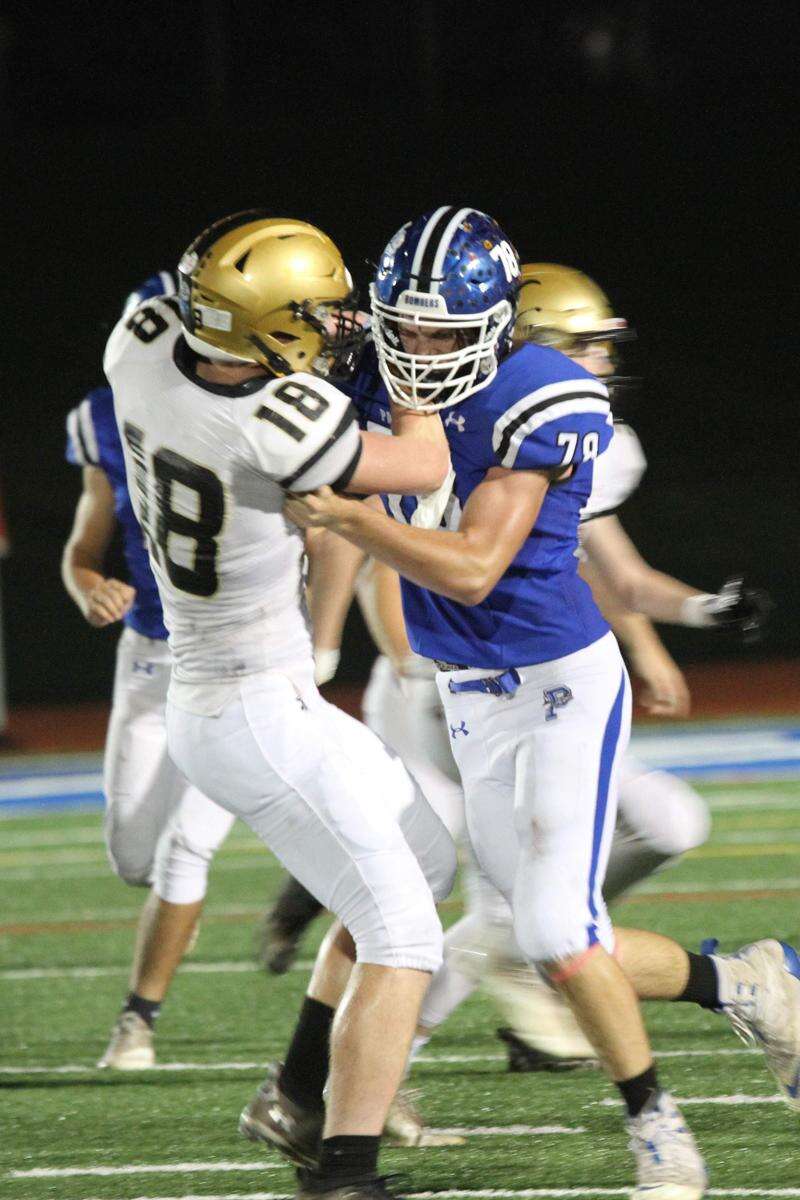 Published October 16. 2021 02:06AM
Rushing was the name of the game in Friday night's contest between Mahanoy Area and Palmerton.
Both teams combined for 670 yards on the ground, with the Blue Bombers accounting for 400 of them in cruising to a 41-18 victory.
"Credit to Mahanoy Area, they're a very good team" Palmerton head coach Chris Walkowiak said. "Defending their triple option, we knew was going to be a task coming in. We don't see it and it's hard to replicate it in practice."
The game saw both quarterbacks take most of the rushes for each team. Palmerton's Matt Machalik had the most success on the ground, running for a game-high 242 yards and three touchdowns. Two of Machalik's three scores came on big runs of 73 and 75 yards.
"I wouldn't have been able to do it without the linemen," Machalik said. "They blocked really well up front and it was great how they blocked downfield. I wouldn't have been able to do it without the whole team."
Mahanoy Area quarterback Colm McGroarty rushed 37 times for 143 yards. McGroarty also punched in a score in the second quarter.
Palmerton "limited" the Golden Bears to 270 rushing yards. Even though Mahanoy Area carried the ball 59 times on the night, the Bombers still won the rushing battle.
"They're chunking us at times and then there's times we had self-inflicted wounds and penalties that cost or extended the drive," Walkowiak said. "It kept things going, so we've got some things to definitely clean up for next week. Overall, I thought in terms of keeping them off of the scoreboard in that second half to start was big."
Palmerton got on the board first with a 3-yard run from Lucas Heydt with 21 seconds left in the first quarter. The next two scores for the Blue Bombers came on big runs, first on a 73-yarder by Machalik and then a 41-yard score by Daniel Lucykanish to give Palmerton a commanding 21-6 lead in the second quarter. Lucykanish also had an interception in the game.
Mahanoy Area's Ben Manley ran in for two scores on the night and was the team's second-leading rusher in the game.
Turnovers also played a key factor in Friday night's game.
McGroarty was picked off three times by the Palmerton defense and also lost a fumble to Jeremy Mooney to set up the first score for the Blue Bombers on a three-play, 38-yard drive. Palmerton also lost a fumble, but it didn't slow the team down any after it happened right before the end of the first half.
Although Palmerton won the game, Walkowiak wants to work on some things he saw in the contest.
"There's a lot to clean up," Walkowiak said. "The film's going to dictate that. Overall, I like our intensity, guts and grit that we performed there. I'm just happy for the kids that they got a win on Homecoming night."
NOT A LOT OF PASSING ... With both teams running the ball most of the game, there was very limited passing. McGroarty found Caden Burke for a 31-yard connection and Chris Cuff once for 30 yards in the first half. Machalik found Heydt for a 23-yard pass, but Mahanoy Area jarred the ball loose with just under a minute left in the second quarter.
DEFENSE ... Palmerton forced four turnovers on the night, all of which came at the expense of the Mahanoy Area quarterback. McGroarty was first intercepted by Heydt in the first quarter and his other two picks came not far apart from each other. Dalton Drake got the first one and Lucykanish snagged the second.
UP NEXT ... Palmerton (7-1) faces Minersville (6-2) next Friday in a matchup of District 11 playoff hopefuls. Minersville defeated Schuylkill Haven 33-19 Friday night.