Motorcyclists need to be prepared when going out for a drive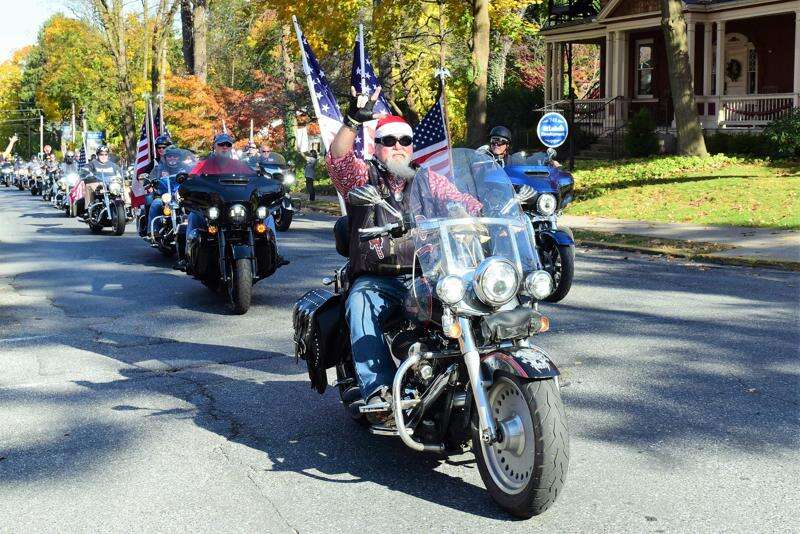 Published October 14. 2021 02:45PM
The changing leaves and cooler temperatures make fall a great time to get out on a motorcycle.
But to stay safe on the roads, riders might need to knock off a little rust before they ride their steel horse.
"You have to know it's a dangerous machine when you get on it. It's when you stop respecting that motorcycle that things start to happen," said Tom Bogacki, president of American Bikers Aimed Toward Education of Pennsylvania.
Motorcycling is as popular as ever in Pennsylvania. The number of registered bikes on the roads increased during the pandemic. However, the number of fatal crashes in the commonwealth also increased.
Statistics of crashes
In 2020, the number of fatal crashes went up 22.9 percent from 2019. Overall motorcycle crashes were up 14 percent.
Crashes involving a motorcycle are more likely to be fatal. Motorcycles were involved in just 3 percent of crashes statewide in 2020, but they were involved in 20 percent of fatal crashes.
Some longtime riders say that the risks have increased. Distracted drivers have added to the long list of challenges facing riders on the road - animals, potholes and in fall, wet leaves on the road.
"It has changed a lot. You have to have eyes everywhere," said Shannon Blocker, co-owner of Blocker Enterprises, a motorcycle dealer in Lehighton.
Practice makes perfect
Constant practice and skill refreshers help. Pennsylvania is one of the only states to offer free motorcycle education for its riders. The only requirement to enroll is obtaining a motorcycle learner's permit. The program offers basic and more advanced courses. While it's required for new riders under 21 to get their license, riders of any age or experience can take the course to brush up on their skills.
During the pandemic, the number of riders who took the course dropped by more than 75 percent - 2,113 people trained in the program versus 13,662 in 2019. A decade ago, more than 20,000 people took the course each year.
That troubles ABATE, which lobbied the Legislature in the '80s to create a dedicated funding source for the program by putting a $5 fee on all motorcycle registrations.
"We're not too happy with Penn­DOT right now," Bogacki said.
ABATE also makes an effort to educate drivers about looking out for motorcycles. Their program "Operation Save A Life" goes into driver ed classes, and even addresses seniors about the importance of looking out for riders. They compare the headlights of motorcycles and cars to show drivers what to look out for.
Bogacki says he thinks today's drivers are actually more educated than they were in the past about motorcycles on the road.
"Nobody watched for motorcycles and we had a lot of fatalities back then," he said.
Preparation is key
Preparing for the ride can allow riders to stay focused on the road. Proper equipment can help.
A good jacket, boots and pants can protect from injuries. High-visibility gear works for hunters and construction workers, and many riders use it to be more visible on the road. There are protective jackets made of breathable materials for warmer temperatures.
"No matter how hot it is, I still have that jacket on," Blocker said.
Helmeted riders fare better in crashes, but riders defend the right to go without them. Last year, helmetless riders accounted for 42 percent of all motorcycle crashes statewide, but 53 percent of all fatalities.
ABATE pushed state lawmakers to approve the 2003 law which allowed experienced riders over the age of 21 to choose to not wear a helmet. Bogacki said he fully supports riders who want to wear helmets, but personally hasn't worn one since the law took effect.
"I have friends who ride with one, others that don't. It's my choice," he said.
Riding the hills
Some riders are choosing to avoid the road altogether. Blocker said that she's seen motorcycle buyers become more interested in off-road bikes over the years.
Riding off road is another way that riders can get better in a car-free environment. Local riders have an advantage over people in more urban areas in that there are legal places to ride off road within a reasonable driving distance.
Riding on trails can improve a rider's skills handling a bike, and crashes can bring fewer consequences than they do on the road.
"Learning to ride off road makes you a better street rider," Blocker said.