Bombers, Suto golden in D11 golf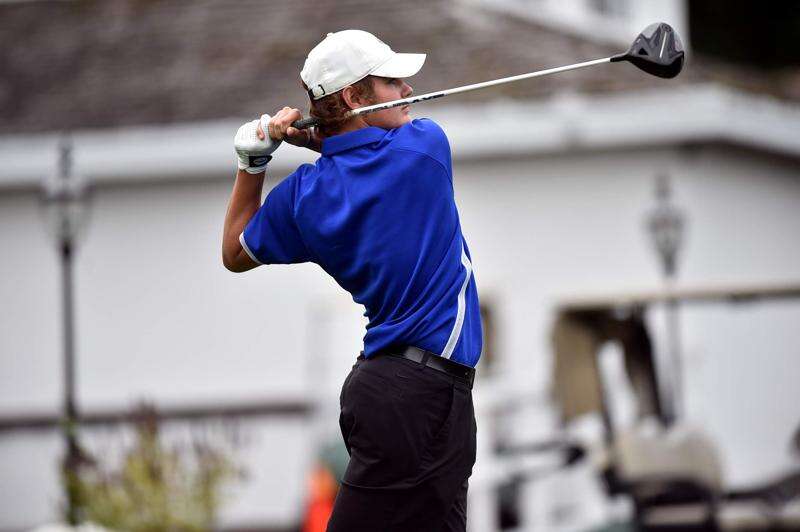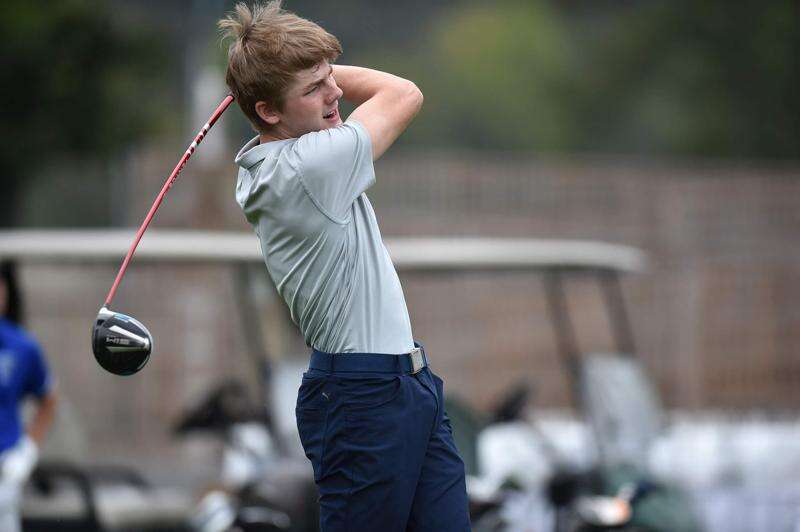 Published October 13. 2021 11:56AM
HELLERTOWN - Palmerton's golf team has had several history-making moments in recent seasons.
The Blue Bombers created a few more on Tuesday.
Josh Suto captured the program's first individual District 11 title since 1997, shooting a one-under par 71 in Class 2A competition at Steel Club in Hellertown.
The feat highlighted a day that saw Palmerton win its third straight district championship as a team, topping runner-up Allentown Central Catholic 308-328.
"Today was an amazing day," said Alex Knoll, who coaches the Bombers along with Justin Petersen. "We finished off ... our goal all season was to win this as a team again.
"We started the year here (Steel Club) in our first match against Saucon (Valley), where they actually should have beat us. So we started off here kind of a little rusty, but we got better every match, we got better as a team every match and all five players that are here today, including others that got us here, got better."
Palmerton will play again at noon Friday in the PIAA subregional at Applecross Country Club in Downingtown.
Suto's title is the first since Derek Kistler's triumph over twenty years ago.
The senior topped Moravian Academy's Evan Eichenlaub (72) and Notre Dame Green Pond's Ben Ortwein.
Joining Suto at the state tournament for the Bombers will be Tyler Hager, who topped teammate Connor Reinhard in a playoff that lasted four holes after both golfers finished with a 76.
"What Josh did was historical," said Knoll. "First time in 24 years we've had a district champ, and sending two to states is probably the first time we ever did that as well in a single season.
Dominic Kintz shot an 85 for the Bombers to complete the team scoring. Nathan Steinmetz also carded an 89.
"It was a stressful day. I would say two-thirds of the way through the round today, we were down by nine shots (to Central Catholic)," said Knoll. "And within, it seemed like a minute, we were in the lead. So there was a big change in how the day was going.
"The kids didn't necessarily know that; just coach Petersen and I did. But they finished extremely strong, and that just shows how much they have matured in the last three years as a group together."
In the Individual competition, Eichenlaub held a five-shot lead over Suto (37), Ortwein (37) and Long (37) after the front nine as he shot a 32, which included five birdies.
Suto bogeyed the first hole on the back nine (par 4) to fall another stroke behind Eichenlaub and Ortwein, who both made par.
Suto saved par on the next hole, then birdied No. 12, his first of the round, to get back to one over, before another bogey on the par-3 13th hole.
Then Suto made his run.
"After that we had the first par 5, and I made a birdie there, so I was one over," said Suto. "We had back-to-back par 5s (on 14 and 15), and on the second one I had 160 in, and put an eight iron to like six feet, and made an eagle to get to one under.
"The next hole was a par 3, which usually isn't my strong suit. I put it into the bunker on the right, just got out of the bunker and make like a 35-footer to save par. I hit a good drive on 17, but I pulled my approach shot and had about 10 yards from off the green. Evan (Eichenlaub, who was in Suto's group) kind of flubbed his chip and was just on the fringe and three-putted from there. So I knew I just had to make my putt and I would be in the lead."
Suto made his 10-foot putt for par to take the lead heading to the last hole.
"I was really nervous," Suto said. "I hit a good drive right down the middle. My next shot was OK; it was on the bottom tier of this two-tier green. I just putted it up to like six feet. I knew that was all I had to do, was get it up that tier. And I made that to seal it."
Suto finished the back nine with a 34, while Eichenlaub carded a 40, and Ortwein came away with a 38.
Eichenlaub had a bogey on 16 and a double bogey on 17, before saving par on 18. Ortwein also had a bogey on 16, and made par on the next hole, before closing with a double bogey on 18.
"I knew if I played good golf, I could come in and place well," said Suto. "I did just that. I played my game, and it ended up working out. It's very satisfying."
Hager and Reinhard both turned in solid rounds.
"It was just tough," said Hager, who noted he has been friends with Reinhard since he was 3. "We were both saying that we couldn't believe we were in that spot.
"Last year, 76 won it. The year before that, 84 made it to states. And this year 76 is in a playoff for states. We both just said, 'Wow, I can't believe we're here right now.' It was just unfortunate that it had to end that way."
The playoff tested - and once again brought out the best - in both players.
"On the first hole, Connor had an incredible par, made like a 20-footer, breaking a lot to make a par," said Hager. "I had a good look at birdie; just couldn't get it to fall. We both made good pars on No. 2. On No. 3, he had a great up and down out of the bunker, made about an eight-footer; I made a four-foot slider on top of that to get it to the next hole. On the par 3 (No. 4) he pushed his tee shot right, and I put mine on. He couldn't get up and down, and I two-putted for par to get it done."
Hager - who earned a berth in the district tournament after last week's qualifier - will now set his sights on the state tournament.
The junior - who was tied for fourth at districts last year - missed advancing to states individually by one place, as only the top three finishers in Class 2A boys moved on.
"It feels great," said Hager. "Last year was heartbreaking, but it feels good to get back this year."
Competing in Class 3A at districts after winning a Schuylkill League title earlier this season, Lehighton capped a season that included a 12-0 record and Aaron Miller's league title.
Led by an 82 from Jack Lorenz, the Tribe finished fourth in the team standings with a score of 350.
Miller carded an 86, while Trey Sterling finished with an 87 and Kyle Nahf recorded a 95 to complete the team scoring. Lucas Schadtz (109) also competed in the tournament for Lehighton.
"It's been awesome," said Indians' head coach Mark Maholick. "It's been a lot of fun. They worked hard, they got along real well and it was just a joy for me.
"And what was fun about it was they challenged each other a lot. And because they challenged each other, they made themselves better. That competition helped everyone to keep stepping up their game, and they absolutely did that."
ON A ROLL
... Before claiming their third-straight district crown, the Bombers also won their second consecutive Colonial League title this season.
LOOKING AHEAD
... The boys and girls Class 2A PIAA State Individual Championships will be held at Heritage Hills Golf Course in York on Monday, Oct. 18, at 9 a.m., with the 3A event to take place the following day. The PIAA State Team Championships will be held at the same location on Monday, Oct. 25.
District 11 Golf Championships
CLASS 3A BOYS
1. Liberty 300, 2. Emmaus 303, 3. Nazareth 322, 4. Lehighton 350.
PIAA qualifiers
1. Matt Vital (Liberty) 70, 2. Matt Zerfass (Emmaus) 71, 3. Michael Vital (Liberty) 74, 4. Hunter Probst (Stroudsburg) 75, 5. Aiden LeBlanc (Emmaus) 76, 6. *Trent Moyer (Northampton) 77.
Did not qualify
7. Giffort Hart (Saucon Valley) 77, 8. Erik Smith (Saucon Valley) 78, 8. Jase Barker (Liberty) 78, 8. Matthew Ronca (Liberty) 78, 11. Colin Zavacky (Saucon Valley) 79, 11. Freddy Bacon (Bangor) 79, 11. James Kelly (Parkland) 79, 14. Chase Skrapits (Nazareth) 80, 15. Noah Schurman (Emmaus) 81, 16. Cohen Resch (Southern Lehigh) 82, 16. Owen Fahs (Nazareth) 82, 18. Colin Sarnoski (Southern Lehigh) 83, 18. Michael Andrews (Southern Lehigh) 83, 20. Will Eberz (Stroudsburg) 84, 21. Aaron Miller (Lehighton) 86, 21. Aiden Greenberg (Nazareth) 86, 21. Drew Bohl (Nazareth) 86, 21. Pierce Argot (Pocono Mountain East) 86, 25. Nick Taborelli (Pocono Mountain East) 87, 25. Trey Spring (Lehighton) 87, 27. Cole Maksimik (Blue Mountain) 89, 28. Deacon Dickinson (Southern Lehigh) 92, 29. Lydon Patascher (Pleasant Valley) 103.
*Won on first playoff hole
CLASS 3A GIRLS
PIAA Qualifiers
1. Evelyn Wong (Emmaus) 75, 2. Emma Shelby (Saucon Valley) 78, 3. Natalie White (Bangor) 82
Did not qualify
4. Ashlyn McCormick (Pocono Mountain West) 89, 5. Madison Salter (Northampton) 92, 6. Camryn Hoff (Nazareth) 93, 7. Allie Tarreto (Nazareth) 94, 8. Sydni Sundstrom (Parkland) 99, 8. Kristine Landis (Whitehall) 99, 10. Marla Freiwald (Blue Mountain) 100, 11. Chloe Chase (Parkland) 101, 11. Danielle Crenshaw (Parkland) 101, 13. Paulina Poels (Bangor) 103, 14. Maddie Hagens (Southern Lehigh) 105.
CLASS 2A BOYS
1. Palmerton 308, 2. Central Catholic 328, 3. Mahanoy Area 388, 4. Schuylkill Haven 397.
PIAA Qualifiers
1. Josh Suto (Palmerton) 71, 2. Evan Eichenlaub (Moravian Academy) 72, 3. Ben Ortwein (Notre Dame Green Pond) 75, 4. *Tyler Hager (Palmerton) 76.
Did not qualify
5. Connor Reinhard (Palmerton) 76, 6. Nathan Myers (Central Catholic) 78, 7. Tyler Barton (Schuylkill Haven) 79, 8. Charlie Long (Central Catholic) 81, 9. Jeff Markosky (North Schuylkill) 84, 10. Thomas Young (Moravian Academy) 86, 10. Aaron Janis (Central Catholic) 86, 10. Peter McGinley (Tamaqua) 86, 13. Sebastian Holbrook (Moravian Academy) 87, 14. Grant Culbert (Pine Grove) 90.
*Won on fourth playoff hole
CLASS 2A GIRLS
PIAA qualifiers
None
Did not qualify
1. Brooke Powis (North Schuylkill) 104, 2. Katie Miller (Tamaqua) 125.