GoFundMe set up for abused pit bull found locked in attic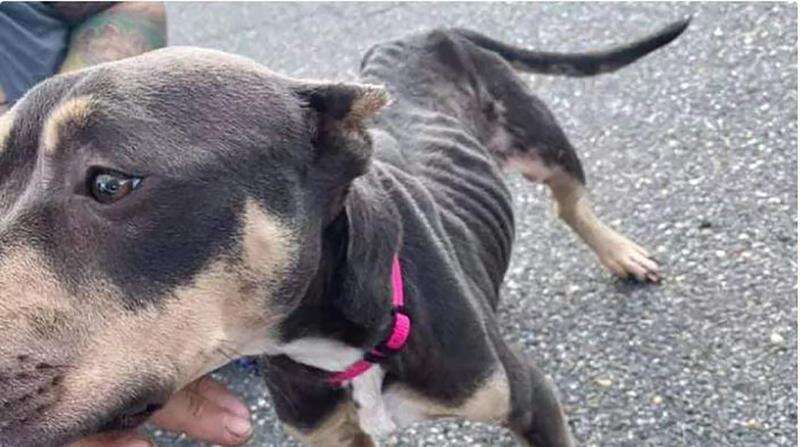 Published October 12. 2021 12:01PM
A GoFundMe has been created for an abused pit bull found locked in an attic.
The fundraiser was organized by Jamie George, of Palmerton, and Jami Lassel on Sunday on behalf of Remi, a severely abused pit bull they found while cleaning out an abandoned house on Friday.
"She was locked in the attic. Covered with feces and urine, and an empty water bowl," George said. "She was covered in fleas, and possibly has mange or chewed her fur off from itching.
"She is highly malnourished. She has a broken tooth probably from chewing the walls to get out. Her ears are infected, crusty and black inside. She also has extreme separation anxiety.
"Despite whatever horrors this poor baby was put through, she's still sweet as ever.
"My sister-in-law has taken her in, but we need, could use, any donations toward her vet bills we can get. She still needs to be sprayed, get her shots, nails cut, and there may be something wrong with one of her paws. We also need a large dog crate as she is occupying her new brother's crate at the moment.
"We believe she is 1-2 years old. And probably has never seen a vet in her life.
"Jami is currently pacing her food and water to make sure she doesn't expand her stomach, and working on eliminating the fleas."
To date, the fund has raised $250 of the $1,000 goal. Contributions can be made at https://gofund.me/4fcbbba8, as well as Venmo (Jamiiix3 and Cashapp ($jamilassell).
In addition, Jami has also created a Facebook group so anyone interested in following Remi's progress can follow along at www.facebook.com/groups/1036464597165810.