Jim Thorpe festival brings in the people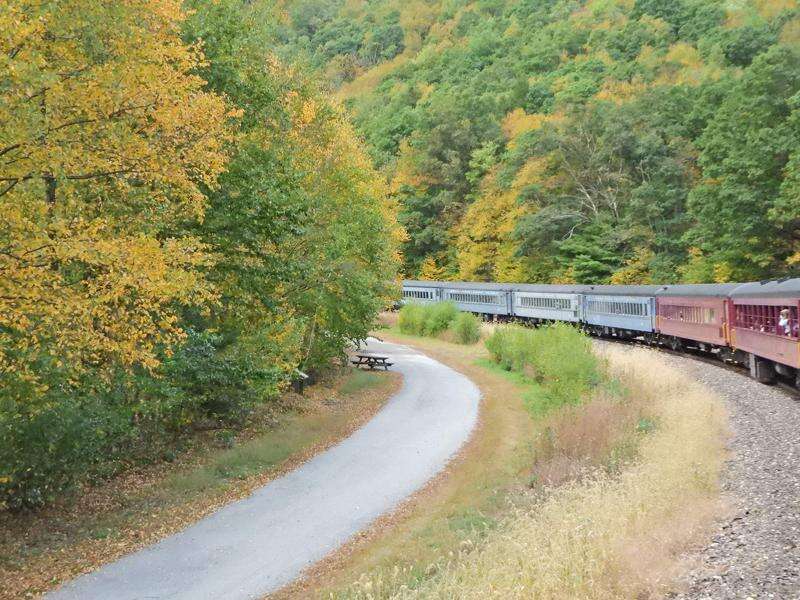 Published October 11. 2021 12:53PM
The Fall Foliage Festival is in full swing in Jim Thorpe, and it appears that Mother Nature is cooperating by allowing the leaves to change color early this year.
Jim Thorpe, formerly known as Mauch Chunk, is a huge tourist attraction, an industry that started in 1970s with the efforts of people like the late Agnes McCartney.
Tourism continues to beckon people from around the country and even from around the world. The town of Jim Thorpe always seems to make top 10 lists of small towns and great travel destinations.
Last year, while there was no official festival due to COVID, that did not stop people from coming to Jim Thorpe, so local vendors like Chris Bradley from 3 Kids Market & Eatery, Center Avenue, Jim Thorpe, were able to keep the tradition going.
"We were here, they did food vendors only, but we did well. COVID did not keep people away, necessarily. There were fewer vendors, but it made it feel more intimate, and we're hoping to keep it intimate again this year."
Almost all the vendors at the park are from Carbon County.
Bradley said her business has been a part of the festival for the past 11 years.
"For us, it's tradition," Bradley added. "As I said, we've been doing it 11 years running. Our kids don't even remember an October without a festival."
"It's nice to be a business owner in Jim Thorpe, and people won't necessarily walk the equivalent of 21 flights of stairs up the hill to us, so we're able to come down here and get to a larger crowd."
This year, 3 Kids is also offering, in addition to the delicious baked goods, barbecued chicken quarter dinners, all roasted in smokers on location next to the train station. Chris' husband Frank Bradley is operating the smokers.
Gary Wagner is one of the vendors that operates in the park all year round, selling French fries, pierogies, and more. He has been part of the festival the past 11 years as well.
"It gets bigger every year, which is good," Wagner observed. "It brings people together to have a good time. After the pandemic, and all that is going on, it's nice to see people out and enjoying themselves a little bit. "
There is a lot to do at the festival. There are many vendors selling a variety of food and drink, horse and carriage rides, trolley rides, and the train excursions. Plus you can visit the galleries and shops along Broadway and Race Street, tour the local attractions like the Asa Packer Mansion, The Old Jail Museum, St. Mark's Church, rent a bicycle, go for a hike along the Delaware & Lehigh trail, and so much more.
The Fall Foliage Festival continues Oct. 16-17 and 23-24.