Local roundup: Results from Oct. 5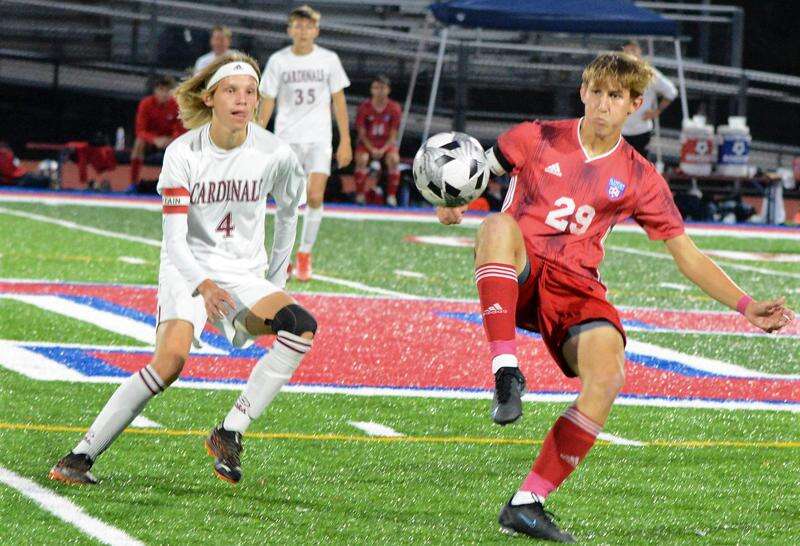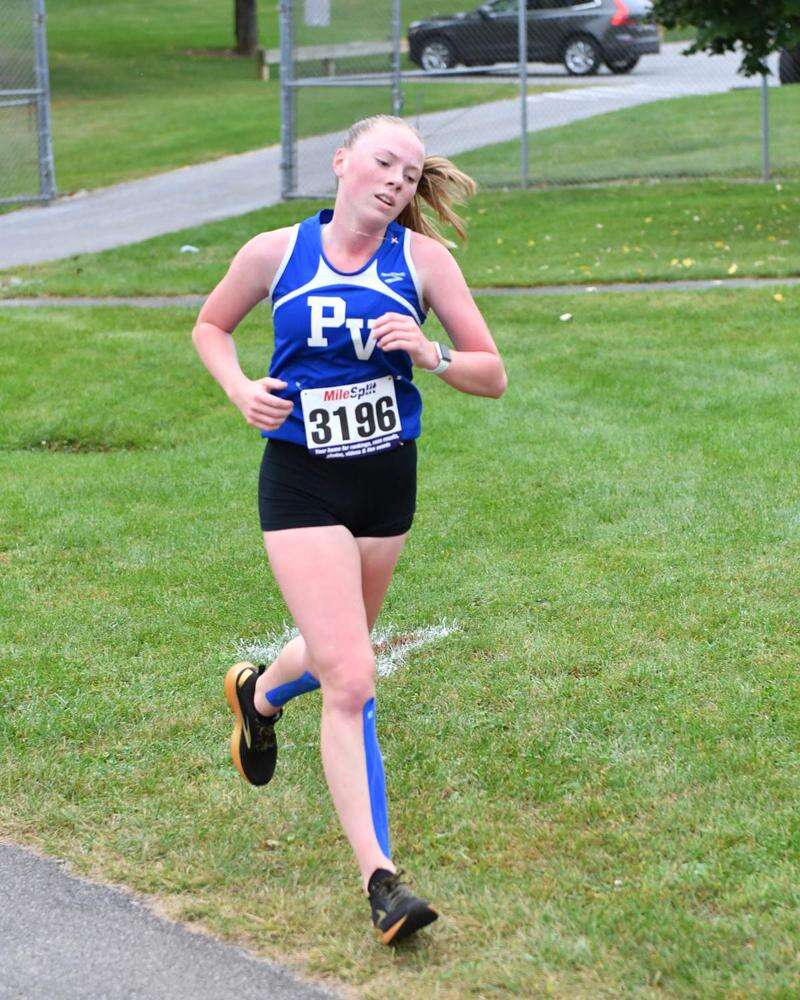 Published October 06. 2021 05:55PM
Northwestern teams enjoyed a successful day as the boys soccer, girls soccer and volleyball teams all picked up victories; the boys cross country team posted a multi-team sweep; and the girls cross country team picked up a pair of wins.
BOYS SOCCER
Pine Grove-Jim Thorpe
A goal from Dawson Meckes was all Jim Thorpe needed to secure a key 1-0 Schuylkill League win over visiting Pine Grove.
Meckes' goal came in the first half, and it was unassisted. Jacob Geiser grabbed eight saves to seal the shutout for the Olympians (8-3-3 overall; 6-1-3 SL).
Lehighton-Tamaqua
Two first-half goals helped Tamaqua secure a 2-1 Schuylkill League win over Lehighton.
David Vazquez paced the Blue Raiders (5-7-1, 2-6-1) with a goal and an assist, while Jacob Schlier also scored, and Brady Sherry was credited with an assist. Jon Ulicny finished with seven saves in the win.
AJ Light spoiled the shutout with a late second-half score for the Tribe (4-6-1, 1-6-1). Bryce Miller made five saves.
Northwestern-Salisbury
Matthew Johnson scored three goals to lead Northwestern to a 6-1 Colonial League victory over Salisbury.
Luke Van Lierop chipped in a pair of goals, while Josh Zellner added a single goal for the Tigers, who improved to 9-3-1 overall and 7-3-0 in league play.
Jack Mauro had two assists, while Van Lierop and Phil Taylor chipped in one apiece for Northwestern, which outshot Salisbury, 17-2.
No. Lehigh-Catasauqua
Catasauqua posted a 4-1 Colonial League win over Northern Lehigh.
Brendan Nye and Luis Del Rosario led the way for the Roughies, as they both finished with a goal and an assist. Jaxon Berrier and Osmar Ferre also scored in the win.
Bryce LoPinto scored for the Bulldogs.
Weatherly-No. Schuylkill
North Schuylkill cruised to a 12-0 victory over Weatherly.
Keeper Wyatt Higgins made 11 saves for the Wreckers (2-9-1 overall).
CROSS COUNTRY
Northwestern-Palmerton-
Catasauqua-Salisbury-
So. Lehigh-No. Lehigh
The Northwestern boys swept against Catasauqua, Salisbury and Southern Lehigh in Colonial League action to stay undefeated.
The 3-0 finish moved the Tigers to 20-0 on the season.
The Northwestern girls and Palmerton boys both went 2-1.
Matthew Santana, Samuel Bower, Joseph Chukoskie and Cole Chukoskie finished second, third, fourth and fifth, respectively, for the Tigers. Owen Hibell recorded an eight-place finish for the Bombers, while Jared Thomason was 12th for the Bulldogs.
In the girls meet, Angelina Klein was fourth for the Tigers (17-3).
Cora Wentz was 18th for the Bombers, while Emily Moyer finished 23rd for the Bulldogs.
BOYS
Catasauqua 15, Northern Lehigh 50
So. Lehigh 15, Northern Lehigh 50
Salisbury 15, Northern Lehigh 50
Northwestern 15, Catasauqua 50
Northwestern 21, Southern Lehigh 36
Northwestern 15, Salisbury 50
Palmerton 15, Catasauqua 48
Southern Lehigh 18, Palmerton 45
Palmerton 18, Salisbury 42
1. Dominik Lisicky (SL) 16:31.51, 2. Matthew Santana (NW) 16:33, 3. Samuel Bower (NW) 17:01.54, 4. Joseph Chukoskie (NW) 17:03.81, 5. Cole Chukoskie (NW) 17:19.69, 6. Alexander Kane (SL), 7. Gavin Nelson (NW), 8. Owen Hibell (P), 9. Seth Young (SL), 10. William Gruen (NW), 11. Andrew Bruck (SL), 12. Jared Thomason (NL), 13. Gregory Rubino (SL), 14. Peter Jones (SL), 15. Zachary Santana (NW).
GIRLS
Northern Lehigh 15, Catasauqua 50
So. Lehigh 15, Northern Lehigh 50
Northwestern 15, Catasauqua 50
Southern Lehigh 17, Northwestern 44
Southern Lehigh 15, Palmerton 50
1. Alaina Patel (SL) 20:27.71, 2. Natalie Morgan (SL) 20:31.85, 3. Lauren Meinhold (SL) 20:32.24, 4. Angelina Klein (NW) 20:32.90, 5. Maura Lenhart (SL) 20:50.19, 6. Celia Knoedler (SL), 7. Emily Fagan (NW), 8. Annefloor Fooij (SL), 9. Felicity Parrish (SL), 10. Autumn Garges (SL), 11. Alivia Bear (C), 12. Sophia Cornell (NW), 13. Leah Hundley (SL), 14. Chloe O'Donnell (NDES), 15. Liliana Schaller (SL), 16. Kellcey Pedron (NW), 17. Tessa DiCesare (SL), 18. Cora Wentz (P), 19. Neva Bogert (SL), 20. Claire Petri (SL).
PM West-PM East-
Pleasant Vy.-Parkland
The Pleasant Valley boys earned a win in an Eastern Pennsylvania Conference meet at Parkland.
The Bears went 1-2, picking up a 17-46 win against Pocono Mountain West. Raymond Lursen placed 13th with a time of 19:38 to lead PV.
In he girls' meet, Lily Daniels crossed the line in 20th with a time of 25:42 for the Bears.
BOYS
PM East 26, Pleasant Valley 29
Pleasant Valley 17, PM West 46
Parkland 15, Pleasant Valley 50
1. Brian Warren (P) 17:54, 2. Paul Abeln (P) 18:04, 3. Avi Hochhauser (P) 18:16, 4. Brady Hoffman (P), 5. Samuel Tomko (P), 6. Ethan Willard (P), 7. Cameron Price (P), 8. Jake Barnes (P), 9. Tyler Rothrock (P), 10. Liam McGuigan (P), 11. Landon Hoppel (P), 12. Jacob Anlauf (PME), 13. Raymond Lursen (PV), 14. Josh Wynn (P), 15. Christian Fragassi (P).
GIRLS
Parkland 15 Pleasant Valley 50*
1. Ella Bray (PMW) 21:04, 2. Jessica Price (P) 21:18, 3. Gracie Trexler (P) 21:48, 4. Zoe Patselas (P), 5. Elena Wenger (P), 6. Abbey Bender (P), 7. Emily Beers (P), 8. Lydia Jenkins-Ford (P), 9. Homare Yamashita (P), 10. Sophie Sheridan (P), 11. Madelyn Turner (P), 12. Lucy Tobia (P), 13. Carly Frable (PME), 14. Shaelynn Hartman (P), 15. Ava Lundy (P).
* - Parkland was the only girls' team with five runners.
GIRLS SOCCER
Salisbury-Northwestern
Cammy Fitch had two goals and added an assist to highlight Northwestern's 8-0 Colonial League victory over Salisbury.
Katie Browning also had two goals for the Tigers (13-1-1 overall; 9-0-1 CL), while Emilia Blechschmidt was credited with two assists.
Jakayla Holmes and Brook Balliet both recorded a goal and an assist, while Kiersten Esterly (goal), Katie Brensinger (goal), Sarah Yeakel (assist) and Abby Pomajevich (assist) also came up big in the win. Naomi Glassberg finished with two saves to secure the shutout.
FIELD HOCKEY
Pleasant Vy.-Easton
Lexie Causa, Jocelyn Morgan and Sophie Emin all scored a pair of goals to lead Easton to a 9-0 Eastern Pennsylavania Conference victory over Pleasant Valley.
The Bears, who were outshot 18-0, fall to 4-9 on the season.
GIRLS TENNIS
Jim Thorpe-Pen Argyl
Gabby Nunez, Tara McLean and Hailey Trine all claimed singles victories in a 4-1 Jim Thorpe victory against Pen Argyl.
Kaylinn Trine and Taylor Saba scored a doubles win for the Olympians.
Jim Thorpe improves to 10-5 on the season with one regular season match left.
Jim Thorpe 4, Pen Argyl 1
SINGLES
Gabby Nunez (JT) def. Lilly Falletta 6-0, 6-2; Tara McLean (JT) def. Kayla Holley 6-4, 4-6, 10-7; Hailey Trine (JT) def. Rusanka Bashora 6-1, 6-0.
DOUBLES
Kaylinn Trine/Taylor Saba (JT) def. Kayeligh Achenbach/Janine Haros 6-4, 7-5; Sevin Gegora/Avora Mann (PA) def. Julia Green and Ashlynn Miller 3-6, 7-6 (10-8), 10-7.
Tamaqua-MMI Prep
Sabrina Pratt, Lesslie Martinez and Emily Antonio swept singles' play to help Tamaqua secure a 5-0 victory over MMI Prep.
The tandem of Brooke Williams and Emily Hunsicker added a win in doubles' play, while a forfeit at No. 2 doubles secured the shutout win.
Tamaqua 5, MMI Prep 0
SINGLES
Sabrina Pratt (T) def. Kathryn Sissick 6-3, 6-4; Lesslie Martinez (T) def. Kate Malay 6-0, 6-1; Emily Antonio (T) def. Eve Corazza 6-0, 6-0.
DOUBLES
Brooke Williams/Emily Hunsicker (T) def. Diane Arias/Kasia Sredson 6-0, 6-1; Tamaqua wins by forfeit.
VOLLEYBALL
Jim Thorpe-Lourdes
Jim Thorpe rolled to a 25-19, 25-12, 25-6 Schuylkill League victory over Lourdes.
Olivia Calacano had 12 aces and four digs, while Andi Hoherchak had 14 assists and four aces to lead the Olympians.
Also contributing to the victory were Alexandra Ramey (six kills), Kristin Pompa (four kills), Hayley James (five digs), and Leah Figura (four digs).
Jim Thorpe improves to 8-3 in league play, and 11-3 overall.
Northwestern-Catasauqua
Northwestern swept Catasauqua for a 25-8, 25-12, 25-9 Colonial League victory.
Kylie Nagle finished with 18 aces and 12 digs for the Tigers (7-8 overall; 5-4 CL), while Brooke Dwane chipped in with 16 assists and three aces. Olivia Silfies added eight kills.
N. Schuylkill-Panther Vy.
Panther Valley knocked off North Schuylkill for a 25-20, 25-13, 25-22 Schuylkill League victory.
Sadie Trubilla led the way for the Panthers (9-5, 7-3 SL) with 16 assists and eight aces, while Riley McArdle chipped in with 16 digs, eight kills and four aces.
Chloe Diekman (17 digs) and Abbey Vermillion (11 kills, three blocks) also played key roles in the win.
Halifax-Weatherly
Gianna Lowman had eight digs and one kill for Weatherly, but it wasn't enough to prevent the Wreckers from dropping a 25-8, 25-15, 25-10 decision to Halifax.
Jenna Winkler recorded six digs and one kill for the Wreckers (3-13). Taylor Davidovich also had four assists and three digs.
Tamaqua-Blue Mtn.
Blue Mountain breezed to a 25-14, 25-12, 25-10 Schuylkill League victory over Tamaqua.
Erika Gerhard had two aces and two digs for the Raiders (6-8), while Lacey Beers had seven digs. Jillian Tite and Ashlyn Houser both registered an ace and two digs.
Palmerton-So. Lehigh
Southern Lehigh posted a 25-6, 25-14,25-4 Colonial League win against Palmerton.
Steph Rubino paced the Spartans (12-1) with 10 digs and two aces, while Alyssa Adams recorded four aces and three kills.
Jessica Heydt led the way for the Bombers with five kills and four service points, while Alysa Roe dished out four assists.