Mother Jones visits Tamaqua through musical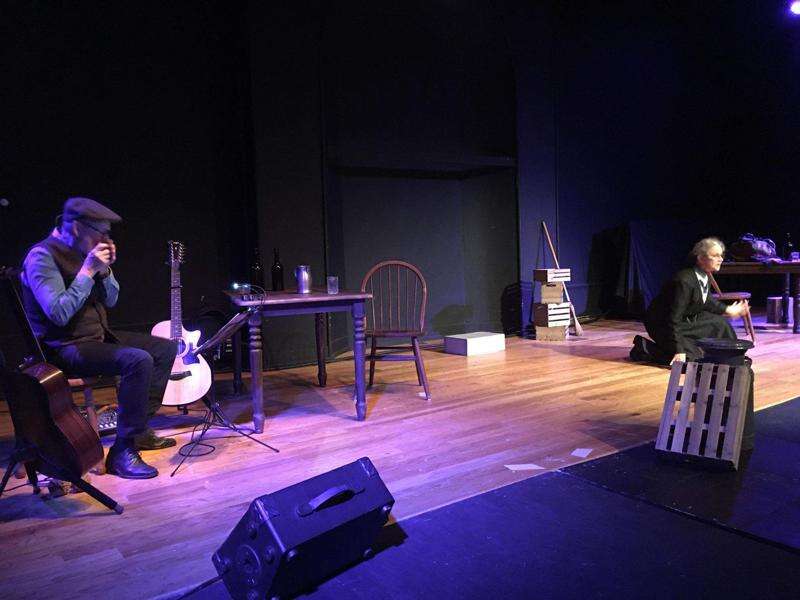 Published September 24. 2021 11:03AM
Having walked through Tamaqua streets herself at a point in time, Mother Jones' spirit revisited the town through actress Vivian Nesbitt in the musical "Mother Jones in Heaven."
The one-woman musical held at the Tamaqua Community Arts Center was shown from the perspective of Mother Jones' personal account of the activist movements she's led and how she felt about it, speaking to the audience directly from heaven. At the end of the play, "Jones" even said, "I still don't know if it's safe to walk these damn golden streets at night," to indicate her position in heaven.
Mary Harris "Mother" Jones was a woman who led civil rights movements in the United States regarding gender pay-gaps, child labor and women's rights.
Nesbitt said when she learned that Mother Jones didn't believe in a woman's right to vote, she almost didn't want to do the play, but after she learned more about her point, she was completely on board with it.
Bill Hebe of Wellsboro, an attendee to Sunday afternoon's show, said, "If women got to vote, it would just enable wealthy women to vote for people like their husbands, and working women would not be able to get off of work to vote anyway. (Jones') point was, 'Listen, women don't care about the right to vote. They want a better life for their husbands and their family.' It's an interesting point."
Hebe's wife, Shirley Hebe, said Jones should be recognized more in the classrooms when speaking about coal mining, the era or child labor.
Bill Hebe said Mother Jones "was one woman who could have brought this country to its knees."
Nesbitt said another thing she learned about Mother Jones was that she was foul-mouthed. She said she didn't realize how foul-mouthed she was when she first knew about Mother Jones, but learning more about her strong sense of self and then portraying her character to others has been fulfilling for her.
"The role of Mother Jones scared the looting daylights out of me, so I thought I had to do it," she said about the role.
Mother Jones often stood up for mining workers' rights, and considering the musical took place in an area referred to as the "coal region," the show felt personal to the members of the community.
State Sen. David G. Argall attended Sunday's showing and said during a Q&A with the audience that the play felt like "it was made just for us," with mentions of Pennsylvania and the Molly Maguires.
There is a historical marker to Jones along Route 209 in Coaldale.
Argall was shocked when Nesbitt told him the play is portrayed the same way for every show, and not altered to fit the audience.
Maureen Donovan, president of Tamaqua Business & Professional Women, was a sponsor to the weekendlong event and helped get young women in the seats of the theater to learn about the historical figure. She reached out to multiple organizations in the area to see if they would sponsor students to attend the show, and Lehigh Carbon Community College was one of the organizations that was able to sponsor a few students.
She says she didn't want there to be any reason for young people to miss the show. She also wanted to help bring a true theater feel to Tamaqua by adding the Q&A at the end of each showing.
"We wanted to give people an opportunity to delve deeper into theater," Donovan said.
Other sponsors of "Mother Jones in Heaven" include Lehigh Anthracite and Ironworkers 404.
Nesbitt said during the Q&A that it was an honor playing for members of the community because she felt the area "has such a mission" between Hope & Coffee and the Tamaqua Community Arts Center, which were just two of the places she experienced in Tamaqua. She said she felt something so much bigger in the area.
"The art of the creative process is so important," Nesbitt said. "To take what you've been through and turn it into poetry and art is powerful."
With guts, humor and plenty of power, the 90-minute musical uplifted its audiences on both Saturday evening and Sunday afternoon.
What ended in a standing ovation from nearly everyone in the audience, the last performance of the weekend reminded everyone in the room what creativity and passion has the power to accomplish.