Lehigh Gap Nature Center Migration Fest returns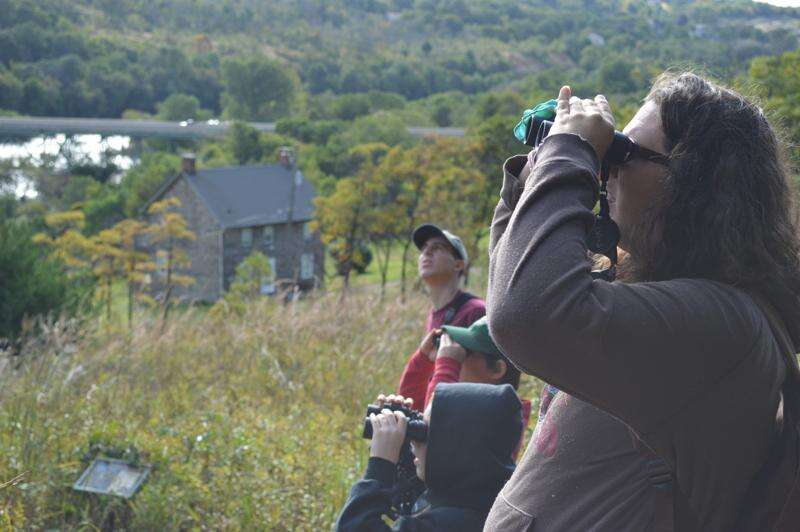 Published September 24. 2021 11:02AM
On Saturday, Lehigh Gap Nature Center will host its 19th Migration Fest, an autumn celebration of Appalachian Mountain ecology along the Kittatinny Ridge. This year's festival will again highlight the spectacle of bird and butterfly migration, as well as the natural and cultural history of the Lehigh Gap region. All activities will take place or begin at LGNC's Osprey House visitor and education center. This year marks the return of the festival following a virtual event in 2020.
Festivities will begin at 9 a.m. Saturday with a bird walk for beginners and families. Binoculars and field guides will be available for visitors to borrow. For those who wish to continue birding, LGNC's hawk count intern will conduct a bird count in the Lehigh Gap throughout the day, providing visitors an opportunity to learn how and why LGNC collects bird migration data on the Kittatinny Ridge.
At 10:30 a.m., another family-friendly activity will begin - an insect safari around the grounds at the Osprey House and along the D&L Trail. Nets will be available, and all ages are welcome. A second insect safari will begin at 1:30 p.m. During both of these nature walks, we will be tagging monarch butterflies as part of an international effort to study monarch migration patterns.
At noon, visitors can participate in a guided tour of LGNC's extensive native habitat gardens. The tour will highlight a variety of native plants that locals can plant to attract wildlife to their backyards. Visitors will also experience LGNC's new native sensory garden along the way.
Between 11 a.m. and 1 p.m., Good Times Piano Music will be performing on the porch of the Osprey House. During the afternoon and evening, Jim Thorpe-based artist Jay Davenport will be hosting an art show inside the Osprey House. In addition, local artisans will be demonstrating their crafts and selling artwork during the morning and afternoon.
Exhibits and display tables at the Osprey House will open to the public at 10 a.m. and close at 3 p.m. This year's family-fun stations will include interactive migration and watershed displays, as well as nature-themed crafts for kids.
All Migration Fest activities are free to the public. Children and adults are welcome. Masks will be required indoors and provided if needed. The Osprey House is located at Lehigh Gap Nature Center off Paint Mill Road in Washington Township, Lehigh County, north of Slatington. For directions to the Osprey House, visit http://lgnc.org/how-to-get-here/ or call LGNC at 610-760-8889.
LGNC is a nonprofit, member supported environmental education and wildlife conservation organization with its office at Lehigh Gap between Slatington and Palmerton.
Schedule
• 9 a.m.: Family Bird Walk. Join us for a beginner bird walk around the Osprey House! Binoculars will be provided.
• 10:30 a.m. and 1:30 p.m.: Monarch Tagging and Insect Safari. Search for butterflies and other bugs in the gardens and meadows around the Nature Center. Tag monarch butterflies to help scientists better understand the mysteries of butterfly migration. Insect nets will be provided.
• Noon: Native Garden Tour. Learn what's in bloom in LGNC's native plant gardens. We will also introduce visitors to our new sensory garden.
• 11 a.m.-1 p.m.: Live Music by Good Times Piano Music. Musician Joe Lazorik will perform on the front porch of the Osprey House.
• 10 a.m.-3 p.m.: Family-friendly exhibits and activities at the Osprey House (outdoors) include raptor ID and monarch butterfly information, native plants, hawk counting and crafts.
• Afternoon and evening: Jay Davenport Art Show. Local artist Jay Davenport and his students will be exhibiting their artwork in the Great Hall.