Local roundup: Results from Sept. 22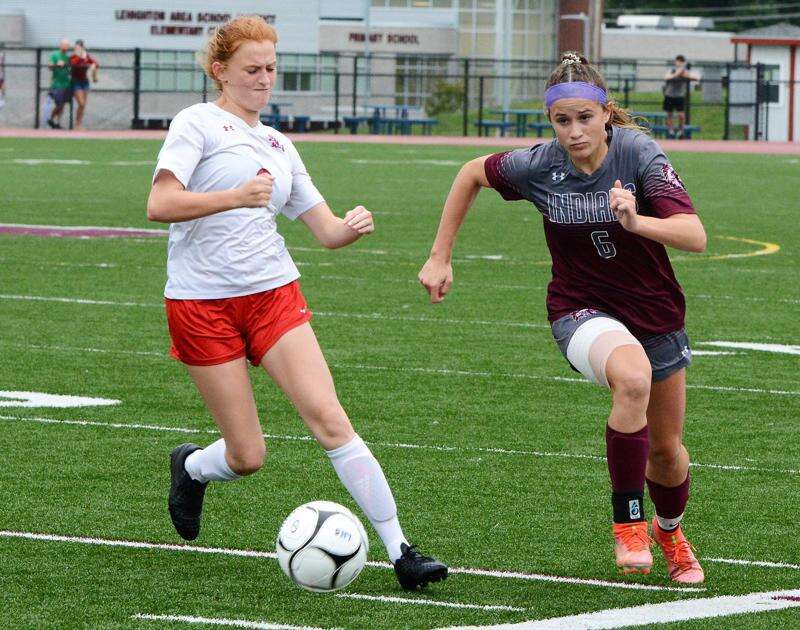 Published September 23. 2021 01:53PM
Brianna Moore had a night to remember for the Palmerton girls soccer team on Wednesday.
Lehighton and Northwestern also picked up victories in girls soccer action.
Elsewhere, Pleasant Valley picked up wins in field hockey and volleyball.
GIRLS SOCCER
Palmerton-Catasauqua
Brianna Moore's seven goals powered Palmerton to a 10-1 Colonial League victory over Catasauqua.
Moore had five of those goals in the first half, as the Bombers (8-2 overall; 5-2 CL) went into intermission with a 7-1 lead.
Nataly Walters followed with a goal and two assists for the Bombers, while Beth Morgan and Ella Baumgardt both chipped in with scores.
Emma Snyder posted five saves in the win.
Blue Mountain-Jim Thorpe
Blue Mountain edged Jim Thorpe for a 2-1 Schuylkill League win.
Danika Bolinsky and Sophia Chipriano posted the Blue Eagles' two goals.
Lauren LeKites recorded the Olympians' lone goal. The Olympians held a 7-6 difference in shots on goal, while the hosts finished with five corners to BM's one.
Goalie Kate Bos had four saves for JT (4-3-1 overall; 2-2-1 SL).
North Schuylkill-Lehighton
Two second-half goals helped Lehighton pull away with a 3-0 Schuylkill League victory over North Schuylkill.
Charli McHugh led the Indians with a goal and an assist, while Abigail Meckes and Yelina Horn both provided the push with second-half scores.
Kayla Hregician and Brittney Bartasavage both were credited with assists. Indians' (4-5, 2-3) keeper Hannah Lichtenwalner grabbed four saves.
Schuylkill Haven-Tamaqua
Schuylkill Haven posted a 3-0 non-league victory over Tamaqua
Ava Shappell added a second-half goal for the Hurricanes (9-1), who also benefited from two own goals by the Raiders.
Zoe Seltzer grabbed 21 saves for Tamaqua (1-9), while Kyliegh Book finished with 20 saves for Haven.
Northwestern-Palisades
Northwestern blanked Palisades for a 2-0 Colonial League win.
Sophia Motolese and Katie Browning posted the Tigers' goals, while Cammy Fitch and Sammy Bardonner both finished with assists.
Naomi Glassberg grabbed five saves for NW (8-1-1 overall, 6-0-1 CL).
BOYS SOCCER
Palisades-Northwestern
Jacob Davis' goal was all Palisades needed to secure a 1-0 Colonial League win over Northwestern.
Talon Falcone was credited with an assist on the game's lone score for the Pirates (6-2, 5-1).
Mason Crocco ended up with four saves for the Tigers (4-4, 3-3).
Catasauqua-Palmerton
Catasauqua earned its first win of the season with a 7-1 Colonial League victory over Palmerton.
Trevor Anthony scored the Bombers' (1-8, 0-7) lone goal.
Lehighton-North Schuylkill
Lehighton suffered a 5-3 Schuylkill League setback to North Schuylkill on Tuesday.
Mason Marchessault accounted for all three of the Indians' (2-2-1, 1-2-1) goals with a hat trick. Ryan Graver was credited with an assist on Marchessault's second score.
FIELD HOCKEY
Pleasant Valley-Becahi
Pleasant Valley edged Bethlehem Catholic for a 2-1 Eastern Pennsylvania Conference victory.
Mattison Hyland led the Bears (2-5 overall; 1-5 EPC) with a goal and an assist, while Nikol Smale also scored.
Sydney Jeker was credited with an assist for PV.
VOLLEYBALL
Executive Edu.-Palmerton
Executive Education Academy Charter School came out on top with a 25-8, 25-12, 19-25, 25-10 non-league win over Palmerton.
Kayla Lesher paced the Bombers (0-12 overall) with 11 service points and five aces, while Jess Heydt recorded three kills and one block. Alyssa Roe dished out five assists.
PM West-Pleasant Valley
Jackie James's 17 service points, 14 assists, seven kills and six digs highlighted Pleasant Valley's 25-5, 25-11, 22-25, 25-21 Eastern Pennsylvania Conference win over Pocono Mountain West.
Brianna Bruckman followed with 20 assists, 14 service points, four digs, two aces for the Bears, while Nora Jones added eight service points, seven kills, six digs and four aces.
Lexi Womack (10 kills, six service points, six digs) and Hanna Akob (10 service points, nine digs, six kills) contributed to the Bears' (2-5 overall; 2-5 EPC) victory.