Local roundup: Results from Sept. 21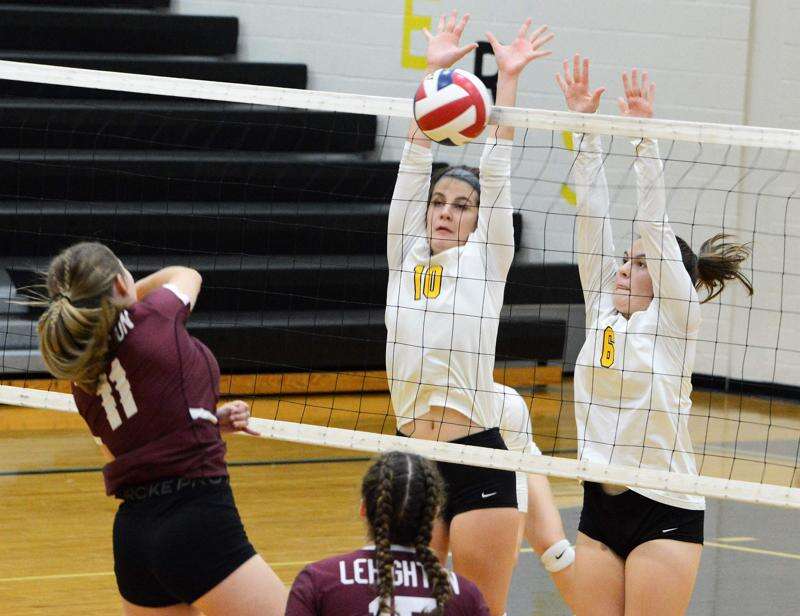 Published September 22. 2021 12:55PM
The Northwestern boys and Jim Thorpe girls both earned sweeps in cross country action on Tuesday.
The Tigers earned four wins in their meet, while the Olympians posted three victories.
CROSS COUNTRY
No. Lehigh-Northwestern-
Palmerton-Moravian- NDGP-Palisades-Saucon Vy.
The Northwestern boys went 4-0 in Colonial League action at Saucon Valley.
The Tigers' trio of Samuel Bower, Matthew Santana and Cole Chukoskie crossed the line in second, third and fourth, respectively. Northwestern improved to 12-0, and handed Notre Dame Green Pond its first loss (15-43) as the Crusaders fall to 11-1.
Owen Hibell led the Bombers (9-3) with a sixth-place finish, while Jared Thomason recorded a 17th-place finish for the Bulldogs.
The Northwestern girls (10-2) and the Palmerton boys both finished the meet with 3-1 marks.
Angelina Klein led the way for the Tigers girls with a second-place finish. Cora Wentz finished in 17th place for the Bombers, while Emma Smith was 22nd for Northern Lehigh.
BOYS
Moravian Academy 15, No. Lehigh 50
Notre Dame GP 15, No. Lehigh 50
Palisades 15, No. Lehigh 50
Saucon Valley 15, No. Lehigh 50
Northwestern 15, Notre Dame GP 43
Northwestern 22, Palisades 39
Northwestern 15, Saucon Valley 48
Northwestern 15, Moravian Academy 46
Palmerton 26, Moravian Academy 33
Palmerton 27, Palisades 31
Palmerton 19, Saucon Valley 39
Notre Dame GP 22, Palmerton 33
1. Thomas Smigo (Pali) 15:59.16, 2. Samuel Bower (NW) 16:07.15, 3. Matthew Santana (NW) 16:13.07, 4. Cole Chukoskie (NW) 16:37.03, 5. Mitchell Campbell (Pali) 16:44.26; 6. Owen Hibell (Palm), 7. Nate Vincent (NW), 8. Joseph Chukoskie (NW), 9. Jacob Huber (SV), 10. Jordan Smith (NDGP), 11. Austin Karwacki (NDGP), 12. Theo Urban (MA), 13. Michael Maslonka (NDGP), 14. William Gruen (NW), 15. Treyton Messman (MA), 16. Ryan Kothstein (NDGP), 17. Jared Thomason (NL), 18. Bryce Marino (Palm), 19. Krish Gupta (MA), 20. Dylan Hartranft (Palm)
GIRLS
Moravian Academy 15, No. Lehigh 50
Notre Dame GP 15, No. Lehigh 50
Saucon Valley 15, No. Lehigh 50
Northwestern 18, Moravian Academy 43
Notre Dame GP 23, Northwestern 32
Northwestern 15, Palisades 50
Northwestern 25, Saucon Valley 32
Moravian Academy 15, Palmerton 50
Notre Dame GP 15, Palmerton 50
Saucon Valley 15, Palmerton 50
1. Katherine Koons (NDGP) 20:04.02, 2. Angelina Klein (NW) 20:15.93, 3. Olivia Schweitzer (NDGP) 20:18.69, 4. Emma Szydlow (SV), 5. Olivia Bortz (SV) 20:53.57, 6. Sarah Sidoro (NDGP), 7. Emily Fagan (NW), 8. Maci Fisher (NW), 9. Isabella Johnstone (SV), 10. Lauren Bower (NDGP), 11. Isabella Devos (MA), 12. Serena Azzalina (NDGP), 13. Sophia Cornell (NW), 14. Sophie Lee (MA), 15. Sara Reguera (Pali), 16. Molly McGorry (NW), 17. Cora Wentz (Palm), 18. Ruth Sterner (SV), 19. Kellcey Pedron (NW), 20. Talia Fogel (NDGP).
Shenandoah-Pottsville-
Gillingham-Jim Thorpe
The Jim Thorpe girls celebrated Senior Night with a Schuylkill League sweep.
Katelynn Bos paced the Olympians to wins over Pottsville (26-29), Shenandoah Valley and Gillingham Charter with a first-place finish. Megan Rosahac (fourth) and Aubrey Bonner (fifth) also had top-five results for Thorpe.
The Olympians went 2-1 in the boys meet, with wins over Pottsville (26-30) and Gillingham Charter, but suffered a 26-31 setback against Shenandoah.
Ryan Bailor (second), Ridge Snyder (third) and Jordan Remmel (fifth) all finished in the top five for Jim Thorpe.
GIRLS
Jim Thorpe 15, Shenandoah Valley 50
Jim Thorpe 26, Pottsville 29
Jim Thorpe 15, Gillingham Charter 50
1. Katelynn Bos (JT) 20:32, 2. Adra Schell (P) 21:19, 3. Madison Eroh (P) 21:55, 4. Megan Rosahac (JT), 5. Aubrey Bonner (JT), 6. Izzy Acker (JT), 7. Abigale Motto (P), 8. Julia Szeliga (P), 9. Niykena Wyroski (P), 10. Brooke McKeon (JT), 11. Brynn Nagle (P), 12. Samarra Reedy (P), 13. Haily Mervine (P), 14. Abigail Garrity (P), 15. Olivia Renode (JT).
BOYS
Shenandoah Valley 26, Jim Thorpe 31
Jim Thorpe 26, Pottsville 30
Jim Thorpe 15, Gillingham Charter 50
1. Diego Olayo (SV) 17:08, 2. Ryan Bailor (JT) 17:13, 3. Ridge Snyder (JT) 17:35, 4. Connor Stasulli (SV), 5. Jordan Remmel (JT), 6. Devin Keiter (P), 7. Brad Monjaraz (SV), 8. Ayden Zamudio (SV), 9. Dean Budwash (P), 10. Cullen Clarke (P), 11. Ryan March (P), 12. Dominic Alvarez (P), 13. Joelri Alvarez (SV), 14. Bowden Chicarelli (JT), 15. Matthew Schuettler (P).
Pleasant Valley-Emmaus- Central Catholic-Whitehall- PM East-PM West
Both the Pleasant Valley boys and girls went 0-3 in an Eastern Pennsylvania Conference meet at Pocono Mountain West.
The top finisher for the Bears in the boys race was Eddie Lauritsen (22nd), while Lily Dannels (35th) was the first PV runner to cross in the girls competition.
BOYS
Emmaus 15, Pleasant Valley 50
ACC 15, Pleasant Valley 50
Whitehall 28, Pleasant Valley 29
1. Ethan Strzempek (E) 17:16, 2. James Freeman (ACC) 17:18, 3. Connor FIsher (E) 17:22, 4. Duke Ebert (ACC), 5. Jacob Demchak (ACC), 6. Sam Dalton (E), 7. Jared Petre (E), Oscar Felegy (E), 9. Matt Norton (E), 10. B. Collins (ACC), 11. Ben Keenan (ACC), 12. Leo Koons (ACC) 13. Dominic Nunez (E), 14 Nic Gilboy (E), 15. James Manley (E).
GIRLS
Emmaus 15, Pleasant Valley 50
ACC 15, Pleasant Valley 50
Whitehall 15, Pleasant Valley 50
1. Hailey Reinhard (E) 18:53, 2. Isabella Lees (E) 19:40, 3. Ella Bray (PMW) 19:53, 4. Payton Campbell (E), 5. Isabella Scarlata (E), 6. Nicole Rosal (E), 7. Sophia Kovalski (E), 8. Patrisha Shak (ACC), 9. Addison Shank (ACC), 10. Bethany Brown (E), 11. Mikalya Warren (W), 12. Clararose Deisher (ACC), 13. Madison Toretta (E), 14. Clare Coleman (ACC), 15. Ava Palamara (E).
VOLLEYBALL
Lehighton-Panther Valley
Panther Valley posted a 25-20, 25-16, 10-25, 30-28 Schuylkill League win over Lehighton.
Riley McArdle had 13 kills and nine digs for the Panthers, while Natalie Vermillion recorded four kills, four digs and three aces, and Abbey Vermillion finished with 10 kills and a pair of aces.
Hailey Miller had 20 digs and six kills for the Tribe. Haley Ginder recorded 11 kills, five aces, three digs and six blocks, Megan Aaron tallied 11 digs, two aces and six kills, and Mia Snyder dished out 19 assists and fired six aces.
Millersburg-Weatherly
Millersburg posted a 25-17, 25-11, 25-7 non-league win over Weatherly.
Kelly Michaels had six digs and two kills for the Wreckers (1-7). Taylor Davidovich registered five digs and two assists.
Minersville-Marian
Ashlyn Klitsch had 17 assists, three digs and two aces in Marian's 25-11, 25-10, 25-6 non-league win over Minersville.
Megan Paisley recorded five kills, 10 aces and two digs for the Fillies (5-1), while Abbey Kluck had five kills, three aces and two digs.
Jim Thorpe-Sch. Haven
Jim Thorpe swept Schuylkill Haven for a 25-6, 25-16, 25-12 Schuylkill League victory.
Andi Hoherchak led the Olympians (7-1, 3-1) with 27 assists, three kills and two aces, while Kristin Pompa added eight kills and five aces. Alexandra Ramey (three kills, one block), Leah Figura (four digs) and Brooke Mitzen (four kills) contributed to the win.
Tamaqua-Lourdes
Tamaqua earned a 25-14, 25-14, 25-17 Schuylkill League win over Lourdes.
Erika Gerhard paced the Blue Raiders with four aces and a kill, while Eileen Lusch chipped in with four aces and two digs. Jillian Tite (three kills, two aces) and Lacey Beers (five digs) also played well for the Blue Raiders (3-5, 1-4 SL).
Palmerton-Catasauqua
Catasauqua turned back Palmerton for a 25-23, 25-20, 17-25, 15-25, 15-9 Colonial League win.
Jessica Heydt had 14 kills for the Bombers, while Stacy Ahner added four.
Alysa Roe dished out six assists with five aces, and Kayla Lesher recorded five aces.
FIELD HOCKEY
Northern Lehigh-Pen Argyl
Northern Lehigh posted a 2-1 win over Pen Argyl in Colonial League action.
Olivia Horninger and Zoe Hathaway both scored for the Bulldogs, while Aricka Creyer registered an assist. Goalie Kendal Heiney made five saves.
Bangor-Palmerton
Kelsey Balliet scored two goals for Palmerton in a 4-2 Colonial League win over Bangor.
Kira Houser and Erin Kistler also added goals for the Bombers (6-2).
PM East-Pleasant Vy.
Olivia Handelong scored twice to lead Pocono Mountain East to a 4-0 Eastern Pennsylvania Conference win over Pleasant Valley.
Northwestern-Palisades
Palisades knocked off Northwestern for a 3-1 Colonial League win.
Brinley Rex posted the Tigers' onlyh goal in the third quarter. Gabby Gober recorded five saves for Northwestern.
GIRLS SOCCER
ACC-Pleasant Valley
Allentown Central Catholic and Pleasant Valley played to a 1-1 tie in an Eastern Pennsylvania Conference match.
Ella Muir finished off a corner on an assist from Aliyah Williams for the Bears, who had eight shots on goal. Sam Merklin made 35 saves for Pleasant Valley.
BOYS SOCCER
Jim Thorpe-Blue Mountain
A pair of first-half goals lifted Blue Mountain to a 2-0 Schuylkill League victory over Jim Thorpe.
Jacob Geiser stopped four shots for the Olympians.
Palmerton-Tamaqua
Jacob Schlier's hat trick sparked Tamaqua to a 6-2 non-league victory over visiting Palmerton.
Wyatt Steigerwalt followed with two goals for the Blue Raiders (2-5), while Jathan Krall added a score and David Vazquez was credited with an assist.
Kellen Trotter and Riley Fallon accounted for the Bombers' (1-7) two goals, while Trevor Anthony finished with an assist.
GOLF
Pine Grove-Weatherly
Pine Grove's Grant Culbert carded medalist honors in a 390-411 Schuylkill League win over Weatherly.
Owen Broskoskie shot a 97 for the Wreckers (3-6).
Pine Grove 390, Weatherly 411
PINE GROVE
Grant Culbert 85, Logan Zimmerman 89, Trent Kramer 107, John Wise 109
WEATHERLY
Owen Broskoskie 97, Maddie Von Frisch 101, Jack Nemshick 104, Tanner Hinkle 109, Tyler Hinkle 109, Frank Willis 109
Mahanoy Area-Jim Thorpe
Mahanoy Area posted a 359-445 win over Jim Thorpe at Jack Frost National.
Luke Matta recorded a 78 to lead the Bears.
Ed Weaver carded a 93 for the Olympians.
Mahanoy Area 359, Jim Thorpe 445
MAHANOY AREA
Luke Matta 78, Kaleb Maksimik 92, Brayden Maksimik 92, Brady Nadja 97
JIM THORPE
Ed Weaver 93, Mark Domski 113, James Costlow 114, Brydon Gray
Stroudsburg-Pleasant Valley
Stroudsburg topped Pleasant Valley for a 398-448 Eastern Pennsylvania Conference win.
Lydon Patascher carded medalist honors for the Bears (6-10) with a score of 74.
Stroudsburg 398, Pleasant Valley 448
PLEASANT VALLEY
Lydon Patascher 74, Ben Bush 87, Dakota Lucas 88, Billy Bruckman 95, Braxton Knapp 104.
STROUDSBURG
Andrew Brinker 75, Will Eberz 77, Nate Zauck 79, Chase Beck 83, Brayden Sweppenhiser 84.
Played at Shawnee.
TENNIS
Tamaqua-Blue Mtn.
Blue Mountain cruised to a 5-0 win over Tamaqua.
The Blue Raiders dropped to 2-8 on the season.
Blue Mountain 5, Tamaqua 0
SINGLES
Aspen Weizer (BM) def. Sabrina Pratt 6-0, 6-2; Kate Rubinkam (BM). def. Emily Antonio 6-0, 6-0; BM won by forfeit.
DOUBLES
Carly Seitzinger/Natalie Brown (BM) def. Megan Oswald/Emily Hunsicker 6-0, 6-0; Leah Wallsavage/Daniella Minnick (BM) def. Brooke Williams/Jenia Fernandez 6-1, 6-4.
Jim Thorpe-Moravian
Moravian Academy capped an undefeated regular season with a 5-0 victory over visiting Jim Thorpe.
The Olympians dropped to 8-4 on the season.
Moravian Academy 5, Jim Thorpe 0
SINGLES
Isabella Bartolacci (MA) def. Gabby Nunez 6-1,6-0; Francesca Bartolacci (MA) def. Tara McLean 6-0, 6-0; Jamilie Atiyeh (MA) def. Hailey Trine 6-0, 6-0.
DOUBLES
Yan Yu/Kanchan Gupta (MA) def. Kaylinn Trin/Julia Green 6-1, 6-0; Sophia Brands/Grace Wright (MA) def. Hailey Wallace/Chloe Tantala 6-0, 6-0.
Tags:
Sports ,
Local Sports ,
Jim Thorpe-Spts,
Lehighton-Spts,
Marian-Spts,
Northern Lehigh-Spts,
Northwestern Lehigh-Spts,
Palmerton-Spts,
Panther Valley -Spts,
Pleasant Valley-Spts,
Tamaqua-Spts,
Weatherly-Spts,
Cross Country,
Cross Country-Boys ,
Cross Country-Girls,
Field Hockey ,
Soccer ,
Tennis ,
Tennis-Girls ,
Volleyball ,
Soccer - Boys,
Soccer – Girls,
Golf