Ross Township hosts annual Community Day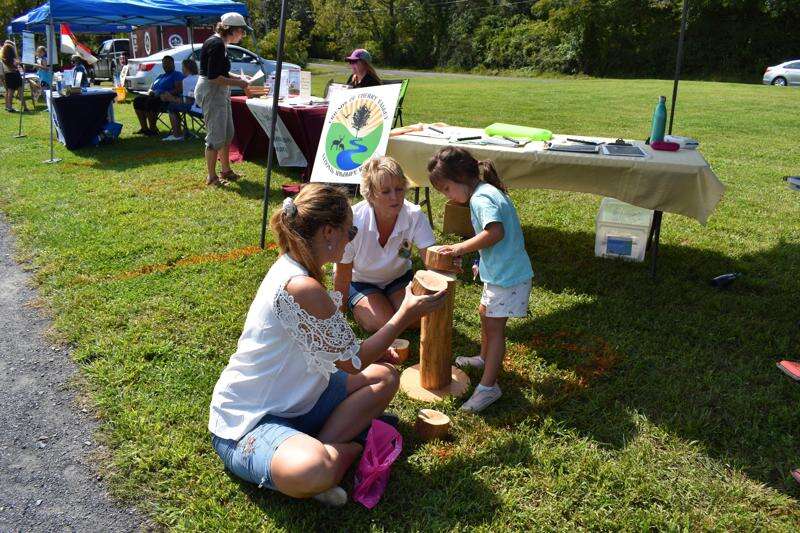 Published September 15. 2021 02:45PM
During the annual Ross Township Community Day at its park on Saturday, 4-year-old Isabella Rios worked on a 14-piece cedar tree puzzle.
The puzzle was part of Friends of Cherry Valley National Wildlife Refuge display.
Rios completed the challenge with help from her mom, Jacqueline, and Deb Schuler, the organization's president.
Schuler got the idea for the puzzle from a picture she saw online, and asked board member Jim Vogt if he could make something like it. He was more than happy to take on the task, she said.
"The refuge is in Ross, Hamilton and Stroud townships. Our organization comes every year to this event," she said.
It was one of 23 organizations and vendors with a table and informative handouts for guests who stopped by.
Participants included Blue Ridge Hook & Ladder, Ross Township Historical Society, West End Park & Open Space Commission, Meals on Wheels, Western Pocono Community Library, and a Savory Eats food truck.
"I think we're doing well considering the many Sept. 11 anniversary events going on nearby. This is an event we can continue to grow and get more people involved with," said James Zahoroiko, a Ross Township supervisor.
His son, Cody Zahoroiko, is the saxophone player for the five-piece band Funk Norris, which was one of two musical acts at the day's event.
"We are a funk band, unapologetically. We are from the Lehigh Valley, Poconos and Philadelphia areas," said Josh Klein, band leader and lead guitarist.
The other band members are Devin Marshall, keyboard; Max Pyle, bass guitar; and Josh Mascornick, drums.
This was their first gig since the pandemic started.
"We do all instrumental tunes. If a song has vocals, we put it into instruments," said Klein.
They have a YouTube channel and Instagram page showcasing their work.
Dave LaBar performed tunes from the '50s, '60s and '70s from 11 a.m. to 1 p.m.
"I have been coming to this event for many years," said Ed Schaefer, a Chestnuthill Township resident. "All of these local parks are gems that more people should visit."
Schaefer, who was giving out information about Scouting, is the Monroe District Executive of Boy Scouts of America and is the leader of a troop that meets at Salem UCC in Gilbert.
"I have talked to a few kids today that may attend our informational meeting this week," he said.
BSA Troop 101B has been serving the West End area for nearly 40 years. It is for boys ages 11 to 17.
He is trying to establish BSA Troop 101G for girls ages 11 to 17 and Cub Scout Pack 101 for girls and boys ages 5 to 10.
An informational meeting about all three groups will occur at 7 p.m. Wednesday at Salem UCC, he said.