SELF-SERVE dog wash Mr. Buster's has shampoo, flea control and a blow dryer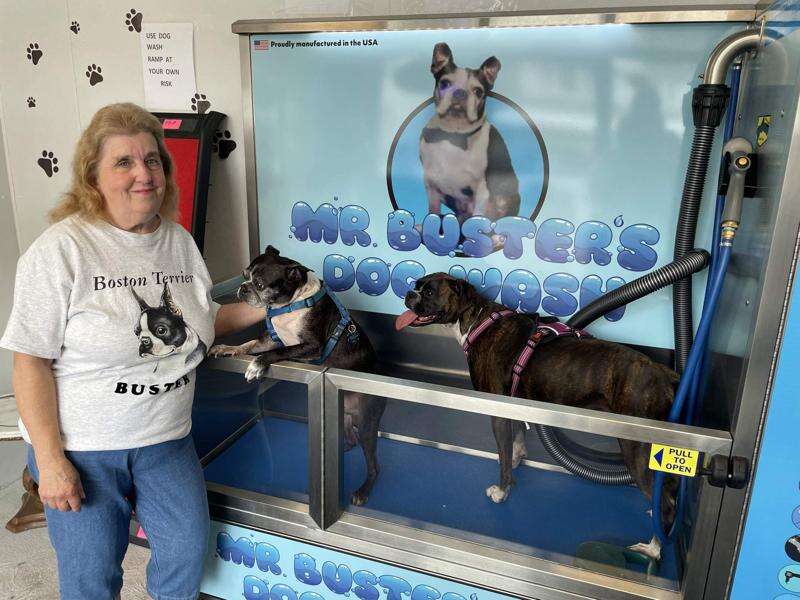 Published September 11. 2021 07:49AM
Nick Ritzko has owned dogs, cats, and a parrot named Buddy. He knows that keeping them clean is important, but can also be expensive for many pet owners.
"People don't have $50-60 to go to a groomer, but they do have $10," said Ritzko, the owner of Mr. Buster's Dog Wash.
The new dog wash, located on Patterson Street (Route 209) in Lansford, is set up like a self-serve car wash, downsized for dogs. Unlike a car wash, it dispenses shampoo, conditioner, and a flea control treatment. There's also a blow dryer.
Ritzko owns the business along with his wife, Maria. He came up with the idea from washing his own dogs. Washing them in his bathroom was messy and at times unpleasant due to arthritis and neuropathy.
"I'd have to hold the sink when I got down on the floor. And dogs shake themselves when they're in the bath, so the bathroom was destroyed and I'd have to clean it," he said.
The idea for a dog wash has been a long time coming for the Ritzkos, who also own the Lansford Laundromat. At one point they sold the laundromat, but after the new owner walked away, they had to take back over and make improvements to that business. So the dog wash had to wait.
"We kept the dream going, but we had to put a stop on it for a while, while we got that situated," Maria Ritzko said.
The name for the business came from one of the Ritzkos' late beloved dogs, a Boston terrier named Mr. Buster. He still holds a special place, so they decided to name the business after him.
The business supports the Carbon County Animal Shelter. Every dog adopted at the shelter receives a free wash. And they accept donations to benefit the shelter.
When the business held its grand opening, they raised $125.
Mr. Buster's accepts cash and cards. There are also towels for sale.
The only thing owners need to bring are their dogs.
Nick Ritzko said while there are other dog washes, the next closest one with the same technology is in North Carolina.
The dog wash is self-serve, but the Ritzkos have a security camera with intercom so they can help anyone using the machine. If a dog is skunked, they will provide the owner with materials to wash the dogs at home.
"We'll help you do anything you have to do," Maria Ritzko said.
Mr. Buster's is located at 127 W. Patterson St. and can be reached at 570-645-2342 or 570-657-0443.
For more information, visit mrbustersdogwash.com.