KME plant to close in April 2022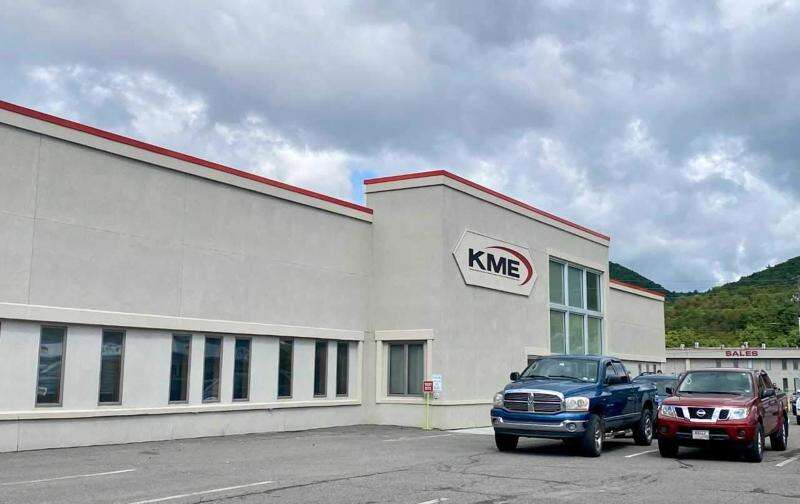 Published September 11. 2021 07:50AM
by CHRIS REBER CREBER@tnonline.com
The decades-long history of firetruck production in Nesquehoning will come to an end next year, when KME Fire Apparatus moves its operations out of the area.
REV Group, who purchased KME from the Kovatch family in 2016, announced Friday that it will stop production at KME's Nesquehoning and Roanoke Va. facilities in April 2022.
The company said in a statement that it is currently meeting with employees to discuss 'options and reassignments.' There are currently over 350 employees at the Nesquehoning site.
The transition of production has a significant impact on KME employees and is not a decision we take lightly," said Kent Tyler, president, REV Fire Group. "We are grateful to our teams at both locations, who have worked with us over the years to build the KME brand.
KME's firetrucks are arguably Carbon County's second-best-known export, besides anthracite coal. KME trucks produced in Nesquehoning are currently used around the world, by the military and many of the largest fire departments in the country including Los Angeles, New York City and Philadelphia.
The company is known for its custom firetrucks, produced from start to finish at the Nesquehoning plant.
Founder John "Sonny" Kovatch built the company from a garage which he opened in 1946. Kovatch Mobile Equipment, originally produced aircraft refueling trucks for the military. In the 1980s, Kovatch went into the fire truck business.
Area leaders respond
The move came as a disappointment to political and business leaders in Carbon County.
"I'm disappointed in this decision, and we're going to do what we can for the folks who work there. We're always willing to do whatever we can for companies like REV or anybody else, to be successful," said state Rep. Doyle Heffley, R-Carbon.
Kathy Henderson, Executive Director of the Carbon Chamber and Economic Development Corporation, said the decision will have effects on the local economy beyond the workers who are directly affected.
"KME closing will be a tremendous hit to our local economy. Not just for the employees but for the local businesses that depend on the company to supply fuel and other products in the course of the manufacturing process," Henderson said, noting that the loss of a large business will also negatively affect tax revenue for Nesquehoning and Panther Valley School District.
The Carbon County Commissioners said in a statement that they are extremely disappointed and concerned to hear of REV Group's announcement. They said that the county's CareerLink office is taking steps so it will be ready to help those directly impacted by the closure.
REV's statement said that the current orders in production will be the last ones made at KME's facilities in Nesquehoning and Roanoke, Va. Any new orders, and orders not yet in production will be shifted to its other fire apparatus facilities.
REV Group purchased the company from the Kovatch family in 2016. The company owns multiple fire truck manufacturers.
"This shift in production locations enables us to better access our broad operational expertise and resources, provide custom engineering, enhance quality and improve delivery times by leveraging the advanced manufacturing capabilities that we have through the REV Fire Group network," Tyler said.