Local roundup: Results from Sept. 7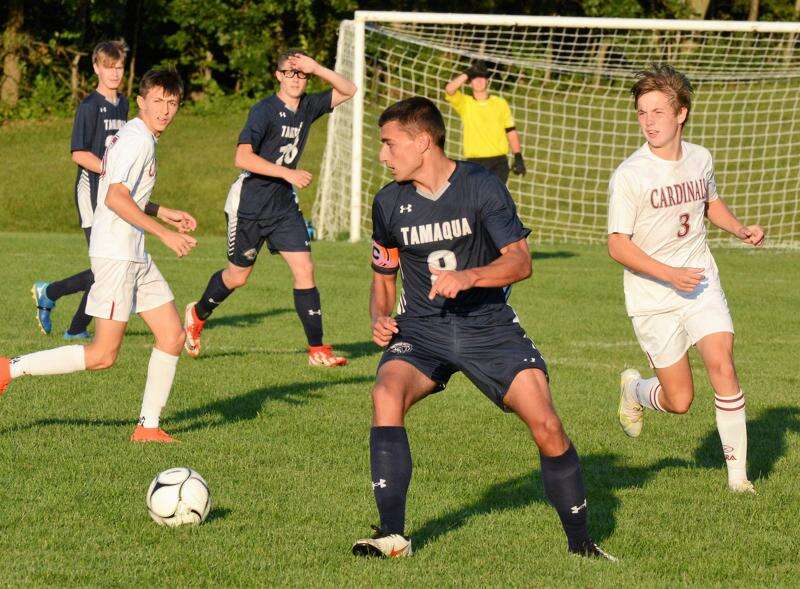 Published September 08. 2021 02:23PM
Palmerton, Jim Thorpe and Northwestern all picked up victories in a pair of sports on Tuesday.
The Bombers won in girls soccer and golf; the Olympians recorded victories in boys soccer and tennis; and the Tigers got boys soccer and volleyball wins.
GIRLS SOCCER
Palmerton-Pen Argyl
Six different Palmerton players scored in an 8-1 Colonial League win over Pen Argyl.
Ella Baumgardt led the Bombers (3-0, 1-0) with two goals and an assist, while Brianna Moore also had two goals.
Emma Martinez (goal, two assists), Riley Gerhard (goal, assist), Nataly Walters (goal), Julia Finley (goal), Beth Morgan (assist) and Sam Perloni (assist) all contributed in the win. Emma Snyder finished with eight saves for Palmerton.
Northern Lehigh-NDGP
A pair of first-half goals lifted Northern Lehigh to a 2-0 Colonial League win over Notre Dame Green Pond.
Katelynn Barthold and Nicole Zarayko scored for the Bulldogs, while Caitlin Kirk and Emma Niebell were credited with assists. Dekotah Barthold made two saves to secure the shutout.
Tamaqua-Wyoming Sem.
Wyoming Seminary made a first-half goal stand in a 1-0 nonleague win over Tamaqua.
Cassidy Rhodes-Aniska tallied an unassisted goal for Seminary.
The Blue Raiders outshot Wyoming Seminary 14-5.
Zoe Seltzer made four saves for Tamaqua.
Northwestern-Moravian A.
Northwestern and Moravian Academy ended in a 1-1 tie in Colonial League action.
Chloe Oudin scored on a penalty kick for the Lions.
No other information was provided to the Times News.
BOYS SOCCER
Moravian A.-Northwestern
Josh Zellner scored twice to lift Northwestern past Moravian 3-1 in Colonial League action.
Matt Johnson also added a goal for the Tigers, and Jack Mauro recorded an assist.
Pottsville-Jim Thorpe
TJ Dudak's second-half penalty kick lifted Jim Thorpe to a 2-1 Schuylkill League victory over Pottsville.
The Olympians held a 1-0 lead at half thanks to a goal by Aiden Clements, who was set up by an assist from Dudak.
Jacob Geiser recorded six saves in the win.
Fenstermaker posted the Tides' lone goal on a penalty kick.
NDGP-Northern Lehigh
Six first-half goals pushed Notre Dame Green Pond to an 8-1 Colonial League win over Northern Lehigh.
Ryan Miller paced the Crusaders (2-0, 1-0) with a hat trick, while Francesco D'Avella followed with two goals and an assist.
Bryce Lopinto posted the Bulldogs' (0-2, 0-1) lone goal in the first half. Ethan Kunkle recorded 13 saves.
Pine Grove-Tamaqua
Hunter Deichert scored twice, and Pine Grove posted a 5-0 Schuylkill League win over Tamaqua.
Trey Kolb, Damon Seiverling and Bryce Shollenberger also had goals for the Cardinals, while Garrett Brandt recorded an assist.
Jon Ulicny and Kevin Bazan combined for eight saves for the Blue Raiders.
Pen Argyl-Palmerton
Pen Argyl rolled to an 11-3 win over Palmerton in a Colonial League contest.
No other information was provided to the Times News.
VOLLEYBALL
Northwestern-Saucon Vy.
Northwestern pulled out a 25-23, 25-21, 19-25, 29-27 victory over Saucon Valley in a Colonial League contest.
Olivia Silfies had 15 kills for the Tigers, while Jenna Breininger tallied 14. Brooke Dwane registered 29 assists in the win.
Lourdes-Panther Valley
Panther Valley swept Lourdes 25-7, 25-5, 25-7 in a Schuylkill League match.
Abbey Vermillion had two kills and a block, while Emma Dacey had seven aces and a kill. Sadie Trubilla had five aces and 10 assists for the Panthers.
Weatherly-Marian
Marian cruised to a 25-9, 25-5, 25-10 win over Weatherly in Schuylkill League action.
Ashlyn Klitsch had 20 assists and six aces for the Fillies. Rhiannon Brady (nine aces, three kills) and Charlotte Vinson (four kills) also contributed to the win, as did Abbey Kluck (four kills).
Huntyr Eichhorst had five digs for the Wreckers, while Gianna Lowman also recorded two digs.
Marian also won the JV match, 2-1.
Blue Mtn.-Lehighton
Blue Mountain closed out a 20-25, 25-20, 16-25, 20-25 Schuylkill League win over Lehighton.
Megan Aaron recorded six digs, one ace and 10 kills for the Tribe. Hailey Miller (15 digs) and Madelyn Sofranko (five aces) also had solid performances.
Notre Dame GP-Palmerton
Notre Dame Green Pond swept Palmerton 3-0 in a Colonial League match.
No other information was provided to the Times News.
GOLF
Palmerton-Notre Dame GP
Four of five Palmerton golfers shot in the 70s in a 393-450 Colonial League win over Notre Dame of Green Pond.
Josh Suto shot an even par (71) to card medalist honors for the Bombers (7-1, 6-1). Dominic Kintz (77), Tyler Hager (78) and Connor Reinhard (78) followed with impressive rounds of their own.
Ben Ortwein posted a one-over-par (72) to lead the Crusaders (4-4, 3-4).
Palmerton 393, Notre Dame GP 450
PALMERTON
Josh Suto 71, Dominic Kintz 77, Tyler Hager 78, Conner Reinhard 78, Kyle Sebelin 89.
NOTRE DAME GP
Ben Ortwein 72, Colby VanNortwick 88, Chris Cucciuffo 91, Lucas Guimes 99, Conner Rex 100.
Played at Green Pond Country Club, par 71.
Lourdes-Tamaqua
Lourdes knocked off Tamaqua for a 363-370 Schuylkill League win.
Max Reiprish's medalist score of 84 that led the way led Lourdes in the win.
Peter McGinley paced the Blue Raiders (2-6, 3-5) with a team low score of 86, while Trent Schlecht closed with an 88.
Lourdes 363, Tamaqua 370
TAMAQUA
Peter McGinley 86, Trent Schlecht 88, Nick Behr 98, Lucas Milot 98.
LOURDES
Max Reiprish 84, Joey Feudale 85, Damon Mikewski 86, Devin O'Hearn 108.
Played at Mountain Valley, par 72.
Pleasant Vy.-Northampton
Northampton posted a 388-515 victory over Pleasant Valley in Eastern Pennsylvania Conference action.
Trent Moyer posted a 73 for the Konkrete Kids.
Lydon Patascher had an 88 to lead the Bears.
Northampton 388, Pleasant Vy. 515
NORTHAMPTON
Trent Moyer 73, Gavin Pychinka 76, Jayden Bleiler 76, Michael Seidick 81, Keller Repasch 82.
PLEASANT VALLEY
Lydon Patascher 88, Dakota Lucas 97, Braxton Knapp 107, Ben Bush 109, Owen Hedgelon 114.
Match played at Woodstone Country Club, par 72.
Jim Thorpe-N. Schuylkill
Jeff Markosky's medalist score of 74 highlighted North Schuylkill's 361-447 Schuylkill League win over Jim Thorpe.
Eddie Weaver shot an Olympians' (0-7, 0-6) best with a score of 79.
North Schuylkill 361, Jim Thorpe 447
JIM THORPE
Eddie Weaver 79, James Costlow 119, Aiden Ramey 124, Matt Fezenko 125.
NORTH SCHUYLKILL
Jeff Markosky 74, Peyton Groody 88, Brooke Reis 96, Drew Miller 103.
Played at Mountain Valley, par 72.
GIRLS TENNIS
NDES-Jim Thorpe
Gabbee Nunez, Tara McLean and Hailey Trine all scored singles victories in Jim Thorpe's 4-1 win over Notre Dame-East Stroudsburg.
Kaylinn Trine and Taylor Saba also won the first doubles match for the Olympians.
Jim Thorpe 4, NDES 1
SINGLES
Gabby Nunez (JT) def. Taylor Pawnsy (NDES): 6-3, 6-0; Tara McLean (JT) def. Olivia Niestepski (NDES): 6-0, 6-1; Hailey Trine (JT) def. Veronica Guercio (NDES): 6-0, 6-1.
DOUBLES
Kaylinn Trine/Taylor Saba (JT) def. Lia Costner/Catie Pascal (NDES): 6-1, 6-1; Mena Horvath/Ana Gonzalez (NDES) def. Julia Green/Hailey Wallace (JT) 6-0, 3-6, (10-6).
Tamaqua-Kutztown
Kutztown blanked Tamaqua for a 7-0 win.
Kala Muller, Sierra Smart, Elena Sewall, Ryleigh Bohning and Caroline Brown swept singles play for the Cougars.
Tamaqua falls to 1-4 overall on the season.
Kutztown 7, Tamaqua 0
SINGLES
Kala Muller (K) def. Sabrina Pratt 6-0, 6-2; Sierra Smart (K) def. Lesslia Matinez 6-0, 6-1; Elena Sewall (K) def. Emily Antonio 6-2, 6-2; Ryleigh Bohning (K) def. Brooke Williams 6-0, 6-1; Caroline Brown (K) def. Emily Hunsicker 6-0, 6-1.
DOUBLES
Maisy Kellum/Emerson Erb (K) def. Lesslie Martinez 4-0, 4-0; Lilia Pizzelariti/Susanna Brown (K) def. Helen Florea/Brooke Williams 4-1, 4-1.
Tags:
Sports ,
Local Sports ,
Jim Thorpe-Spts,
Lehighton-Spts,
Marian-Spts,
Northern Lehigh-Spts,
Northwestern Lehigh-Spts,
Palmerton-Spts,
Panther Valley -Spts,
Pleasant Valley-Spts,
Tamaqua-Spts,
Weatherly-Spts,
Soccer ,
Tennis ,
Tennis-Girls ,
Volleyball ,
Soccer - Boys,
Soccer – Girls,
Golf