Local Roundup: Results from Sept. 4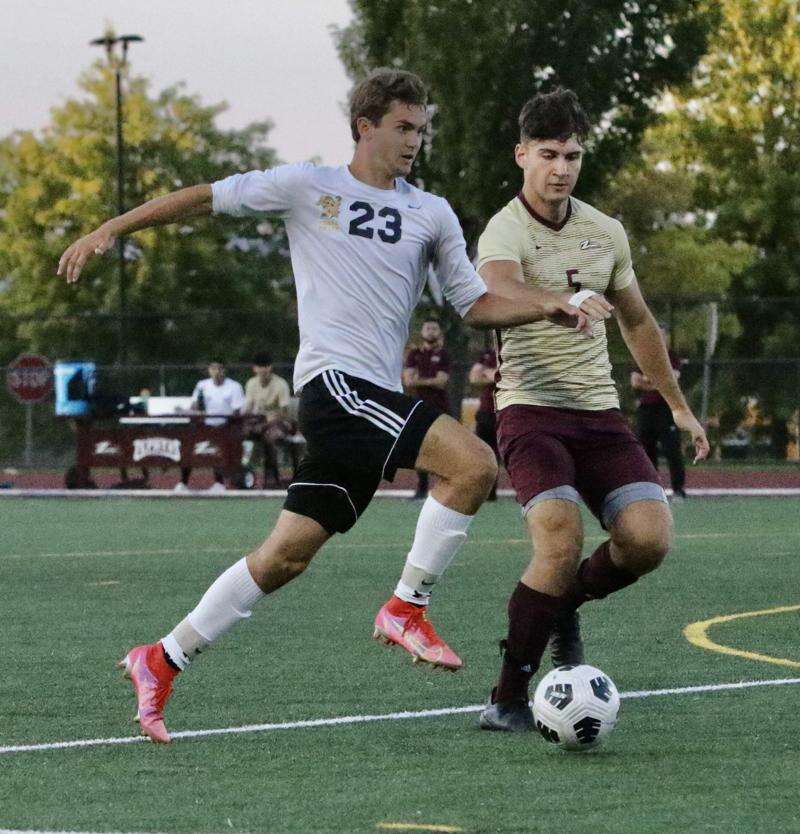 Published September 07. 2021 02:54PM
Six area soccer teams gained wins on Saturday, including the Marian girls in the program's first-ever contest.
BOYS SOCCER
Schuylkill Haven-Jim Thorpe
A penalty kick by TJ Dudak in the second half gave Jim Thorpe a 1-0 victory over Schuylkill Haven.
Olympians keeper Jacob Geiser made three saves in the shutout win. Haven goalie Wade Gavin finished with eight saves.
Marian-Lehighton
Matt Sofranko had a hat trick and added an assist as Lehighton rolled to a 14-0 victory over Marian.
Aidan Gruber added two goals and an assist, while Mason Nailor also contributed a pair of goals. Jacib Anthony and Trent Dorward both finished with a goal and an assist.
Others scoring goals for the Indians included Levi Monk, AJ Light, Kayden Recker, Lucas Richards and Jesse Waksmunski.
Marian goalie Marcus Rosenthiel made 25 saves.
Northwestern-Whitehall
Northwestern scored three first-half goals and the Tigers made them stand up in earned a 3-2 victory over Whitehall.
Matt Johnson scored twice for Northwestern, while Josh Zellner also tallied for the winners. The Tigers' Caden Fish added an assist.
Seth Marsteller and Elie Khalil both had second-half goals for the Zephyrs.
Northwestern keeper Mason Crocco finished with 11 saves.
GIRLS SOCCER
Marian-Lincoln Leadership Ac.
Ashley Pleban scored two goals and added an assist to help Marian earn a 9-1 victory over Lincoln Leadership Academy in the Fillies' first-ever soccer contest.
Kerrigan Digris also had a pair of goals for the winners, with Ashlee Zimmerman, Zoe Salter, Maddie Kattner and Alizabeth Pikitus each scoring once.
Marian keeper Eden Arnold made seven saves.
Lehighton-Palmerton
Brianna Moore scored both of Palmerton's goals as the Blue Bombers gained a 2-0 victory over Lehighton.
Emma Martinez assisted on one of Moore's tallies, while Emma Snyder made five saves in the shutout win.
Pleasant Valley-Salisbury
Aryn Stivala scored two goals to help Pleasant Valley earn a 4-1 victory over Salisbury.
Alexa Weaver contributed a goal and an assist, while Madison Fava also tallied for the Bears.
Recording assists for PV were Autumn Castro, Ella Muir and Katelyn Honadel.
Winning goalie Sam Merklin had five saves in the contest.
Tamaqua-Minersville
Ava Yob scored twice in the second half to propel Minersville to a 3-1 victory over Tamaqua.
Brooke Kopinetz also tallied for the winners.
The Blue Raiders received a goal from Kolbie Robb, with Rylee Wenzel adding an assist. Tamaqua keeper Zoe Seltzer made eight saves, while the Miners received 11 stops from Chloe Stout.
Schuylkill Haven-Jim Thorpe
Schuylkill Haven posted a 4-2 victory over Jim Thorpe.
No other information was provided to the Times News.
CROSS COUNTRY
Lehighton, Marian, Palmerton,
Tamaqua, Weatherly at
Northampton Invitational
Five area teams were among 44 schools that took part part in the Northampton Invitational.
The Palmerton boys, led by Owen Hibell's 16th-place finish, placed fifth in the team scoring.
Both Tamaqua teams finished in the top 10. The Blue Raider boys were ninth, while the girls took seventh. Tamaqua's Grace Stegemerten had the best area finish in the girls race, placing 28th.
Marian's Grace Curnow crossed in 60th place.
Frankfort (West Virginia) took the team title in the boys race, with Conrad Weiser gaining the girls title.
FIELD HOCKEY
Lehighton-Palmerton
Gabby Brown scored two goals to help Lehighton register a 4-3 victory over Palmerton.
The Indians also received tallies from Maddy Brown and Brielle Frable, while winning goalie Shelby Heater finished with 10 saves.
Ana Recker posted a pair of goals for the Blue Bombers, with Celese Hoffman adding one. Palmerton's Kelsey Balliet assisted on one of her team's goals.
VOLLEYBALL
Cardinal Clash
Jim Thorpe went 8-0 in pool play, and then remained perfect with a 3-0 record in the playoff matches.
The Olympians downed Shamokin in the quarterfinals and Nativity in the semis, before defeating Northern Lebanon in the finals.
No statistics from the tournament were provided to the Times News.
Weatherly-Palmerton
Weatherly dropped the opening game, but rebounded to win the next three in defeating Palmerton.
The Bombers opened with a 25-19 victory, before the Wreckers reeled off 27-25, 25-10 and 25-20 decisions.
No other information was provided to the Times News.