Make a back to school treat with vanilla rice pudding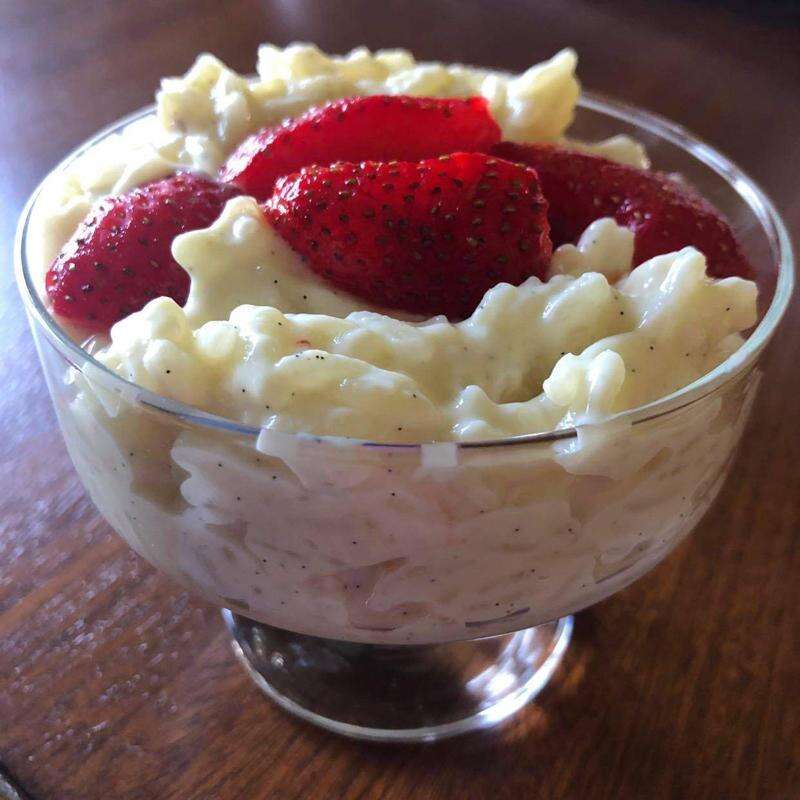 Published August 25. 2021 01:36PM
Back to school and college is a time for making quick and easy desserts, snacks, work lunch treats and simple recipes cooked and baked together.
A bowl of creamy rice pudding is great comfort food any time of the year.
Whether you make rice pudding for an evening dessert, for snacks, for school or business lunches or as a gift of kindness in a covered dish, delicious rice pudding made at home is fantastic.
You will find that heating a vanilla bean with the released seeds will fill your house with a wonderful aroma. You can find vanilla beans in grocery stores or online.
You will find this recipe to be easy, using simple pantry and refrigerator staples. You can make rice pudding a few days ahead of serving it and it packs for travel well in a small cooler.
Topped with fresh fruit, a drizzle of farm stand honey, whipped cream or just a sprinkle of cinnamon, rice pudding is one of the best retro bowls around.
Rice pudding is a great recipe to have on file and to make alongside holiday pies or to have in the fridge for a late-night snack.
Special Creamy Stove-Top Vanilla Rice Pudding
1 cup of white rice
1½ cups of water
¾ cup of sugar
4 cups of whole milk
½ cup of heavy cream
2 egg yolks
1 teaspoon of pure vanilla extract
1 vanilla bean
A pinch of salt
In a medium-sized pot, add your rice and water. Bring the rice up to a boil and reduce to a simmer, until the water is absorbed into the rice. The rice should be partially cooked with the water all evaporated. Cover and allow the cooked rice to set for 5 minutes.
Next, pour the milk into another pot. Split your vanilla bean in half lengthwise and slide out the seeds gently with the side of your knife. Place the seeds and the vanilla bean into the milk. Heat the milk over medium high heat, adding the rice also now into the milk. When the milk comes up to a gentle boil, continue stirring once in a while. After 15-20 minutes, add your sugar. Cook until most of the milk has been absorbed.
In a bowl, whisk together your egg yolk and cream and pour it into the hot rice pudding. Cook for about a minute.
Take your rice pudding off the heat and add your pure vanilla extract and stir gently. Pour the rice pudding into a heat-safe bowl and cover onto the top of the rice with a heat-safe plastic wrap. Allow to cool and store in the refrigerator until serving. Garnish as you wish and enjoy.
Sarah Schweitzer is dual-certified in Culinary Arts and Baking & Pastry from the Escoffier School of Culinary Arts. She is a former line cook for Chef Robert Irvine at "Fresh Kitchen by Robert Irvine" which was located at the Downtown Allentown Market. Sarah is currently working as a Sous-Chef at Ateira's on First and has her own blog simplysarah.online. She can be reached at sarah.schweitzer18@gmail.com.