Mahoning drive-in celebrates win 'for the little guy'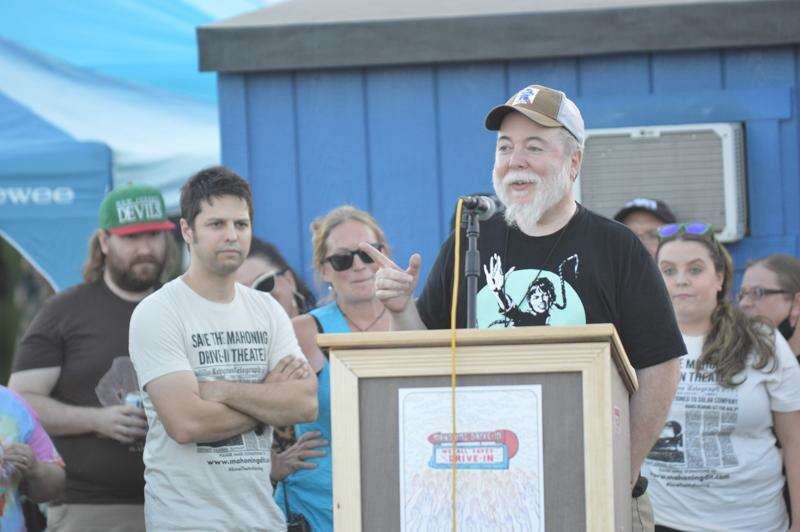 Published August 03. 2021 02:45PM
by Chris Reber creber@tnonline.com
Monday night was originally supposed to be a night to fight for the Mahoning Drive-In Theatre's existence.
But with the threat of a solar farm almost completely avoided, it became a night of celebration.
"This is something that doesn't happen. This is the end of drive-in stories over and over again. The big guy wins over the little guy. But what we have here is bigger than a neighborhood drive-in," said Virgil Cardamone, a partner in the theater and its film booker.
Before a full house, the staff and devoted fans of the Mahoning Drive-In Theater shared their appreciation for the unique movie venue, before enjoying a special Monday night double feature.
In line with the festival atmosphere, vendors selling food and vintage movie memorabilia lined up around the screen.
The theater has existed for 72 years, but was reborn less than a decade ago as a venue dedicated to keeping alive classic and cult movies on 35 mm film. But the theater management only had a handshake deal to utilize the property.
In mid-July, they announced that a green energy company had obtained a lease for the property and were taking the first steps toward getting approved to replace it with a solar farm.
The announcement was especially shocking because it came as the theater was coming off a glowing profile in The New York Times, and preparing to host a festival organized by cult film critic and TV host Joe Bob Briggs.
It prompted a huge mobilization of support from the theater's fans, many of whom drive hours from surrounding states to attend screenings. With many of those fans having artistic talents, they made graphics, posters, T-shirts, and decorated their cars to show support.
Charles Moran, a Schuylkill County-based illustrator who makes posters for the Mahoning Drive-In Theatre, said the news was emotional and heartbreaking. He did whatever he could to show support, including making bumper stickers.
"I contacted every news outlet I could, and every politician, to make my voice heard. And it wasn't just me who did that, everyone did," he said.
The dozen-plus fans who spoke during Monday's event all made clear that the drive-in is more than just a theater to them. Darryl Rabideau drives to the theater from his home in upstate New York and has seen over 150 movies at the Mahoning. He said like a lot of horror movie fans, he grew up a bit of an outsider, but found a welcoming place at the Mahoning.
"I found the family I've been looking for my whole life, three and a half hours away from home, I've made hundreds of trips here. I love you guys," he said.
Drive-in supporter John Demmer said the theater was vital to him during the pandemic. He's been involved in other historic preservation fights, and they rarely have the outcome that the Mahoning saw.
"You came out so strong that this was unstoppable. I've never seen something happen this fast, and this is all because of you," Demmer said.
Cardamone said prior to the solar farm scare, they always knew that something could happen with the property that would be out of their control. But in recent weeks, the management have been in negotiations to purchase the property and preserve it as a drive-in theater. The Mahoning team said that wouldn't have been possible without the support they received during one of the toughest challenges in the theater's 72 years.
"We feel more secure than we ever have, because you came out of woodwork. You showed us you have our back and we feel the support," Cardamone said.