Blueberries are a summer treat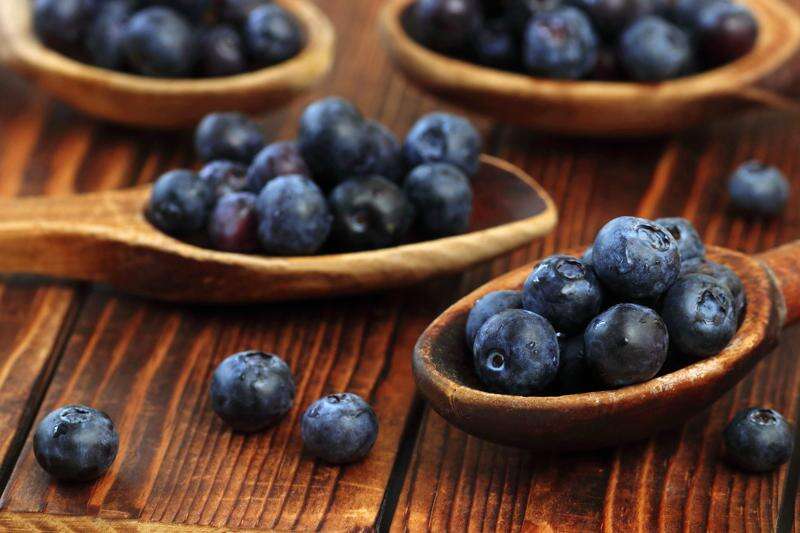 Published July 21. 2021 12:38PM
Summer berries are fantastic in pies. The farm-fresh berries add a bit of tartness and sweetness at the same time. You can taste the difference of a farm blueberry and a store-bought pack of blueberries.
Blueberry pie is fresh, wholesome and making your own pie crust is so old-fashioned.
Blueberry pie is comfort food, at its best. With some fresh whipped cream, vanilla bean ice cream or simply just pie, this blueberry pie recipe is light, refreshing, delicious and a crowd-pleaser.
Farm-fresh Blueberry Pie
CRUST
2¾ cups all-purpose flour
1½ sticks unsalted butter, small cube
¼ cup shortening
1 tablespoon sugar
½ teaspoon salt
8-10 tablespoons of ice water
1 egg white and 1 teaspoon water, mixed, to brush on the crust prior to baking
Extra sugar, for pie dusting prior to baking
Place your food processor bowl, flour, butter all separate into the refrigerator to chill.
When you are ready to make the dough, place your flour in the chilled bowl of your food processor with the sugar and the salt. Pulse a few times to begin to incorporate. Now, add the butter and the shortening into the food processor bowl as well. Pulse until the butter is the size of large peas.
While pulsing, slowly add your ice water through the top of the processor lid. The dough is ready when it starts to clump together.
Place the dough mixture onto a clean work surface and press into one disk. Divide the dough in half. Shape each dough half into a round disk. You will now have two equal dough rounds. Cover with plastic wrap and set into the refrigerator until ready to use.
Baker's note: You can freeze this dough for about a month, placing the wrapped dough in a freezer zip-close bag. To thaw the frozen dough, keep the dough in the same plastic wrap and freezer bag, and set in the refrigerator overnight to thaw evenly.
BLUEBERRY PIE FILLING
6 cups fresh blueberries
¾ cup sugar
¼ cup cornstarch
1 tablespoon cold butter, tiny dice
1 tablespoon freshly squeezed lemon juice
1 teaspoon fresh lemon zest
1 pinch of salt
In a large bowl, mix everything together gently. Set aside to fill your crust.
Preheat your oven to 400 degrees Fahrenheit with a sheet pan inside of the oven.
On a lightly floured surface, roll out your first dough disk into a round circle with a rolling pin. Place the one dough into a 9-inch pie pan. Press down the pie dough into the baking pan evenly, leaving 1 inch overhang. Place the pan into the refrigerator to chill while you roll out your second pie crust, the top.
Next, take the second disk and roll out the crust on the lightly floured surface, as the first dough round. You can add a bit more flour, if necessary, to the table surface.
Remove the pie pan from the refrigerator with your chilled bottom pie crust in it. Fill that crust with your sweet pie filling. Place your top crust dough gently to cover the berry mixture. Cut enough access dough so that your overhang on your top crust will meet with the overhang of your bottom crust. With floured hands, roll the dough under itself into the pie plate to seal. Pinch the dough or crimp it all around the pie how you prefer it to look.
Place the pie into the refrigerator for 30 minutes until baking to chill again. Make your egg white wash for your crust now. When your pie is ready to bake, gently brush the egg white wash on and sprinkle extra sugar on top. Then, with a knife, cut three to four air vents gently onto the top pie crust so that moisture can escape.
Bake your blueberry pie at 400 degrees on the hot sheet pan in the oven for 15 minutes. Reduce the oven temperature to 375 degrees Fahrenheit and bake for about another 40-45 minutes until the juices in the center are bubbling.
Allow your pie to cool at least 4 hours and set up.
Remember, this is a fresh berry pie. Therefore, it is best served the next day, after it sets up overnight.
If you like to serve your pie the same day out of the oven, top your fresh pie with vanilla ice cream.
Sarah Schweitzer is dual-certified in Culinary Arts and Baking & Pastry from the Escoffier School of Culinary Arts. She is a former line cook for Chef Robert Irvine at "Fresh Kitchen by Robert Irvine" which was located at the Downtown Allentown Market. Sarah is currently working as a Sous-Chef at Ateira's on First and has her own blog simplysarah.online. She can be reached at sarah.schweitzer18@gmail.com.