Charlie's fight: Jim Thorpe father of five battles extremely rare cancer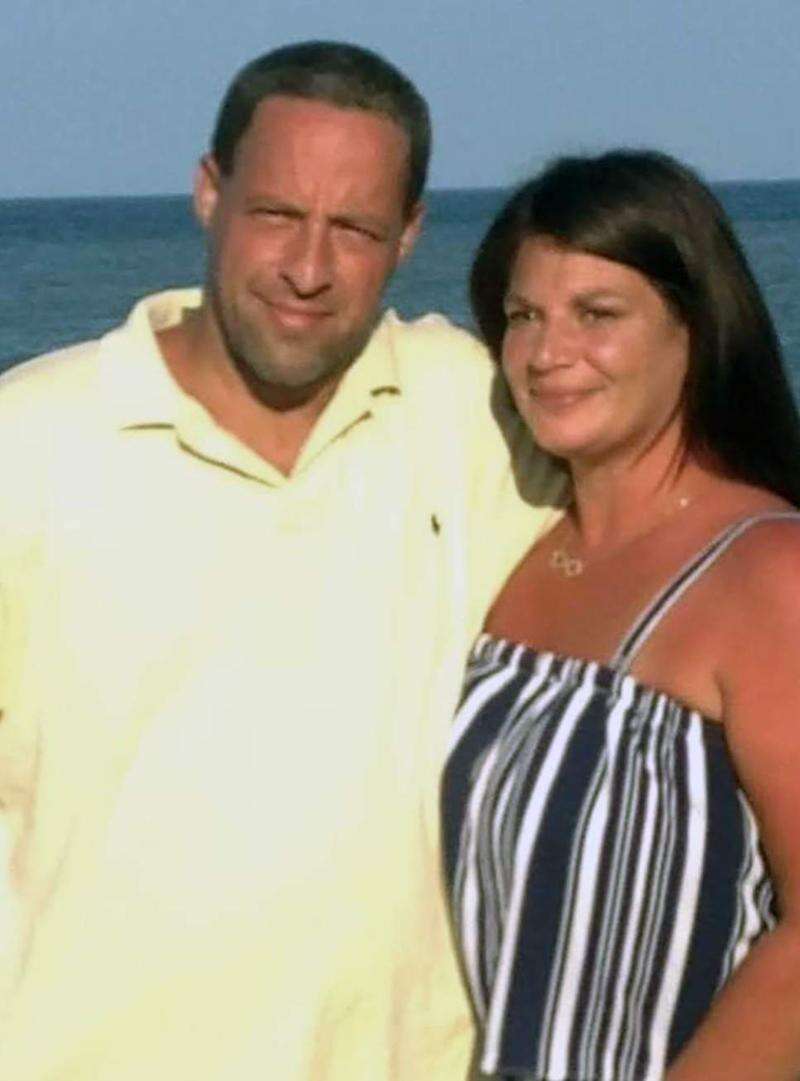 Published June 19. 2021 06:38AM
It all began with lower back pain that persisted for years of sleepless nights. Not until four weeks ago was the reason for his debilitating condition finally discovered.
Charlie Lilly, 46, was diagnosed with stage 4 Ewing's sarcoma, a rare type of cancerous tumor that grows in a person's bones or in the soft tissue around the bones, such as in the cartilage or the nerves. The condition is more common in children, yet it only afflicts 200 American boys and girls a year. This type of sarcoma is found in just 20 adults annually.
A Jim Thorpe father of five, Charlie and his wife, Kristen, have put their hands and their hearts together to fight his cancer that has been costing them time, money, and, of course, a precious quality of life.
A life-altering moment
"With his back pain, we had made several visits to urgent care centers and we were told it was most likely sciatica or sacroiliitis," Kristen said. "In March of this year, we went again to an urgent care center when he was in excruciating suffering, and they told Charlie to take ibuprofen and see his personal care practitioner."
X-ray after X-ray proved to be inconclusive, but an MRI showed there was a serious problem.
"I was out for a walk when my husband called and his voice shaking," Kristen said. "He said the MRI report stated, 'Immediate Oncological Workup Needed.'?"
Then on May 19, Charlie and Kristen waited in agony for 45 minutes to see the biopsy results that confirmed Charlie had Ewing's sarcoma with an inoperable malignant tumor on his pelvis.
Trying times
Ewing's sarcoma is treatable, but not curable. Charley immediately began radiation and chemotherapy procedures at Fox Chase Cancer Center at Temple University Hospital in Philadelphia. Medicine is administered five days at a time through an inserted port with two to three weeks of recovery in between.
Despite the reality of the diagnosis, each day when he wakes up, Charlie has the same thought.
"I'm still in shock that this thing hit me," he said. "It came out of nowhere. I wanted to doubt that it's true. It's not genetic and no one will ever be able to tell me a cause."
His terrible back pain has subsided. His cancer treatments, as he says, have been a "blessing to help reduce the intense pain I had for almost three years."
Kristen says that her husband's cancer has "consumed every thought in her head" from waking up until she goes to bed every night. Then there was the task of telling their children that their father was very sick.
"We took a while to tell the kids, and our oldest, Charles IV, is upset that he can't come back from Texas where he's stationed in the Army to be with his father during this difficult time."
The side effects of the chemotherapy are barely tolerable. After his first round of treatments, Charlie has experienced nausea, tiredness and headaches. He's also lost his sense of taste for food.
"When I try to eat, the food has an awful metal taste," he explained. His loss of appetite has caused him to lose 16 pounds so far, and he now needs to drink nutritional shakes.
The tumor on his pelvis is not the only concern. As it occurs with many sarcoma patients, the disease has also spread to Charlie's lungs.
"I have some tiny spots there, and we're hoping the treatment knocks them out."
The will and the courage
Charlie's fight will be long and hard.
In his words, he says, "I take it day by day. Two months already feels like a lifetime. I do try to stay in the moment, but it's not easy."
His team of doctors at Fox Chase have not directly told him about his chances to survive the cancer, but one doctor explained it to the former construction worker by making a comparison.
"He asked me what is the strongest part of a house, and I said it's the foundation," Charlie said. "I knew right then that he was referring to the tumor on my pelvis."
He spends his days coping with his symptoms until the next round of treatment when he has to take on the ritual again, which doctors have said will last at least 14 times. He watches TV and smirks at the number of cancer commercials that he sees now that he used to regard with no importance.
Charlie tells his children, whom Kristen calls "Daddy's girls and boys," the truth about everything.
"It's better they hear about what I'm dealing with from their father because they would Google it and find out anyway. When my hair starts to fall out or they see me foaming at the mouth, they will know what to expect. I want them to be strong so we can go through this together."
He carries no guilt or regret about why this cancer has invaded his body.
"I did nothing wrong to get this. It's super rare," he says. "I just hope no one else has to be in the position I am, especially if it becomes a death sentence."
The burden of cost is weighing on the Lillys as well. Kristen has set up a GoFundMe page to accept donations, prayers and kind words.
"Each time I go to Philadelphia with Charlie, I stay in a hotel near his treatment center. This has become an expensive burden beyond our means and now we need to get a reliable car, too."
Love is an answer
How the Lilly family moves forward when more questions about his condition arise is answered by the love Kristen and Charlie have for each other.
"I knew he was one in a million when I married him 12 years ago, but this rare cancer wasn't supposed to be a part of the package," said Kristen with a difficult laugh. "Charlie is my sunrise, my sunset and every moment in between. He is an amazing father, husband and man."
As this 46 year-old family man awaits a positron emission tomography scan in July, he has accepted his plight with courage and understanding.
"I'm not a victim. We have to figure this out," he says. "But for now, I just have to push myself through another day."
Editor's note: Donations to help the Lillys can be made on "Charlie's Cancer Fight" GoFundMe page.