Flexer Photography closing after 40 years in the business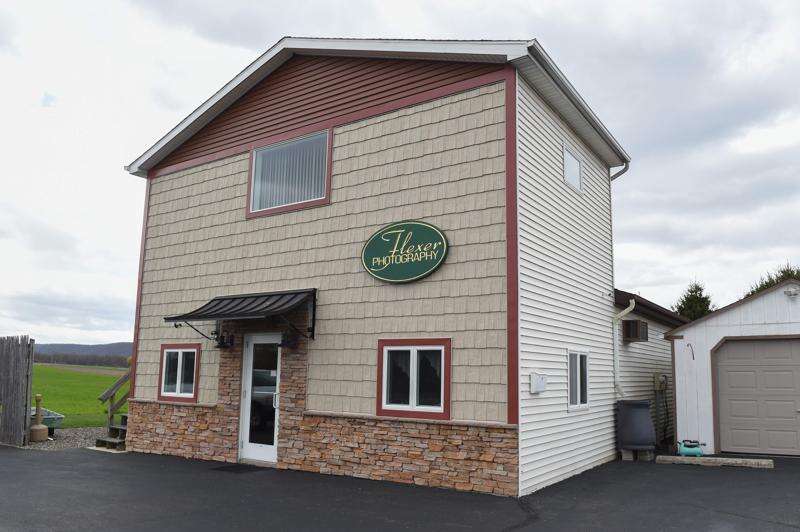 Published May 29. 2021 07:20AM
Flexer Photography in Hometown started 40 years ago with a dream, a love between two people and a desire to capture memories that will last a lifetime.
Situated on 4 acres of land near Marian High School, the studio has served as a prime destination for seniors and families alike from all around the Carbon and Schuylkill areas when quality photography was desired.
"It was Neal's dream," Barbara Flexer said recently as she sat in the waiting area of the business that has welcomed thousands of students over the last four decades.
The walls are filled with photos of smiling faces, generations of families and sports poses; while the studio itself is a collection of props and backgrounds from decades of experience.
"But it's time to move on."
Barbara, Neal's widow and the owner of the business, has decided that she will be closing the studio's doors in the coming months as she prepares to retire.
"I've been doing this for 40 years," she said. "I've seen a lot over my lifetime but I'm at a point in life where I just want to enjoy whatever time I do have left. My husband died at 51, my father died at 59. Nobody got to retire. I want to enjoy my granddaughter while I can and also my companion, Rick. I haven't had a true vacation in 20 years and I'm looking forward to my next chapter."
A dream and a camera
The couple began their venture of building a business in 1981, two years after getting married.
"(Neal) always loved photography," Barbara said. "I bought him his first professional camera for Christmas."
Neal started shooting weddings and Barbara began learning how to run a business.
In 1985, Neal expanded operations and decided to try his hand at senior photography.
"His brother was actually graduating in 1985 and a cousin so we did those photos," Barbara said. "They got a couple of their friends to come in and that's how that evolved."
From there, the business began offering children specials for holidays, which became such a hit that Barbara remembers the studio being standing room only.
Flexer Photography flourished over the next several years to the point that the Flexers were photographing upward of 600 seniors during the summer months, as well as continuing weddings and children photography, as well as expanding into school event photography.
"There have been a lot of memories created here over the years," Barbara said.
In addition to the photography business, the couple welcomed and raised two sons, Neal III and Jordon.
But life took a turn very quickly.
In 2003, Neal began getting back aches and having night sweats and was soon diagnosed with Non-Hodgkin lymphoma.
That didn't stop him though.
"He's a one-man show," Barbara said in an article published in the Times News in 2006.
The couple continued to operate the business as Neal battled his illness, but in September 2006, he lost his battle.
Neal's legacy continues
The family didn't miss a beat after Neal's passing, with Barbara and sons, Neal III and Jordon, stepping in to keep Neal's dream alive.
Barbara took over as the owner of the business, while Jordon, who was 19 at the time of his father's passing, picked up the camera, and Neal III went on to graduate from Lock Haven University and then work as the family's IT department for the business.
"I knew enough to keep it running," Barbara said. "Jordon knew photography and we just kind of did our thing. Neal III did the retouching for us."
Four years ago, Neal III moved on from the business and joined Geisinger in Danville, while Barbara and Jordon continued with business as normal.
Closing a chapter
Last year, as the pandemic took its toll on the world, Barbara realized it was time to say goodbye to a chapter of her life that she nurtured for so long.
The detail-oriented business owner set dates for herself as she planned the business' shutdown.
"I need deadlines," she said.
The first deadline, which is much sooner than Barbara originally anticipated, is the end of July as Jordon has found employment with UPS.
The family will accept studio sessions through July.
"People who have yet to place orders from their sessions, or need more reorder photos need to contact the studio as soon as possible so those orders can be fulfilled," Barbara said. "While I'm capable of taking and packing orders, I can't do Jordon's job which includes retouching and sending the orders to the lab.
"I urge you to please not wait and contact me now for your needs."
In addition, Barbara will also begin selling off some of the props the business has, including two sets of risers that can be used for team photos.
"If any photographers are interested in props, backdrops and some equipment, contact me at 570-467-3125 in the beginning of August," she said. "I have much to go through and decide on, but you are welcome to look at what is here and see if anything interests you."
Internet orders will continue until Sept. 10, when at that time, Barbara will discontinue the company website.
Her last day will then be Sept. 24 when she officially retires and closes this chapter of her life.
"I have been there, I've done so much. It's time," she said, noting that after that date, the business phone and email will be disconnected.
Looking back on her career, Barbara said it wouldn't have been possible without her family and the communities that supported them.
"I want to say thank you to all the clients that we have serviced over the years for portraits, baby sessions, pet photos, weddings and most importantly the repeat ones," she said. "One client in particular stands out, Tammy Rusnock Kline who has been a consistent client since her high school graduation to present.
"I also want to thank the school districts that have allowed us to serve them from senior head shots, sport photos, prom and graduation over the span of 40 years.
"It's been a true pleasure."