Community supports Pleasant Valley High School Senior Day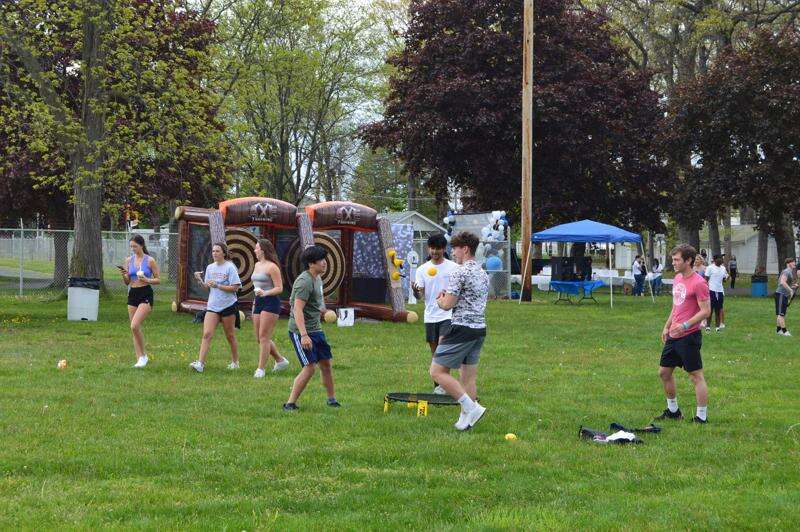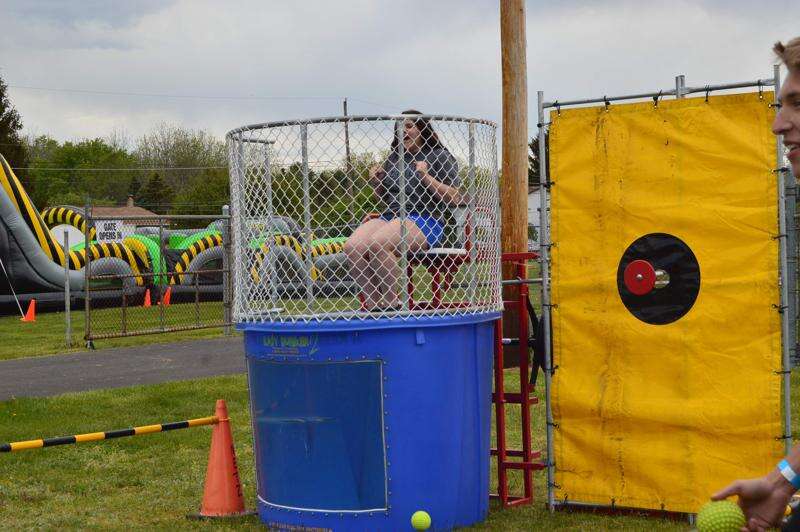 Published May 26. 2021 02:45PM
Pleasant Valley High School seniors came out for Senior Day on May 15 at the West End Fairgrounds.
"I'm super excited that it actually happened," said Brittany Angelica, one of the organizers of the event. "It's nice to see that the community came together to support the seniors."
The event was the idea of a group of parents of seniors led by Megin Hoff and Christine Gallagher. In conjunction with Angelica, the founder of the Ricky Finelli Memorial Fund, they raised about $10,000 for the event. Donations were accepted through Venmo, PayPal and Zelle, or by contacting Angelica at the RickyFinelliMemorialFund@hotmail.com.
"This is something Ricky would have liked," Angelica said. "He was a big kid at heart."
Angelica created the fund in memory of her late fiance. Both are PVHS grads. The memorial fund provides scholarship to PVHS students and purchased a new team scoreboard for the baseball field.
To raise money for Senior Day, the group held fundraisers including a Slice for Seniors and Sets for Seniors at local pizza shops and gyms. Patrons were able to make a donation and sign their names to a pizza or blue barbell tag, which was then hung on the wall of the business to show their support.
Because they raised so much money, each senior received a gift bag with a T-shirt, bottle of water and $20 gift card.
"It was so successful I'm even thinking about doing this for future senior classes," Angelica said. "It's nice for the kids to come out and just be kids before they enter the pressures of adult life."
In addition to help from the pizza shops and gyms, other businesses offered their services. Metz Amusements gave them a discount on the inflatable activities, and the West End Fair Association also gave them a discount to use the fairgrounds. West End Ambulance donated their time, and Jessica Marie Photography took pictures and donated the photographs to the seniors.
"It was nice that they were able to have something for them," photographer Jessica Marie Achey said.
The event included a dunk tank; giant versions of Jenga and Pong; photo booth; and inflatables including an obstacle course, sports-themed games, and a big red couch.
"It's comfy," said Abby Dowling about the couch.
She and three of her friends decided to crawl up onto it when they saw it from a distance while playing a game.
"It's nice that they did something for the seniors," she said.
Over at Pong, Tyler Price and Cody Coman were having fun.
"It's exceeding my expectations," Coman said.
The dunk tank was a hot spot at the event. Seniors took turns daring their classmates to hit the bar and dunk them. Joseph O'Connor succeeded, and Rylee Robinson took a swim.
"It's not as bad as the ocean was on Thursday," she said.
That ocean water must have been really, really cold, because Acen Winkler had another opinion about the tank.
"It was really cold," he said. "I didn't want to get my hair wet, but I did."
Winkler said he climbed into the tank because "I just wanted to make a little memory."