Unbeaten Easton tops Bears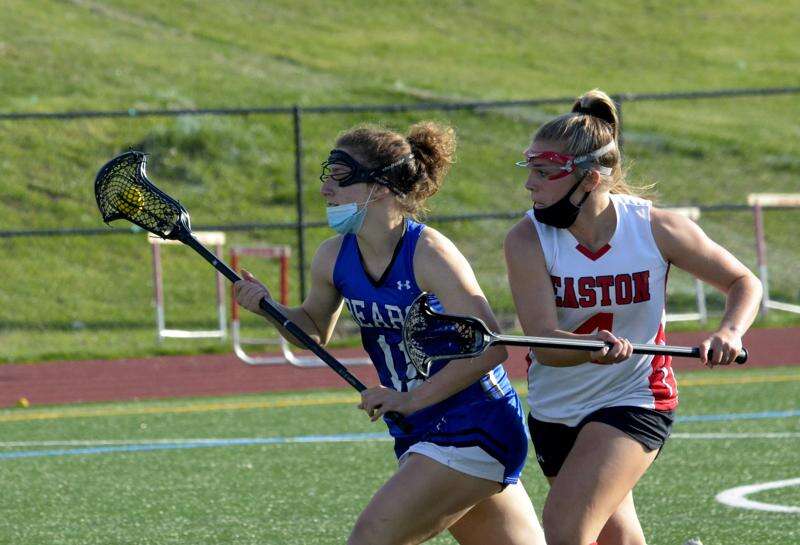 Published May 11. 2021 03:16PM
EASTON - Speed kills.
The undefeated Easton girls' lacrosse team proved that on Monday.
The Red Rovers' speed on both the offensive and defensive side of the field proved too much for Pleasant Valley to overcome in the Eastern Pennsylvania semifinals.
No. 1 seed Easton advanced to the title game with a commanding 18-8 victory over the No. 4 seed Bears.
Pleasant Valley (9-4) actually got out to a fast start, holding a 2-1 lead over the Rovers early on. An opening score from Brielle McInaw, followed up by an Alexandra Bush goal, gave the Bears some early momentum with around 15 minutes left to play in the first half.
"It was an exciting start for us. We did really well with draw control, and that was something I was proud to see us do today," said Pleasant Valley head coach Toni Bush. "As you can see, they're just a really fast team and during their big offensive run we had two yellow cards, which hurt us.
"In the end, it was a tighter game this time around, but there's no doubt we need to work on improving our team speed and stick skills to match a team the caliber of Easton."
As is the case with most fine-tuned machines, sometimes it takes a little time to warm up the engines, but once the Rovers were firing on all cylinders they dropped the hammer.
Trailing 2-1, Easton scored eight straight goals to close the half and build a 9-2 lead at intermission.
Lea Krieger, Ava Milia and Jocelyn Morgan scored two goals apiece during Easton's impressive scoring stretch when it decisively stole back the momentum.
"We definitely started out a little slow today, but we picked it up and got it going," said Easton head coach Michelle Mihalko. "Our team speed is huge, and our athleticism has been key for us this season. It speeds other teams up and forces them into mistakes.
"When we're able to utilize our passing ability and pair that with our team speed, we're pretty tough out there."
Easton (13-0) continued its offensive onslaught early in the second half, scoring three quick goals to increase its lead to 12-2.
McInaw finally ended the run, getting the Bears on the board for the first time since around the 15-minute mark in the first half. That goal ignited a strong finish from the Bears, who played Easton on even terms the rest of the way.
"When we moved the ball better, we had some success and I think that was the difference in the second half," said Bush. "We got a ton of shots off today, so I don't think that was the issue, but they have an amazing goalie who made a lot of plays out there.
"Ball movement and ball placement are also things we need to work on, but I'm excited for our future and for the upcoming district playoffs.
BETTER RESULT … The Bears lost their first matchup with Easton this season 19-5, and while the end result wasn't exactly what they wanted, it was an improvement from earlier in the season.
LEADERS … Freshman Jocelyn Morgan scored six goals to lead the Red Rovers, with junior Ava Milia adding three goals and two assists. For the Bears, McInaw led the way with four goals.