Local roundup: Results from May 3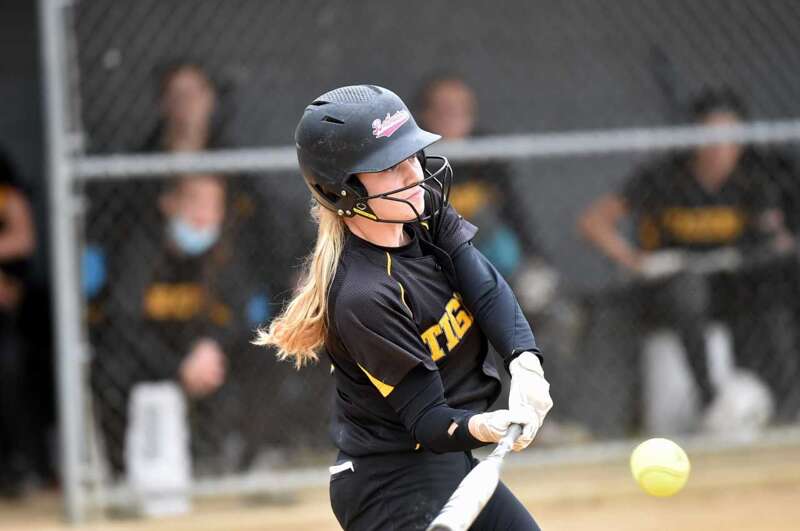 Published May 04. 2021 12:36PM
Pleasant Valley's girls' lacrosse team won its sixth straight on Monday, as another Bear hit the century mark for career goals.
Elsewhere, Northwestern posted victories in baseball and softball action.
The Palmerton softball team, along with the Panther Valley and Tamaqua baseball squads, also picked up wins.
GIRLS LACROSSE
Pleasant Vy.-Saucon Vy.
Brielle McInaw's 100th-career goal highlighted Pleasant Valley's 16-14 nonleague victory over Saucon Valley.
McInaw finished with six goals for the Bears (8-4 overall), as she became the second PV player to surpass 100 goals in her career this season.
Alexandra Bush, who reached the milestone earlier this season, also scored six goals and had an assist. Summer Storm added three goals and an assist, while Riley Green scored and had an assist.
Amanda Hayes finished with 14 saves in the win.
Emmaus-Northwestern
Emmaus cruised to a 14-0 win over Northwestern in a nonleague contest.
Marybeth Smith had a hat trick for the Hornets (15-1). Ally Shaffer, Emily Hollinger, Julia Cote and Jordyn Poll all had two goals apiece.
The Tigers fall to 3-12.
SOFTBALL
Pen Argyl-Northwestern
Northwestern rolled to a 12-2 Colonial League win over Pen Argyl.
Brynn Balliet finished with a triple and a home run for the Tigers (14-1). Morgan Farthing (two hits, two RBIs, three runs scored); Sage Toman (two hits, scored twice); Isabelle Akelaitis (double, two RBIs); Molly Mitman (double, RBI); and Molly Christman (single, two RBIs) all also contributed offensively.
Kendall Lobb had two hits, including a double, for the Green Knights (8-8).
Pen Argyl 000 20 - 2 7 6
Northwestern 540 21 - 12 11 1
Holley, Rivera (2) and Rissmiller, Black (4); Balliet, Neumoyer (5) and Stofflet. W - Balliet. L - Holley. HR: Northwestern - Balliet (5th, none on).
Palmerton-Catasauqua
A big fourth inning propelled Palmerton to an 8-3 Colonial League win over Catasauqua.
Emily Baumgardt and Megan Green both finished 2-for-4 with a double and an RBI for the Blue Bombers (13-3), who scored six runs in the sixth to take command. Kelsey Balliet also drove in two runs, and Megan Serfass had a hit, scored twice and knocked in a run.
Delaney Troxell hit two home runs in her 3-for-4 performance, with two RBIs and a pair of runs scored for the Roughies (3-11).
Palmerton 100 601 0 - 8 10 0
Catasauqua 101 000 1 - 3 10 3
Gaffney and Green; Troxell and Deschaine. W - Gaffney. L - Troxell. HR: Catasauqua - Troxell (2).
No. Lehigh-Salisbury
Salisbury pulled away from Northern Lehigh for an 11-1 Colonial League win.
The Falcons (7-8) built on an early lead with five runs in the fourth inning and then four in the fifth.
Jordan Hemingway led the Bulldogs (4-10 overall; 3-9 CL) with two doubles, while Emma Smith added two singles and Haylie Fenstermaker scored a run.
No. Lehigh 000 01 – 1 8 3
Salisbury 200 54 – 11 8 3
Heiney, Smith (5) and Peters; Caracy and Silberman. W – Caracy. L – Heiney.
Pleasant Vy-Stroudsburg
Natalie Berwick fired a no-hitter as Stroudsburg cruised to a 10-0 win over Pleasant Valley in Eastern Pennsylvania Conference play.
Berwick struck out 10 and allowed just one walk in the five-inning victory. She also had a hit and drove in two runs.
Chloe Carmella was 3-for-3 with three RBIs for the Mounties (11-3). Ciara Longo added three hits and scored three runs, while Haleigh Mazol homered and drove in two runs.
The Bears fall to 4-6 on the season.
Pleasant Vy. 000 00 - 0 0 1
Stroudsburg 122 32 - 10 14 1
W - Berwick. L - Dorshiemer. HR: Stroudsburg - Mazol.
BASEBALL
Panther Vy.-Mahanoy Area
Panther Valley turned back Mahanoy Area for an 8-5 Schuylkill League win.
Michael Pascoe was 3-for-4 with two doubles and two RBIs for the Panthers (14-3). He also struck out 10, allowing four hits, two walks and one earned run in five innings on the mound.
Johnny Byers had two hits and drove in three runs, while Chase Weaver had two hits and scored twice.
Bryson Soult was 2-for-4 with a triple, an RBI and a run scored for the Bears (2-12), who pushed across three runs in the bottom of the seventh inning.
Panther Vy. 202 220 0 - 8 10 4
Mahanoy 001 010 3 - 5 7 4
Pascoe, Orsulak (6) and Orsulak, Pascoe (6); Zilker, Napoli (5) and German-Nero. W - Pascoe. L - Zilker.
Tamaqua-Dieruff
Tamaqua made the most of a quick start to dispatch Dieruff 11-6 in a nonleague contest.
Nate Wickersham had a two-run single in a five-run first inning for the Blue Raiders (4-9). Wickersham also had a two-run triple. Joel Schellhammer was 2-for-4 with three RBIs and two runs scored, while Kaleb Mushock added a double and an RBI.
Deyvi Suarez was 2-for-3 with a run scored for the Huskies (4-13), Jayden Gonzalez also had two hits, two runs scored and an RBI.
Tamaqua 520 200 2 - 11 8 3
Dieruff 002 121 0 - 6 8 4
Case and Mushock; Suarez, L. Gonzalez (1), Polanco (7) and Perez. W - Case. L - Suarez.
Pen Argyl-Northwestern
Northwestern erupted with a six-run sixth inning en route to a commanding 15-5 Colonial League victory over Pen Argyl.
Two-run singles by both Rafe Perich and Ben Boyer highlighted the sixth for the Tigers (13-2). Justin Holmes added a sacrifice fly, while Tanner Romig posted an RBI-single.
For the game, Carter Welch (two singles, double, two runs scored, one RBI) and Dylan Witkowski (three singles, two runs scored, one RBI) led the way for the Tigers. Perich, Holmes, Boyer and RJ Zack all finished with two hits.
Pen Argyl 002 030 – 5 3 1
Northwestern 222 306 – 15 17 3
Edmonds, Kuster (4) and Mack; Henry, Romig (5) and Kensinger. W – Henry. L Edmonds.
Palmerton-Catasauqua
A sacrifice fly from Hunter Reitz in the bottom of the seventh inning lifted Catasauqua to a 4-3 Colonial League win over Palmerton.
Cole Schiffer, who had three hits, including a double and an RBI, scored the game-winning run for the Roughies (7-8).
Brock Bollinger had a solo home run in the first inning and finished with two RBIs for the Bombers (8-8).
Palmerton 100 011 0 - 3 8 4
Catasauqua 010 200 1 - 4 6 1
Sutton and Bollinger; Lewis, Fotta (6) and Schiffer. W - Fotta. L - Sutton. HR: Palmerton - Bollinger (1st, none on).
Northern Lehigh-Salisbury
Salisbury posted a 14-8 win over Northern Lehigh in Colonial League action.
Hunter Rothrock and Jordan Tocci both finished with three hits, including a double, and three RBIs for the Falcons (7-10).
Chase Misera was 2-for-4 with four RBIs for the Bulldogs (1-14). Cole Hausman tripled.
No. Lehigh 201 500 0 - 8 7 6
Salisbury 540 311 x - 14 15 4
Fenstermaker, Buskirk (3) and Hausman; Warmkessel, Lovelidge (4), Schware (4), Graver (7) and Tocci. W - Warmkessel. L - Fenstermaker.
TENNIS
Jim Thorpe-Blue Mountain
Blue Mountain swept Jim Thorpe 5-0 in a District 11 Class 2A quarterfinal match.
Vince Caruso, Evan Mika and Justin Kim swept singles play for the second-seeded Blue Eagles (11-4).
The Olympians, who were seeded seventh, fall to 9-5 overall on the season.
Blue Mountain 5, Jim Thorpe 0
SINGLES
Vince Carusso (BM) def. Connor Rodgers 6-1, 6-1; Evan Mika (BM) def. Daniel Teets 6-4, 6-1; Justin Kim (BM) def. Brendan McDermott 6-0, 6-0.
DOUBLES
Caden Eichert/JT Gockel (BM) def. Samuel Seachrest/Michael Carroll 6-0, 6-0; Blue Mountain wins by forfeit.