Local Roundup: Results from April 30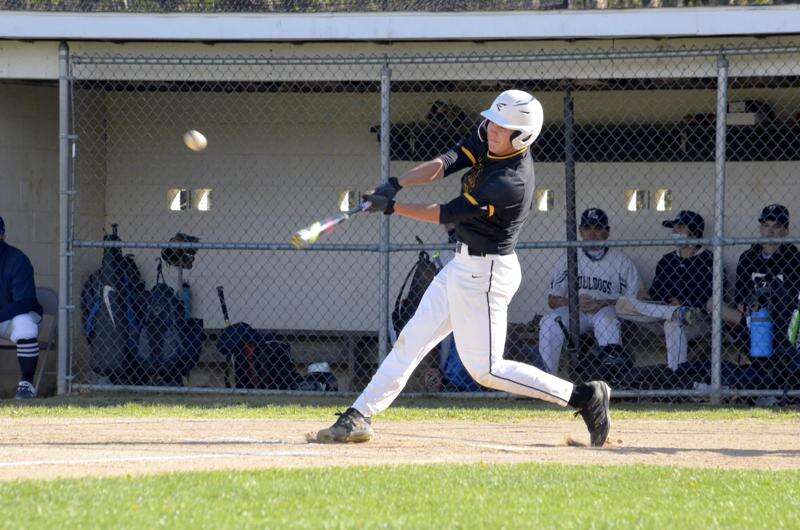 Published April 30. 2021 11:24PM
Northwestern piled up the runs in both baseball and softball action on Friday.
The Tigers scored a combined 32 times between their two teams to cruise past Northern Lehigh.
Pleasant Valley's baseball team extended its winning streak, while Jim Thorpe and Tamaqua also posted victories. In softball action, Marian rolled to a big win.
BASEBALL
Northwestern-No. Lehigh
Rafe Perich led a 20-hit attack as Northwestern rolled to a 17-2 Colonial League victory over Northern Lehigh.
Perich finished 4-for-4 with two singles, a triple and a homer. The Tigers' shortstop, who has now hit four homers this season, also knocked in six runs and scored four times.
Justin Holmes added three hits (single, double and triple) while scoring four runs and knocking in one. Northwestern also received three hits and four RBIs from Dylan Witkowski, and two hits and three runs from Carter Welch.
The winners, who improved to 13-2 overall and 12-2 in the league, are averaging 11.1 runs per game. Ben Boyer and Ryan Kensinger both added two hits and two RBIs, and Tanner Romig chipped in with a pair of hits.
For the Bulldogs (0-13; 0-11), Chase Misera and Grant Olewine both finished with two hits.
Northwestern 426 5 - 17 20 2
Northern Lehigh 002 0 - 2 7 2
Boyer, Witkowski (4) and Kensinger; Fenstermaker, Buskirk (4) and Hausman. W - Boyer. L - Fenstermaker. HR: Northwestern - Perich (1st, one on).
Lehighton-Jim Thorpe
Damien Richebacher knocked in four runs to help Jim Thorpe earn a 12-6 Schuylkill League victory over Lehighton.
Richebacher, who had two hits, delivered an RBI single during a six-run first inning to give the Olympians (8-7; 4-4) a solid lead.
After the Indians cut the margin to one run, Thorpe scored the game's nest six runs to put the contest out of reach.
Ian Hubbard added two hits and three runs scored to the winning cause, while Caiden Hurley and Jared Marykwas both added a hit and two runs. Michael Cadugan-Dougherty pitched six innings for the Olympians, allowing no earned runs and striking out nine.
For Lehighton (2-11; 0-8), Randy Bongiorno had a triple and three RBIs, while Grant Schaffer finished with two hits and an RBI. Dylan Bowman chipped in with a hit and two runs.
Lehighton 230 000 1 - 6 9 2
Jim Thorpe 631 020 x - 12 9 2
Greene, Bowman (3) and Kocher; Cadugan-Dougherty, Joyce (7) and Wimmer, Henkels (6). W - Cadugan-Dougherty. L - Greene.
Pleasant Vy.-Central Cath.
Pleasant Valley ran its winning streak to eight games after earning a 7-4 Eastern Pennsylvania Conference victory over Allentown Central Catholic.
The Bears (11-1) snapped a 1-1 tie with a four-run third inning and maintained a lead the rest of the game. Dominic Payan had an RBI double during the frame, while Brandon Ratti and Andrew Meitzler contributed run-scoring singles.
Payan and Jack Smale both finished with two hits, while Nathan Loch scored three runs.
Zach Walters earned the win, allowing two earned runs in six innings. He walked one and struck out four. Ratti, who scored two runs, struck out all three batters he faced in the seventh to gain the save.
Pleasant Valley 104 200 0 - 7 8 2
Central Catholic 101 011 0 - 4 8 3
Walters, Ratti (7) and Meitzler; Quizada, McDaid (5) and Patridge. W - Walters. L - Quizada. S - Ratti.
Pine Grove-Tamaqua
A big sixth inning lifted Tamaqua to a 7-3 Schuylkill League win over Pine Grove.
The Blue Raiders (3-9) scored five runs in the sixth, with winning pitcher Nate Wickersham driving in a run with a double, and Thomas Case and Mason Moyer also coming through with RBI hits.
Wickersham and Moyer both finished with two hits apiece. Lucas Schickram opened the scoring for Tamaqua with an RBI double in the first inning.
Ethan Hannevig hit a solo homer in the seventh for the Cardinals (7-7).
Pine Grove 100 010 1 - 3 4 2
Tamaqua 200 005 x - 7 8 3
Leininger, Deichert (5) and Zimmerman; Wickersham, Muschock (7) and Mushock, Wickersham (7). W - Wickersham. L - Deichert. HR: Pine Grove - Hannevig (7th, none on).
SOFTBALL
Marian-Panther Valley
Morgan Kelly pitched a one-hitter in the circle, and collected a homer and six RBIs in the batter's box to lead Marian to a 16-0 Schuylkill League victory over Panther Valley.
The Fillies (7-4; 5-4) scored 12 runs in the opening inning and cruised the rest of the way.
Kelly finished with six strikeouts. The winners also received a double from Alise Heisey, and singles from Athena Matenkoski, Jackie Guth and Gracie Gallagher.
Kyleight Anarumo had the only hit for the Panthers (1-12; 0-9).
Marian (12)03 - 15 5 0
Panther Valley 0 00 - 0 1 5
Kelly and Grabosky; Beshock and Yuricheck. W - Kelly. L - Beshock. HR: Marian - Kelly.
Northwestern-No. Lehigh
Northwestern's first three hitters in their lineup led the way to a 15-6 Colonial League victory.
Kylie Zentz, Izzy Akelaitis and Morgan Farthing combined to go 8-for-15 in the Tigers' seventh straight win.
Akelaitis had a double and a homer, and knocked in three runs, while Zentz and Farthing both finished with three hits. Zentz scored twice and Farthing crossed home three times.
The winners, who have reached double-digit runs in 10 games this season, also received two hits and two RBIs from Olivia Stofflet. Molly Mitman and Sam Sisco both chipped in with a hit, two runs and two RBIs.
Peyton Neumoyer earned the win for the Tigers (13-1; 11-1), walking one and striking out six.
For the Bulldogs (4-9; 3-8), Emma Smith and Bree Hess both had two hits, while Jordan Hemingway and Julia Wanamker each had a hit and two RBIs.
Northwestern 141 304 2 - 15 14 1
Northern Lehigh 100 050 0 - 6 7 5
Neumoyer and Stofflet; Heiney and Peters. W - Neumoyer. L - Heiney.
Pleasant Vy.-Central Cath.
Central Catholic's Jenny Milisits pitched a four-hitter and struck out 17 to lead the Vikettes to a 4-1 Eastern Pennsylvania Conference victory over Pleasant Valley.
The Bears got off to a great start as Hailey Krock opened the game with a home run, but Milisits kept PV off the board the rest of the game.
Krock finished with two of her team's hits, while Ariana Mulligan pitched well in defeat, allowing just one earned run and striking out five.
The winners received two hits and an RBI from both Julia Vargo and Reilly Blair.
Pleasant Valley 100 000 0 - 1 4 4
Central Catholic 002 020 x - 4 8 1
W - Milisits. L - Mulligan. HR: Pleasant Valley - Krock (1st, none on).
GIRLS LACROSSE
Nazareth-Northwestern
Northwestern's Alexis Vennera had three goals and an assist, but the Tigers dropped a narrow 8-7 non-league decision to Nazareth.
Sarah Schultz finished with two goals and a helper for Northwestern, while Ali Lister added a goal and two assists. The Tigers (3-9) also received a goal and an assist from Ava Collins.
For the winners, Sophia Zelasko and Cassidy Starner both finished with three goals.