Bears breeze past Bethlehem Catholic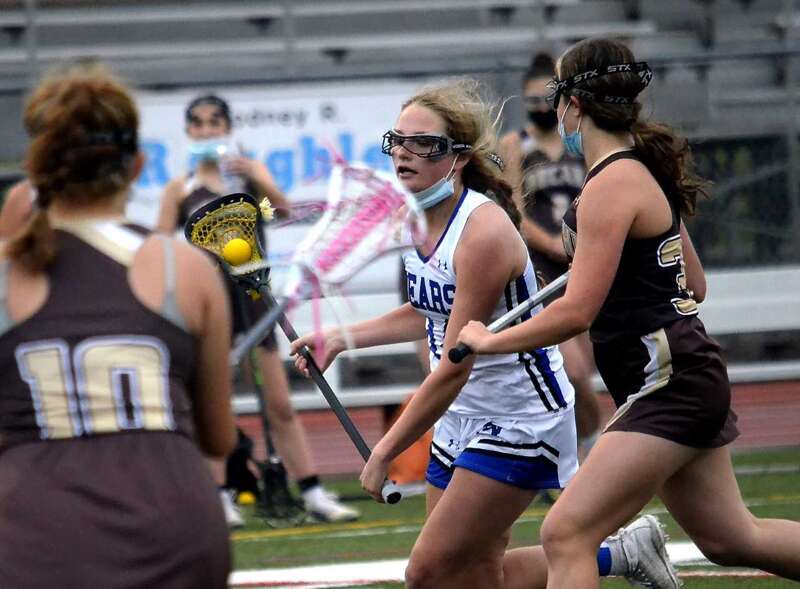 Published April 30. 2021 01:10PM
After several intense and highly competitive games, Pleasant Valley girls lacrosse coach Toni Bush got exactly what her team needed.
That would in the form of a 21-3 win over winless Bethlehem Catholic on Thursday.
"We needed a game where we could just have fun and that was today," Bush said.
The Bears (6-4) actually trailed 1-0 after Becahi's Rileigh Cummings scored in the first minute of play.
The Hawks' lead was short lived, however, as Pleasant Valley's Alexandra Bush hit the back of the net 12 seconds later on a direct shot following a face foul.
The Bears then poured it on for the rest of the first half.
Riley Green scored her team's second goal and Bush - who tallied four goals in the game - scored again with 19 minutes still left in the half.
Meanwhile, Bethlehem Catholic (0-11) crossed midfield only twice in the first 25 minutes, and after PV's Daytona Altemose struck gold with 11 minutes gone by, the mercy rule kicked in and was never jeopardized the rest of the game.
"We worked really well together," said Bush. "We supported each other and moved the ball, which gave us a lot of scoring opportunities."
And score is what the Bears did as they built a 16-2 lead at the intermission.
Brielle McInaw, Summer Storm, Lexi Walters, Lily Dannels, Madison Fava, and Carley Rehrig all torched the twine before the second half had begun.
In between all the scores, Becahi midfielder Mia Arbushitis raced the entire field to post the Hawks' second goal of the half.
Team speed belonged to the Bears all game long, as they continued to pepper the net with point blank shots. At one point late in the first half, Bush called for a motion offense which appeared to look like a basketball weave.
PV worked the "weave" to perfection by passing the ball in a give-and-go routine in front of the Hawks net. This time-killer was also a mark of respect for Bethlehem Catholic which, despite a game-long valiant effort, has not come close yet to its first victory of the season.
Besides Bush's four goals, the Bears also received four more from McInaw. Julia Young finished with a goal and two assists.
Bethlehem Catholic goalkeeper Gabby Amato, who was under siege all game long, stopped five shots. Pleasant Valley's netminder Amanda Hayes had two saves.
UNPLEASANT VALLEY ... Ominous clouds, intermittent rain showers, and 15 mile-per-hour winds cast a meteorological gloom over the Bears' big win.
SHOCK CLOCK ... With PV's scoreboard out of commission, the time clock and score were aptly kept at the scorer's table.
DISTRICT DATA ... The Bears are currently fourth in the district rankings, just ahead of fifth-place Parkland. The top three teams are Easton, Emmaus and Freedom.
UP NEXT ... Pleasant Valley hosts Northwestern on Saturday. Game time is 10 a.m.