Kratzer helped lead Palmerton's turn around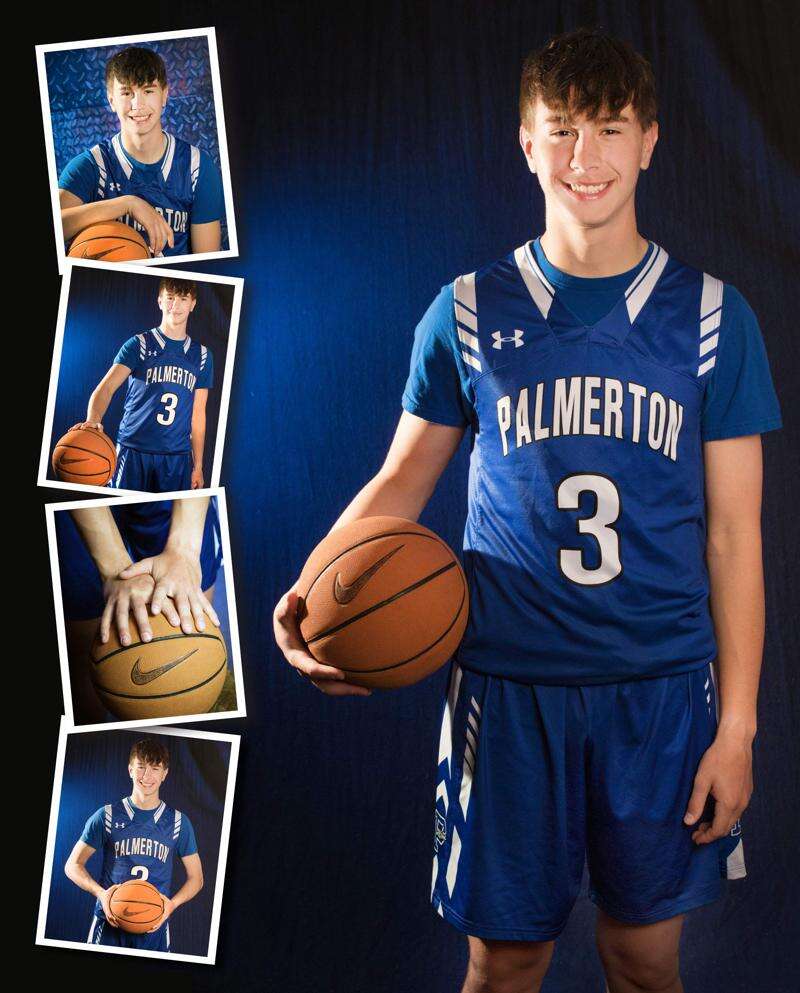 Published April 20. 2021 07:03PM
First, it looked like Palmerton's boys basketball team might not play this season.
Then when it did start, the team not only struggled out of the gate, but it also faced some dissent.
For Kody Kratzer, this wasn't the way he envisioned his senior year playing out.
Fortunately for Kratzer and his teammates, things turned around quickly and the Bombers put together an impressive run. Kratzer, not surprisingly, was in the middle of the about face - both on the court and off it.
"We actually got shut down at the beginning, and we had a little protest at our park, saying that we should go back to school and that we should have winter sports," said Kratzer about the school board's original decision to cancel in-person school and winter sports for a lengthy period of time because of the coronavirus pandemic. "We actually got it turned around, and everyone was happy.
"But then we definitely started off rough (going 2-4 in the first six games). We weren't communicating well, we weren't really having fun, and practices were even a little hostile. We all sat down and we talked. After that, we started cooking and went on a little run. Me and Owen (Buck) and a couple other seniors, we just wanted to win and have fun, so we decided to sit everyone down and talk it out."
After airing out their differences and coming together as a team, Palmerton ended its regular season on a nine-game winning streak to reach the Colonial League playoffs.
Kratzer led the way, averaging 20.8 points per game during the run.
But it wasn't just his scoring that made the difference.
"I think early in the season, especially when we were struggling, Kody kind of felt the need to do a lot offensively," said Bombers head coach Ken Termini. "By the end of the year, Kody was playing the type of basketball that I think is 'beautiful basketball'. He was still getting his, scoring 15, 16, 17 a game, but most importantly he was making the right reads.
"He was moving the ball, he was driving, drawing and dishing, he was finding open teammates ... He always was a great passer, but I think that skill showed more at the end of the year as he began to make his reads more effectively."
The end of the year came abruptly for Kratzer and his teammates as a buzzer-beating shot knocked the Bombers out of the district playoffs.
But that gut-wrenching loss couldn't diminish the contributions Kratzer gave to his team throughout the season.
The 6-3 guard finished with 390 points, leading the area in scoring at 20.53 points per game. He also was first on his team in rebounds (140), steals (28), assists (80) and blocked shots (23). Besides helping his team right the ship and produce a 13-6 record, he also reached the coveted 1,000-point plateau.
For his efforts, he was named the Times News/Lehigh Valley Health Network Boys Basketball Player of the Year.
"I really didn't have any expectations coming into the season," said Kratzer, who will be attending DeSales University in the fall. "I just wanted to win. Scoring 1,000 points was on my mind, but it wasn't something I was going to push to get. If we were winning and I'm not scoring a lot, I'd rather have that. But it just happened that I scored and got to 1,000 points."
The explosive senior was always a scorer. His career total of 1,307 points attests to that. But what made his game even better in 2021 was his play at the other end of the floor.
"Kody has the ability to score the ball from anywhere on the floor, but he also plays very strong defense," said Termini. "Kody was an extremely talented offensive player growing up through youth and middle school basketball, and sometimes guys like that come in with some bad defensive habits ... By the time Kody got to his senior year, when he wanted to lock down and shut down another guy in front of him, he grew into the type of player that can do that.
"Kody's growth defensively over the course of his high school career was significant, and at the end of his senior year, he was playing some of the best defense that I've seen from him in the five years I've been around him."
The senior's other "coach" has been around Kratzer more than five years. In fact, he's been around him his whole life.
Kody's father - Kyle - was a key member of Palmerton's district championship teams in the late 1980s. The two often trade good-natured father-son jabs at each other, although the respect level is high among the pair.
"He always likes to brag about how good his team was and how he can still beat me these days," said Kody. "He always showed me clips on VHS ... I grew up seeing some of his moves.
"I'm just thankful to all my coaches I've grown up with, my teammates that I've had, the trainers, and especially my family. They supported me through everything. They've kept me going, and they've kept me pushing to do my best. They've always wanted the best for me, and that means so much."