Hard work never ends for Olympians' Searfoss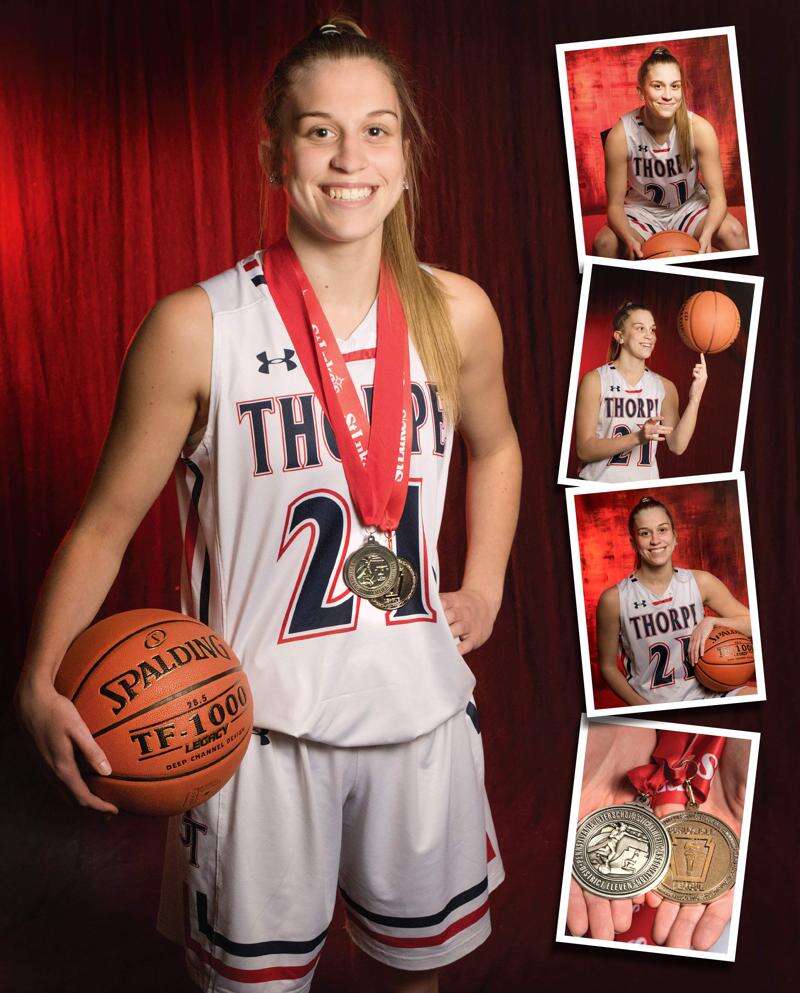 Published April 19. 2021 11:45AM
There was pain, but no pity.
There were tears, but no quit.
She was disappointed, but remained dedicated.
From a basketball perspective, March 11 was the most disappointing day Skyler Searfoss had ever experienced.
It was a day the Jim Thorpe girls basketball star would love to forget. But will always remember.
In a high school career during which victories have been plentiful and losses minimal, the loss that day to Allentown Central Catholic left Searfoss devastated.
But it's how she reacted to the loss that tells far more about Skyler Searfoss the basketball player than any stat sheet or scouting report.
Just a couple hours after the game ended and minutes after arriving home that day, she did what she has done hundreds and hundreds of times over the years.
She grabbed a basketball and headed to the court.
"It was an afternoon game, so it was still light out when I got home," Searfoss said. "I was definitely down, but I knew I couldn't sit around feeling sorry for myself.
"I wasn't going to get better sitting around sulking over the loss. I was determined that I was going to do everything in my power to make sure that this (a District 11 title game loss) wasn't going to happen again - and I knew the best way to do that was to work on my game and continue to get better."
That attitude probably doesn't surprise anyone who has played with or against Searfoss during the past three seasons - and it certainly doesn't surprise Jim Thorpe coach Nadia Gauronsky.
"I've been coaching high school basketball for the last 15 years and Skyler is the most impressive player that I've ever seen," said Gauronsky. "She can do it all on the court. She can shoot, she can drive, she's an outstanding passer, and she's a shutdown defender.
"But what makes her so special is that in addition to her outstanding skills, she has an incredible work ethic and she's the ultimate team player. Skyler is that type of player that every coach dreams about having. Because not only is she extremely talented, but she is extremely coachable as well."
Searfoss' numbers this season back up her coaches' praise.
The 5-7 guard led Jim Thorpe in scoring (16.5 points per game), assists (3.8 per game) and steals (4.6 per game). She also pulled down 3.9 rebounds per game as Jim Thorpe compiled a 19-6 record and finished second in both the Schuylkill League and District 11 Class 4A.
The combination of skills and intangibles have also made her the 2020-21 Times News/Lehigh Valley Health Network Girls Basketball Player of the Year. This is the second time in three years she has received that honor.
"Individual honors usually come as the result of having great players around you and playing on a successful team," Searfoss said. "That's definitely the case with me. We have such a talented, tight-knit team.
"Most of us have been playing together for a long time, and I know that a lot of what I've accomplished personally is due to the teammates that I have."
Searfoss and her teammates have enjoyed tremendous success over the last three years, compiling a 68-13 record and playing in three Schuylkill League and three District 11 championships games. Despite all that success, however, there has been disappointment. The Olympians have only won one of the six title games.
That's something that Searfoss is working hard to change - and a lot of that motivation is being built on the disappointment she felt after this year's loss to Allentown Central Catholic.
"Definitely the toughest loss of my high school career," said Searfoss. "Losing is always disappointing and especially when so much is on the line like in a district championship game. But this one was tougher than the others for a lot of reasons.
"First, because this loss also ended our season. In my freshman and sophomore seasons, the district runner-up at least advanced to states. It was also more painful because I think most people considered us the underdogs the previous two seasons against Bethlehem Catholic. This year against Central Catholic, I didn't feel like that was the case. But I think the primary reason was because I realized after the game how quickly my high school career is flying by. It is a huge reality check to realize we have just one more chance to get a district championship."
Searfoss has dedicated herself to making sure the Olympians take advantage of that remaining opportunity.
Three times a week she travels to Philadelphia to play high-level AAU basketball. When she isn't playing AAU ball, she can be found putting in hours on the playgrounds of Jim Thorpe working on her skills.
Because that's what Searfoss does. Whether it's the dead of winter, the middle of the summer, or hours after a heartbreaking loss, she is always working to get better.