ShopRite of Brodheadsville associates featured on Cheerios box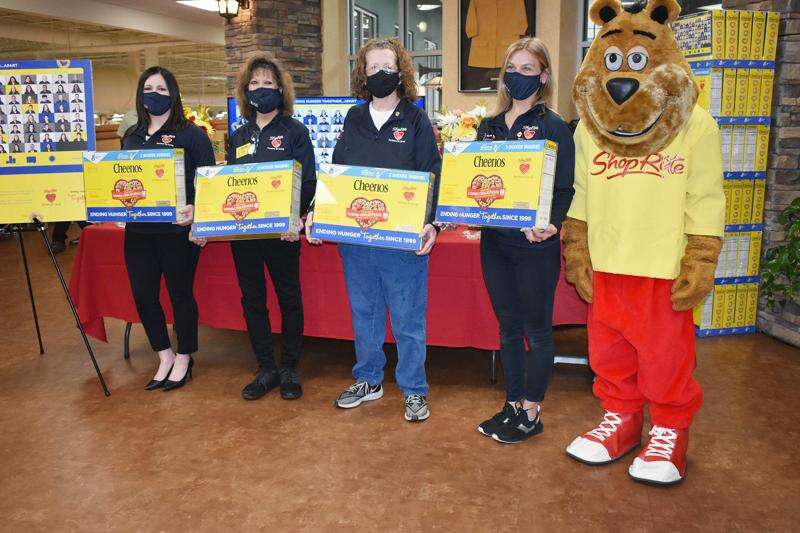 Published April 16. 2021 12:34PM
A special edition box of Cheerios was unveiled Thursday during a ceremony at Kinsley's ShopRite of Brodheadsville. These boxes are sold exclusively at ShopRite stores.
"This is an honor. I didn't really expect this," said Kim Smith, a cake decorator at the store since 1993.
She, along with three other store associates - Kateryna Polchik, Beth Everett and Marisa Wagner - were winners of the annual ShopRite Partners in Caring Contest, which raises $1 million for regional food banks in several states.
Everett, who has been a cashier since 2012, knows poverty all too well.
"There were many Christmases when I was growing up that there was no food on the table or gifts for my brother and I," she said after the ceremony. "I cried the year I got a present."
This is her sixth time appearing on the Cheerios box. Fighting hunger was a personal struggle for her back then, so being able to help end hunger for others is a personal victory for her now.
As winners, they have the distinct honor of having their photo and name on the back of the Cheerios box. The 45 top fundraising ShopRite stores select a few associates to feature on the box.
For the first time, ShopRite of Brodheadsville came in first place in this friendly competition sponsored by ShopRite and General Mills.
"ShopRite of Brodheadsville raised $17,937 in five weeks. Finally, they won this friendly competition with the other ShopRite stores after finishing in the top 5 for a few years," said Robert Zuehlke, corporate social responsibility manager for Wakefern, ShopRite's parent company.
This year's theme, "Ending Hunger Together … Apart" was poignant considering the continuing pandemic and financial crisis in this country. Store associates worked together during tough economic times to be able to give back to their community.
"It is one set of front-line workers helping another set of front-line workers," Zuehlke said.
In September, which is Hunger Action Month, and the first week of October, cashiers asked customers to donate to the campaign. There were also special fundraising events, such as a yoga class and health and wellness fair.
"2020 was a challenging year and this fundraiser was a testament to our associates," said Chris Kinsley Sr. during his brief remarks.
As a winning store, ShopRite of Brodheadsville received $3,000 that they will donate to a charity of their choosing. The Kinsley family presented its check to the Salvation Army.
Pennsylvania state Reps. Jack Rader and Rosemary Brown, and a representative from state Sen. Mario Scavello's office attended and made congratulatory remarks.