Nature center releases wood turtles into MC Lake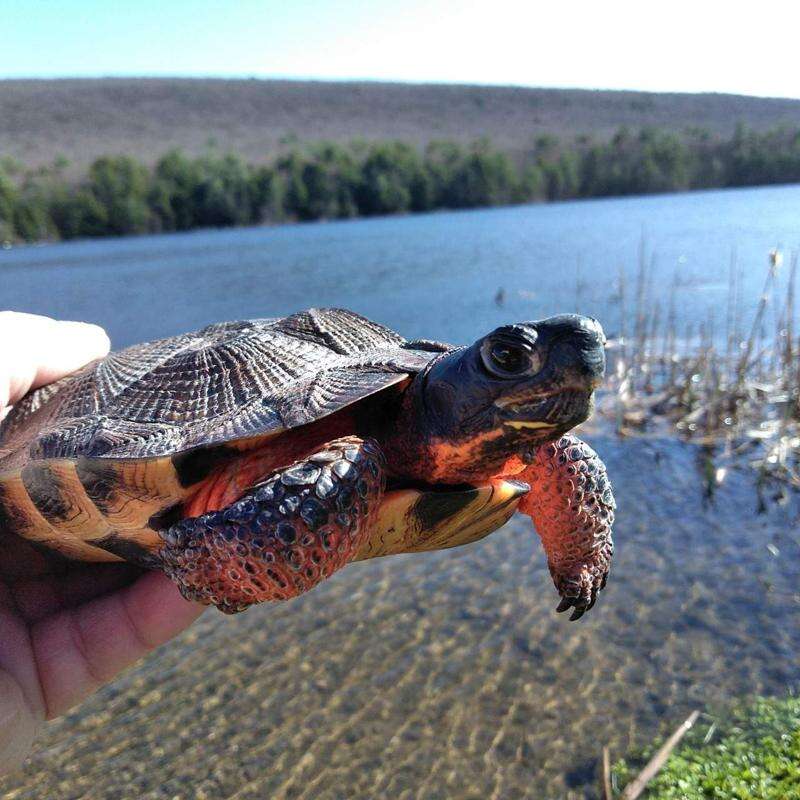 Published April 08. 2021 01:07PM
Going home.
A pair of turtles were released back into the wild by officials from the Carbon County Environmental Education Center on Tuesday.
"Someone found him in the road, knew he didn't belong there and brought him to us," said Jeannie Carl, naturalist at the environmental center.
"Another family found the other one who was covered with all kinds of paint on it - a peace sign, all kinds of initials, a year painted with all kind of different colors of paint."
Carl said the woman who brought in the painted turtle did all she could to clean it up.
"She wanted to make sure he wasn't suffering from any ill effects," Carl said. "But they're tough critters. The paint on the shell didn't do much.
Wood turtles are cool, because they look liked carved wood. That's where they get their name from."
Carl said, unlike box turtles, wood turtles are not territorial, which made it easier for them to be released elsewhere. The turtles were in healthy condition and released into the Mauch Chunk Lake water.
"The two of them took off," Carl said. "I put them on the bank and I always give them a choice to head for the woods or the water. Every wood turtle I ever released went straight for the water, and that's what these guys did."
Staying connected
Despite the pandemic, CCEEC has managed to stay well-connected with the community and many interested local students.
"We've been through a lot of changes. It's been a year, COVID hit for us in the beginning of March (2020), like it did for everyone," said Susan Gallagher, CCEEC's chief naturalist.
But that's right around the time that we're starting to gear up our school visits this year. We had a little bit of time to get everything in order. We managed to do just about every school program we had virtually. The teachers in the area were fantastic about rolling with the changes and school administrators were open to what we wanted to do. We met with all of the kids virtually."
Gallagher said the center still had many visitors over the past calendar year.
"We had a lot of kids who weren't in school every day or had free time on their hands," Gallagher said. "What became apparent through the school year last year, kids were getting tired of being on a computer. We always advocate for kids to get away from the screens and outside, and they were really up for that."
CCEEC has a full intern program this year. They are looking for volunteers interested in working outside.
"We do limit the number of interns we take, because we want them to have an educational experience," Gallagher said.
"People want to feel like they're part of a community and more than just their own family unit that they've been spending the last year with."
For more information, call 570-645-8597, or email info@carboneec.org.