Manufacturers struggle to keep up with demand for guns, ammo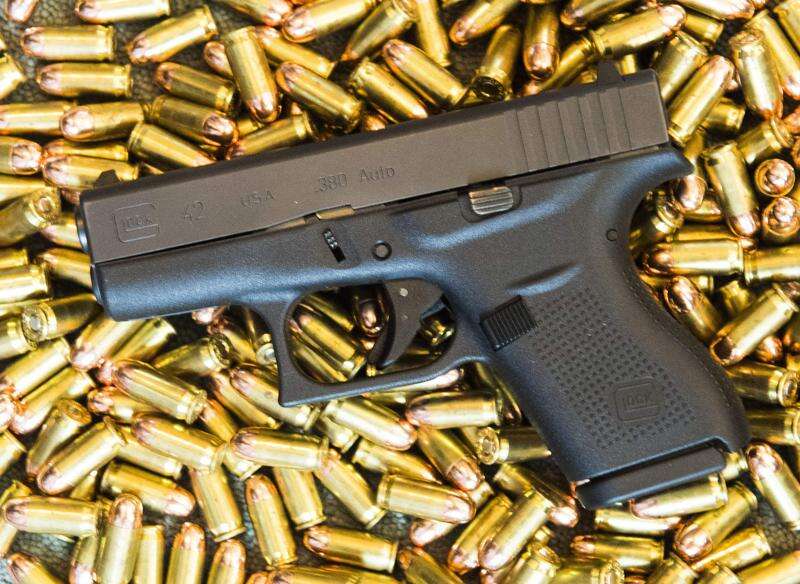 Published April 07. 2021 02:45PM
Cory Kepner, owner of Frontiersmen Firearms LLC, Palmerton, is seeing his stock sell faster than a speeding bullet.
"The biggest issue is ammunition," he said. "With all the COVID and civil unrest, folks have been buying everything off the shelves."
"Availability of firearms for purchase is kinda tough, too. We are seeing ordering delays of up to three to six weeks on some common arms. We are also seeing two to three week shipping delays at our warehouses," Kepner said.
"Common arms - handguns, rifles, shotguns - are being produced and shipped in and selling typically in the same week received," he said.
Kepner points to a surge in firearm background checks by Pennsylvania State Police. They did 420,581 checks in the fourth quarter of last year for sales, transfers, evidence returns, and license to carry applications and renewals. That's up from 272,901 checks in 2019.
In this quarter, another record was set.
Abel Boyer, of A.F. Boyer Hardware and Guns, said it seems like every month the shop is looking at another record breaker.
"We're doing more background checks than ever," Boyer said. "In a 15-day period, we did over 1,000 guns. It was around 800 background checks, but that person can make 2 or 3 transactions on one check. We're dealing with a large amount of traffic."
Supply has been tough, Boyer said, but they've been fortunate enough to get in well over 100 guns every day in an effort to keep inventory fresh.
"I think there are a number of factors right now," Boyer said. "You have the trial in the George Floyd death and that's leading to a lot of rioting again. Then of course the weather is getting nicer out and people want to shoot. And their friend sees they have a gun, and they want to go shooting with them. It's not just one thing that drives sales. It's a combination."
Along with the increase in gun ownership due to fears of political and social unrest, people are stocking up.
Kepner compares it to the infamous pandemic-driven toilet paper stockpiling that happened a year ago.
"Like the toilet paper, folks are hoarding," he said.
One gun manufacturer said, "If all the bad things happening stopped today, and folks stopped hoarding, we would have the shelves restocked in nine months," Kepner said.
"That was one manufacturer's opinion. Another stated a year. Another stated six months," he said.
Kepner is working hard to keep his customers well-supplied.
"Be patient with manufacturers and don't feed into the conspiracy theories floating on the web," he said. "Things will get caught up, things will return to somewhat normal in about a year."
Mark Oliva, director of public affairs for the firearm industry trade group National Shooting Sports Foundation, said firearms "customers began noticing ammunition was becoming scarce for common calibers last summer at the same time gun sales were skyrocketing. That eventually spread to even noncommon calibers, and we are hearing reports that even shotgun ammunition is becoming difficult to find."
He, like Kepner, also pointed to hoarding as a reason for the shortages.
"It is also a bit of the 'toilet paper' effect. The same thing is happening with ammunition. When shelves get bare, people get concerned and start buying the ammunition they want while it's available. That has a snowball effect and compounds itself," he said.
Regardless of the reason for the surge in buying, demand is the driving force behind the depletion.
"There's not so much of an ammunition shortage as there is an overwhelming abundance of demand," Oliva said.
"What is different now has roots in what we saw with gun sales in 2020. There were (nationally) 21 million background checks for the sale of a gun. That is, by far, a record. The strongest year previous to 2020 was in 2016, when there were 15.7 million background checks for the sale of a gun," he said.
"For added perspective, there were 13.2 million background checks for a gun sale in 2019. That is an increase of more 7 million guns sold in one year. We did a survey of our retailers in 2020 and they told us that 40 percent of those purchasing a firearm in 2020 did so for the very first time. That equates to over 8.4 million new gun owners. If each of those new gun owners bought just one box of 50 rounds, that is in excess of 400 million more rounds delivered to customers," Oliva said.
"That's a very large number for any industry to absorb. Manufacturers are doing their best to meet this demand, but the honest truth is that there aren't spare manufacturing facilities in the backyard of these companies that they can just turn on," he said.
Is there an end in sight?
"I think we will see difficulty in finding ammunition for the remainder of the year. Of course, all bets are off if the Biden administration or Congress takes bold and aggressive steps on gun control," Oliva said. "That would likely sustain the elevated buying trend we've witnessed for a year now."
- Jarrad Hedes contributed to this report