Gofundme helps Palmerton basketball player, family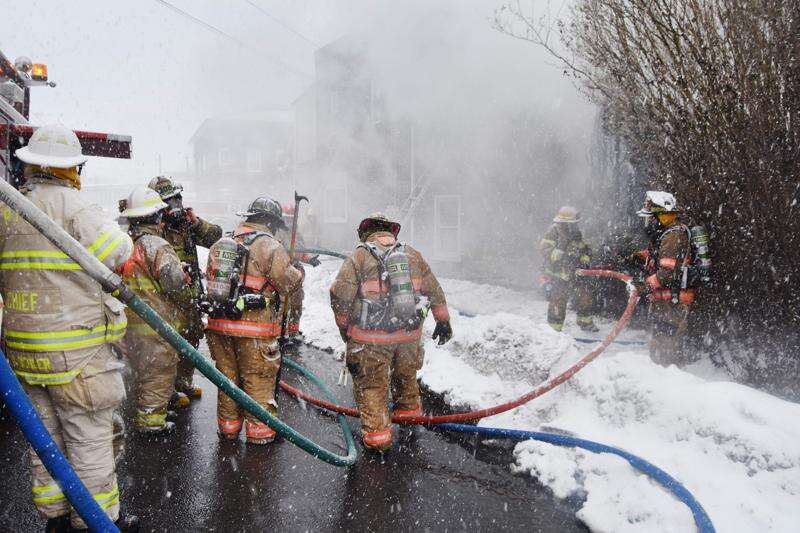 Published February 23. 2021 07:26AM
When Palmerton basketball coach, Ken Termini heard the news that one of his player's house had burned down, his first thought was not about tonight's big playoff game.
"It's a reality check," he said. "Our freshman player Aiden Haupt and his family had their world turned upside down."
Termini said that Haupt has "busted his rear end to be part of something bigger than himself," and that his team and the community are carrying heavy hearts today.
"Every player in our program is equally important," Termini said "and Aiden has worked hard to improve his game."
Palmerton athletic director Kyle Porembo said that with the pandemic, "This has been a tough year for everyone, but when a family loses their home, you just can't understand how they feel about losing everything."
Porembo felt great pride in the Palmerton community that had raised over $8,571 as of Tuesday morning on the family's GoFundMe page. "Our town has banded together for the family. Just as the team works hard to win games, our community has shown an incredible work ethic in such a short amount of time to extend whatever they can give to help."
Both Termini and Porembo commented on the relationship between athletics and life.
"A tragedy like this should remind us how really powerless we are and that every day is a blessing," said Termini. "Things can end very quickly."
"In the grand scheme of things, wins and losses in athletics don't matter as much when one of our own is affected by such a loss," added Porembo.
Team members have stepped up in such a short notice to do what they can. Players have been asking about clothes sizes, donating money as well as other immediate needs for the family.
"This response shows the character of our team as part of the great community they live in," said Termini.
"I'm so happy and proud of Palmerton acknowledging what's really important," said Porembo.
As Termini prepares for his playoff game tomorrow night, he made it clear that a tragedy is "not a tool to motivate a basketball team," but nonetheless, the Blue Bombers might carry a little extra incentive in their game against Salisbury.
"It's about doing something right to help the family and a player in our program," he explained.
"We're all doing what we can," said Porembo. "We have a tight community of people who are looking out for each other."
Anyone who would like to donate to help Aiden Haupt and his family can do so on the GoFundMe page at https://bit.ly/2P0gFql.