Lenten meal with a twist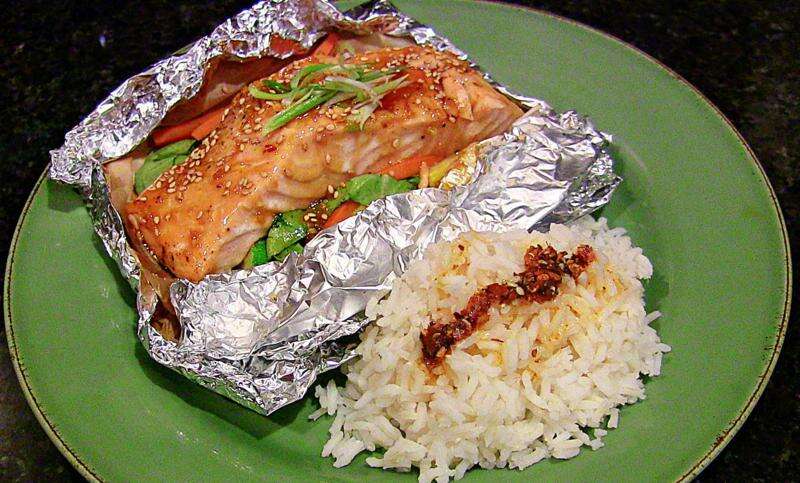 Published February 17. 2021 11:44AM
t this time of year, many families will be making fish meals for dinner.
This salmon dish is easy for beginner home cooks. You can make the glaze ahead of time. You can even have the salmon pockets in the refrigerator all prepped the day before you are making this dish.
The recipe is also easy to double or triple in case you have a larger family, and it is healthy and light.
It is versatile because you can change out the fish with arctic char or vegetables to what you have handy or available.
With rice, quinoa, couscous or your favorite grain alongside this plate, this Asian salmon with soy glaze dish is delicious, flavorful and a nice change of pace from poaching the salmon, broiling or baking it.
This salmon dish is also a great way to present your family with a healthy alternative to breaded frozen fish sticks. You can then use this method of steam cooking for many other healthier dishes. We will talk about that with other recipes in the future, too.
Asian salmon pockets with soy glaze
Asian Soy Glaze
½ of a cup of soy sauce
½ cup of mirin
¼ cup of sake
3 tablespoons granulated sugar
2 tablespoons honey or agave nectar
2 tablespoons water
1 tablespoon plus 1 teaspoon of cornstarch
1 tablespoon ginger, finely minced
2 cloves garlic, finely minced
1 teaspoon sambal or Sriracha sauce
Pinch of MSG (optional)
2 tablespoons rice vinegar
Salt, to taste (You may not need any salt, depending on your type of soy sauce)
Papillote ingredients
6 4-ounce salmon fillets, skin off
2 large carrots, peeled and cut into large matchsticks
2 medium bok choy, if dirty rinsed and cut in half and sliced
1 medium green zucchini and 1 medium yellow squash, in half, seeds removed, sliced
Neutral oil
Salt and black pepper, to taste
Thinly sliced scallions and toasted sesame seeds; for garnish
Aluminum foil and parchment paper, enough to make six medium rectangular pockets
To prepare the sweet Asian soy glaze, in a small saucepan combine all the ingredients except the water and your cornstarch. Bring this mixture up to a gentle boil, then reduce to a simmer for 10 minutes.
While your glaze is simmering, mix together your cornstarch and water to make a slurry. Add the slurry, whisk and bring the glaze up to a boil and allow to thicken. Once thickened, place it into a glass jar or vessel and cool to room temperature. Cover and store in the refrigerator for up to a week.
The day of making this dish, set your salmon fillets out an hour before cooking them. Prepare your foil then parchment paper on top pockets for cooking. Preheat oven to 425 degrees Fahrenheit with a large sheet pan heating in the oven.
To assemble your papillotes, place your vegetables first onto the parchment paper, close to you, about 1/3 of the way on to the paper. You want to have room to fold the parchment around and seal the papillote. Sprinkle your vegetables with salt, black pepper and oil. Next, sprinkle more salt, black pepper and oil on your salmon fillets. Set each salmon fillet in the center of your vegetables.
Like a calzone, fold the top part of the pocket toward you over the salmon. Fold the bottom of the pocket over the opened end. Simply make sure that the pocket is completely sealed, to steam all the food inside without any air released during cooking.
Set your papillotes onto the hot baking sheet in the oven and bake for approximately 15-20 minutes. Once the fish is done cooking, carefully open the foil so that the steam released does not burn your hands.
After heating up your glaze in a small sauce pan, drizzle it over the top of your salmon fillets. Serve extra glaze on the side if you wish.
Sarah Schweitzer is dual-certified in Culinary Arts and Baking & Pastry from the Escoffier School of Culinary Arts. She is a former line cook for Chef Robert Irvine at "Fresh Kitchen by Robert Irvine" which was located at the Downtown Allentown Market. Sarah is currently working as a Sous-Chef at Ateira's on First and has her own blog simplysarah.online. She can be reached at sarah.schweitzer18@gmail.com.