Internet radio station to expand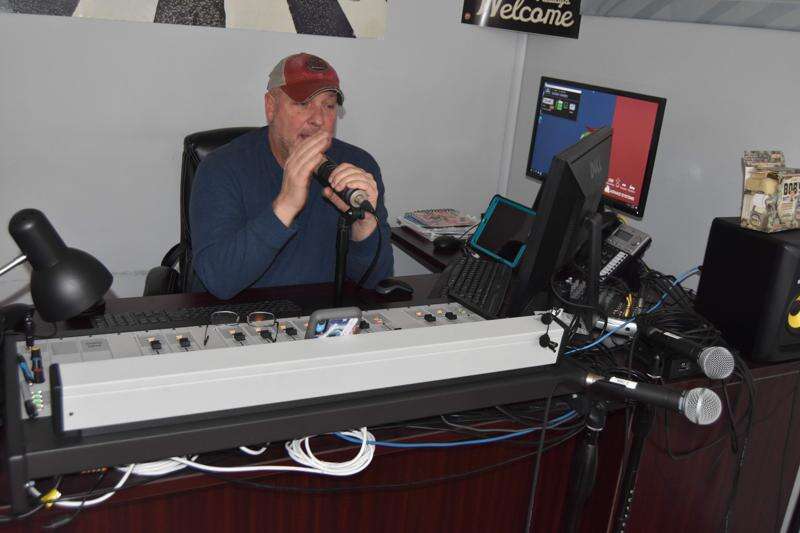 Published January 23. 2021 06:29AM
A well-known internet radio station will soon take its talents to a new venue.
As part of its expansion, Colossal Radio will soon set up shop at a brand-new, state-of-the-art facility.
After nearly two years at its current location at 195 S. First St., Lehighton, the free internet radio station will relocate to Off The Charts Music School LLC, 306 Delaware Ave. in Palmerton.
The move is expected to take shape in mid-March, according to Layne "Doc" Roberts.
Decision to expand
"The whole idea of this expansion is more visibility for this station," Roberts said.
"The more visibility, you hope in turn brings more visitors to the station."
Roberts said Off The Charts Music School is owned by his cousin, Dustin Rehrig.
"I will have a new studio in the same building," he said. "It will be much larger, more cameras, and has enough (room) to bring in bands."
Roberts took it a step further.
"The whole move is what I've really been preaching; locals supporting locals," he said. "With the lights, cameras, appearance, it will have a big-city feel."
Roberts praised Rehrig's extensive experience.
"Dustin made a name for himself in the business world," he said. "Our complementary backgrounds, this unique opportunity to bring more to the entire community."
Roberts said he's looking forward to the transition.
"I'm excited; I thought I was going to be here (Lehighton), but then Dustin approached me with the idea," he said. "It was not a knee-jerk decision that I decided to make the move."
Roberts said he's confident the move will pay dividends.
"All I want to do is support the businesses in the community," he said. "The positive vibes, the good things that are happening."
National radio station
Roberts said the radio station's main footprint is throughout Carbon County, as well as into the Poconos and into the Lehigh Valley.
"We have a great local music scene; we reach nationwide," he said. "If we can be a catalyst and positive vehicle; this is a team effort."
Roberts, who has been a DJ for over 30 years, launched the radio show in March 2019.
"The whole idea of this radio station was to design a medium for fun, play some great music, and design it around our business communities," Roberts said. "The music we play is classic rock, signature hits of the '80s and '90s."
Roberts' show runs from 9 a.m. to 1 p.m. Monday through Friday.
Other shows include The Al Burke Classic Rock Show 1-5 p.m. Monday through Friday; The Beach Bar Piano Show Live from Florida, hosted by Dave Freeman at 7 p.m. Wednesday and noon on Sunday; Chuck Matthews Greatest Hits USA from 7-10 p.m. Friday and 9 a.m. to noon Sunday; and Keith Hines and Jason Roeder and their guests for the Lehighton Magazine Podcast at 7 p.m. the second and fourth Monday of the month.
Roberts said he just likes "being able to put a smile on somebody's face."
"What I like most about my job is the people that I've met along the way; the memories I've made have been everlasting," he said.
"I'm very grateful; I've been blessed as a local guy, just trying to support each other."
Roberts said he's fortunate to continue to do what he loves for as long as he has.
"Somehow, we've been making a living out of having a party," he said. "Just being real, having moments in time where life kicks you in the butt, but you just keep moving forward."
For more information, visit www.colossalradio.rocks, and make sure to like Colossal Radio's Facebook page for up-to-date station information.