Along the D&L: Record year for use meant traffic for businesses, too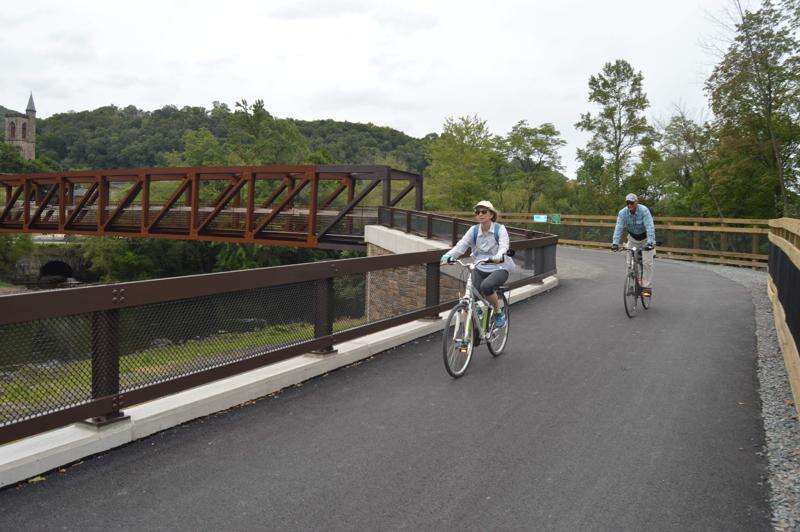 Published December 05. 2020 06:12AM
by Chris Reber creber@tnonline.com
When people were reluctant to gather, and restrictions prevented them from doing it in the normal places, the outdoors seemed the safest place to go.
In Carbon County, the D&L Trail was eager to welcome them.
In 2020, trail use was the highest of any year recorded, according to the Delaware and Lehigh National Heritage Corridor, the nonprofit which oversees the trail. During each month from May-October, the monthly trail volume was higher than the highest single month in 2019.
And in a year of unprecedented challenges for small businesses, those located near the trail noticed a fair amount of new customers stopping during a bike ride or hike.
"We had a really good year despite being closed for six weeks, and a lot of our business came from people being out and about on the D&L trail," said Jay Frey, owner of Chantilly Goods, a soda fountain, ice cream and candy shop in Weissport.
Visitors came from near and far. Many visitors to the trail this year were from New Jersey and New York because those states had more strict restrictions, particularly on public spaces like parks.
There was also an increase in local residents looking for something to do without having to travel to areas with higher positive rates of the virus. They ended up discovering something tourists have known about for years.
"It really shows that Carbon County, this area invested in trails and open space, and now we're getting a return on that investment. These parks are a critical part of our communities, and a critical part of our local economies," said Brian Greene, Director of Trails & Conservation and Data Scientist for the Delaware and Lehigh National Heritage Corridor.
Lehighton Outdoor Center intentionally chose their location along the Lehighton spur of the trail. For them, the additional visitors helped realize some of the potential that they saw when they located near the trail.
"The first couple of weekends the shutdown was happening, it was like a parade ended outside, every single Saturday and Sunday," said LOC owner Jerry McAward.
Once LOC was able to reopen following the initial shutdown, they saw more people picking up parts and gear. Bike rentals and repairs of old bikes also increased.
It's likely that many customers would have considered purchasing new bikes, if bike shops across the country were able to keep any in stock.
With a rekindled interest in cycling on a level not seen since the 1970s, most bike shops are unable to obtain new bikes until at least early 2021.
Through the Mansion House Bridge, the D&L has created a corridor for Jim Thorpe tourism to expand south into more Carbon County towns along the D&L.
The long-awaited opening of the bridge turned out to be just in time for the trail's surge in popularity.
Many people now make the Weissport section of the trail part of their trip to Jim Thorpe.
"People utilize the D&L Trail to get to us and back to Jim Thorpe without ever going on any major roads," Frey said.
The popularity of the Weissport section was long-awaited. And Lehighton hopes to be the next town to see trail users checking out their downtown.
"We had people coming up from the back, riding their bikes through here and stopping in," said Yvonne Stoudt, owner of Beautiful Hidden Treasures.
Further south at her Krazy Chicken Lady food truck in Riverview Park near Bowmanstown, Mary Herman noticed more customers riding bikes, or walking their dogs.
"We've seen some really nice people come through. New people," Herman said.
The trail is just one reason why she chooses to put her lunch truck at Riverview. But it's been a benefit to business in 2020.
Businesses believe that visitors during the pandemic will continue to return to the D&L after the pandemic. "The COVID is giving a push, but when COVID goes away, and we know it will, they're going to come back," Herman said.
McAward said the bike industry doesn't see this year as a fad. They're investing in new factories with the hope that the current interest in biking and outdoor sports will sustain itself well after the pandemic is over. Businesses along the D&L are hoping for the same thing.
"The future is big for this trail," McAward said.