3,400 pounds of brass: Former Tamaqua church bell removed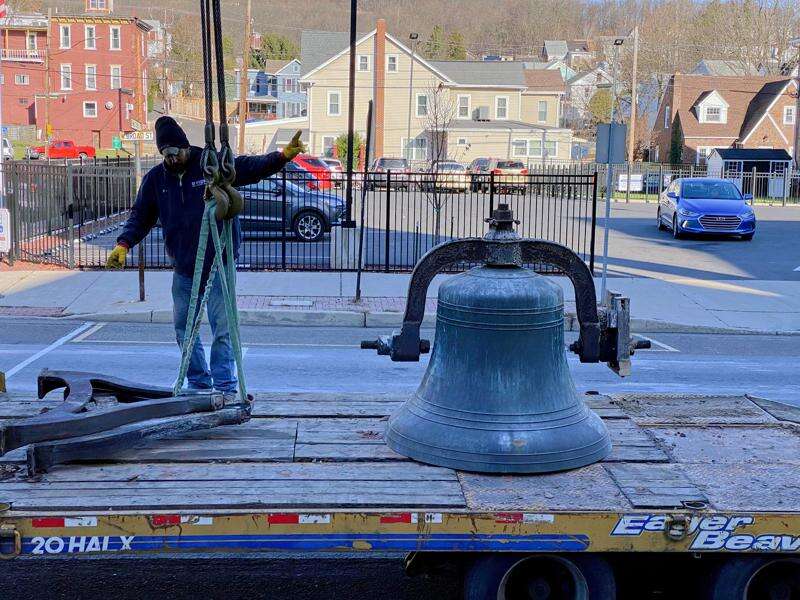 Published November 21. 2020 06:10AM
When coal was king, a wealthy man with Tamaqua roots gave his church a blank check to purchase a bell.
On Friday, 122 years after it was installed, the 3,400-pound brass bell was removed from its tower cradle more than 100 feet high.
"It'll be stored for a few days. Then it'll be taken for restoration," said contractor Dan Farber of Tamaqua, who coordinated the removal operation at the former Church of St. Jerome building, 260 W. Broad St., on behalf of the Diocese of Allentown.
The operation required services of a 110-ton crane from Smith Hauling of Oliveburg.
The former church and other parish-owned buildings next door have been vacant for the past six years.
On July 1, 2014, St. Jerome's Church merged with SS. Peter and Paul across town to become St. John XXIII.
According to Farber, the bell will end up on display at the newer location.
"I believe the church will set it up on Pine Street."
The Rev. John Frink, pastor, was out of town and unavailable for comment.
Church records reveal details of the bell's origin. It arrived long after construction of the building.
The church was completed in 1859, blessed by the Rev. Bishop John N. Neumann, now St. John Neumann.
However, the church didn't receive its bell until 1898 after a push by the Rev. Francis A. Brady to find funds to complete the bell tower.
Former parish member Jeremiah G. Donoghue, of Philadelphia, answered the call, according to the book "150th Anniversary of St. Jerome's," a hardcover published in 1983.
Donoghue had left Tamaqua and in 20 years became a millionaire. He reportedly went on to own a large hotel in the city. But the town of Tamaqua held a special place in his heart.
"Decide what size bell you want, order it and send me the bill. Don't tell anyone," said Donoghue, according to dialogue published in church records.
The bell was forged by McShane Foundry of Baltimore with the inscription: "Presented by J.G. Donoghue of Philadelphia in memory of his beloved parents, Humphry and Anne Donoghue. Francis A. Brady, Rector, 1898."
The bell was blessed on Sunday afternoon, May 27, 1898.
Donoghue died Nov. 9, 1920, and is buried in New Cathedral Cemetery, Philadelphia.
Workers expressed amazement at the effort involved to install the heavy bell over a century ago.
"They used ropes and pulleys," said Farber. "They would have brought it into this lower section and used this wood frame to hoist it higher, bit by bit."
The original frame is still in place and will remain undisturbed.
The former church building along with adjacent rectory and large school are in the process of being sold to an interested party, according to reports. Details, however, have not been announced.
As Tamaqua fire police directed traffic, neighbors Randy and Jim Gormley and former Mayor Richard Hadesty stood on the sidewalk and watched the project.
"It would be nice if this would be turned into retirement apartments," said Hadesty.
Back inside the building, Farber admired heavy wooden infrastructure built in 1898 and marveled at how they hoisted the bell without use of hydraulics. He said it would have necessitated a feat of strength and determination.
"If people would work today like they did years ago, the world would be a much different place."