Olympians hold off Tamaqua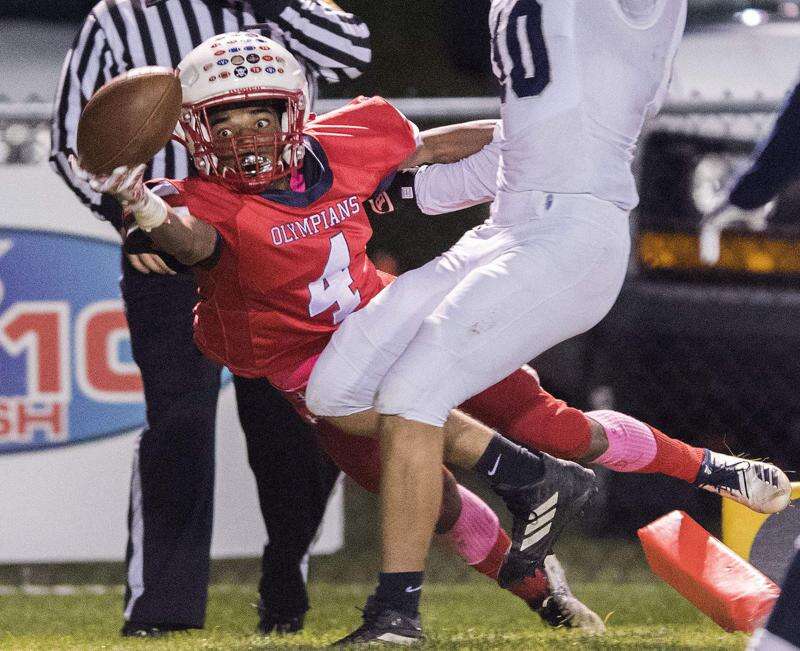 Published October 17. 2020 01:29AM
You can't see it, but you know when it's there.
It can come and go in the blink of an eye.
Whoever possesses it usually has the upper hand.
What is it? Momentum.
After Jim Thorpe grabbed the lead in Friday night's Schuylkill League contest with Tamaqua, the Blue Raiders tried to wrestle that momentum away from the Olympians on multiple occasions. But every time they tried, Mark Rosenberger's club wouldn't let them.
The result was a 27-18 Thorpe victory that moved Rosenberger's club to 5-1.
"We knew coming in that is was going to be a hard-fought game for both teams," said the Olympians' head coach. "We're both physical football teams. You have to give our kids credit for making plays. I'm proud of our effort.
"They would get some momentum, but we were fortunate enough to come right back with a couple of big plays to regain the momentum. We did enough defensively to get the victory. We bent at times, but we didn't break."
Those big plays Rosenberger was speaking of weren't necessary scoring plays. While some were, others included key turnovers, stops on conversion plays, and even punts.
"Every time we did something, they would counter punch," said Tamaqua mentor Sam Bonner, whose team fell to 3-3. "Every time we would score, they would get a big play on us the next drive. We had a hard time getting that momentum going where we could possibly take the lead."
Brandon Fasolino provided that first pivotal play in the second quarter. It wouldn't be his only one.
Nate Curvey's 49-yard touchdown run early in the second quarter allowed the Raiders to tie the score at 6-6, but on Thorpe's first play from scrimmage after that the JT junior broke free for a 67-yard sprint down the left sideline to give the Olympians the lead again.
"The linemen just made holes for me," said Fasolino, who finished with 101 yards, three touchdowns and also intercepted a pass. "I was able to hit the holes ... and did the rest."
Tamaqua came right back with an impressive drive, moving 68 yards in 12 plays, but a penalty and an interception by Thorpe's Drew Wimmer abruptly ended its momentum.
Thorpe opened the second half by marching down the field and upping its lead to 20-6 on a 20-yard touchdown pass from Davier Calcano to Christopher Strika, but Bonner's squad countered with a 48-yard scoring toss from Nate Gregoire to Nate Wickersham.
The Raiders seemed in control after a quick three-and-out, but a 45-yard punt by the Olympians' Travis Benson pinned the visitors inside their own 5-yard line. Unable to move the ball, Tamaqua was forced to punt. Shortly after, Fasolino slipped free from some tacklers and darted 27 yards for another touchdown and a 27-12 advantage.
"It was a really nice game for Brandon, that's for sure," said Rosenberger. "He hit the hole and ... used his speed. The line did a nice job providing those opportunities for him and he definitely took advantage of them."
Tamaqua put together another solid series in the fourth quarter, thanks to Wickersham. The Raiders' quarterback broke free for a 42-yard run and tossed a 13-yard pass to Lucas Schickram. That set up his 3-yard tally with 2:11 left in regulation. A failed two-point conversion, though, left the deficit at nine points instead of making a one-score game - once again shifting the momentum back to Thorpe.
"We were able to stop the two-point conversions, which were big in a game like this," said Rosenberger. "To be able to stop them from making those plays and having the ability to win with one more touchdown was important. Staying up by nine near the end of the game was obviously crucial for us. We just made plays when we had to, both offensively and defensively tonight."
STELLAR IN DEFEAT ... Wickersham's play stood out, picking up 130 yards on 17 carries, often grinding out yards after being hit. He also caught a touchdown pass and was big on defense. "He threw the ball, caught the ball, and had a ton of tackles," said Bonner. "I think he's one of the better players in the league right now. We have some kids that are really playing hard-nosed football. We just seem to come up a little short. It's not a lack of effort on our part, that's for sure."
"HOME" FIELD ... The game was played at Panther Valley, as Thorpe's field wasn't ready for play yet. The Olympians expect to play at home, on their new turf field, on Friday when they host Pottsville. Tamaqua, meanwhile, is in search of an opponent after North Schuylkill was forced to cancel its game due to possible COVID-19 issues.