Holmes, Tigers run past Salisbury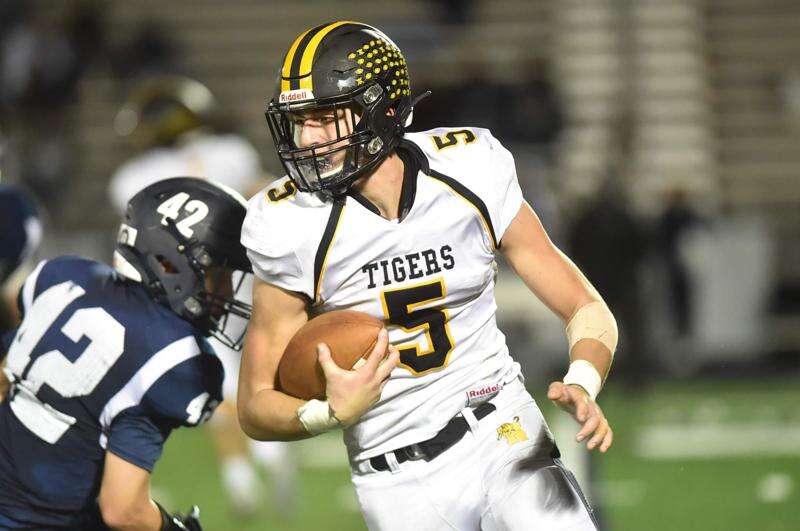 Published October 17. 2020 01:28AM
ALLENTOWN - Two very similar quarterbacks took different routes to having big nights Friday.
But Justin Holmes was able to lead Northwestern Lehigh to a 39-28 win over Salisbury using his legs. The junior quarterback rushed for 245 yards on 24 carries, while running back Nick Henry ran for 98 yards and three touchdowns in the win.
On the other side of the field, Salisbury's Quintin Stephens was forced to throw the ball more than usual, and finished with 168 yards passing and three touchdowns.
Henry didn't have to work hard for his first two touchdown runs, going just two yards for the Tigers first touchdown of the night and following that up with a one-yard run on their next possession.
On Northwestern's first drive of the fourth quarter, Henry capped a 10-play drive with a 19-yard run into the end zone that put the Tigers up 39-20 after Andres Garrido added the extra point.
Henry answered any questions about how much he might be able to play after leaving last week's game at Palmerton early and having to get stitches to close a cut in his right hand.
"I thought Nick [Henry] had one of his best nights rushing the ball, not in terms of yards but in how he was running. He was really sticking his nose in there and running hard tonight," noted coach Josh Snyder. "He did that with those stitches in his hand, too. That was pretty impressive."
Stephens answered Northwestern's first score when he hit Chad Parton on a beautifully placed pass for a 38-yard TD pass with :24 left in the first quarter, tying the game at 7-7.
A 13-yard touchdown run by Justin Rodda put Northwestern up 21-7, and on the next possession, Salisbury's Stephens completed three passes for 62 yards, including a 30-yard pass to Josh Brooks to finish the drive and cut the Tigers lead to seven.
On Northwestern's next drive, it was all Holmes, who opened the drive with a 56-yard run to the Falcons 10-yard line and then took it in himself on the next play. Holmes also sprinted off the right side for the two-point conversion, making it 29-14.
Stephens threw for another touchdown in the fourth quarter and Parton ran for another from five yards out with Henry's third TD of the night squeezed between the two Salisbury drives. Andrews Garrido kicked a 26-yard field goal midway through the third quarter to add to Northwestern's scoring.
With the success of the ground game, Holmes only threw 10 passes, completing three for a total of 58 yards. The rest of the night Northwestern was content to run the ball and take time off the clock, leaving less opportunities for Stephens and Parton to connect on long passes. Parton had 11 catches for 168 yards and a touchdown on the night for the Falcons.
"We had Nick in for most of the game and we didn't last week. It's hard to key on one of us and when Nick's in the game they have to key on him," Holmes said of the success of the ground game. "The guys up front did a nice job for us."
INJURIES
... Senior running back Gio Hines, who serves as a compliment to Stephens for the Falcons offense left the game early in the second quarter with an ankle injury and didn't return. For the Tigers, Rodda exited the game in the fourth quarter with a shoulder injury and also didn't return.
A NIGHT OF FIRSTS
... As the team's kicker, Garrido doesn't always get much credit. He came into the night 20-for-20 on extra points this season and tacked on another in the first quarter. He missed on his next attempt for his first missed kick of the season. Later, he got another first when he was given his first chance to kick a field goal this season and nailed it from 26 yards out.
PUT ME IN COACH
... Michael Rader became a starter just a couple weeks ago and has led Northwestern in tackles in each of his two starts. The senior has been playing as part of the linebacking corps and has impressed the coaching staff.
"He's a guy who has been hanging around and didn't really flash much to us and we were sort of forced to put him in and all he's done is lead our team in tackles the last couple weeks, so he's really done a nice job in there," said Snyder. "He's a senior and he's a program guy and you've got to be happy for those guys that stick around and work their tails off to get their opportunity and then make the most of it."