D&L bridge had busy first year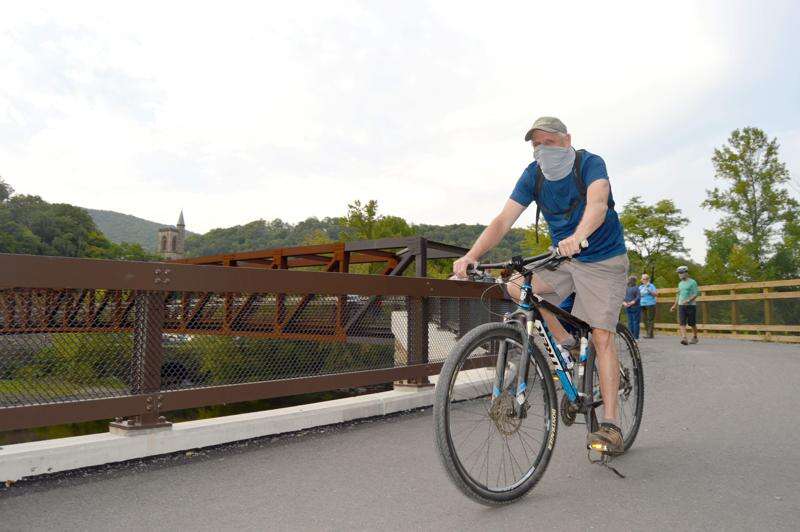 Published September 25. 2020 02:45PM
Jim Thorpe's Mansion House pedestrian bridge has become such an attraction, it's sometimes easy to forget it's only been open for one year.
But the Delaware & Lehigh National Heritage Corridor remembered the occasion. The organization which oversees the D&L trail celebrated Thursday night with a guided hike and bike ride.
"This was well worth it, and we're so glad to be providing the benefit from the economic development, health and wellness, and the connection to our industrial heritage," said Claire Sadler, the organization's deputy director.
The $4 million-plus bridge and connector project officially opened to the public last August.
But officials said the COVID-19 pandemic led many people to discover the possibilities created by connecting 57 miles of the D&L between White Haven and Northampton.
With most large gatherings canceled this summer, the D&L as a whole saw more traffic than it has ever seen before.
During the summer months, there was a 200 percent increase over 2019.
"We wish COVID hadn't highlighted it," Sadler said. "But people realize they can distance themselves, but get some exercise and entertainment and recreation. It's been good to have this resource this year."
The effects can be seen on Carbon County's economy as well. Alice Wanamaker of the Carbon Chamber and Economic Development Corporation said the trail probably helped the tourism business in Jim Thorpe and other trail towns this summer amid the COVID-19 pandemic.
"Without this bridge completed through Carbon County, what we saw here in the town and throughout the entire county would have been a little different," Wanamaker said.
It's also helped trail-related businesses, including restaurants, lodging and outfitters. Sierra Fogal of Pocono Biking, who sits on the board of the D&L, said the bicycle rental business has been healthy all summer, despite the difficult economic situation amid COVID-19.
"We are running at 75 percent capacity because of restrictions, and we're selling out more often than normal. People just want to get outside," Fogal said.
With the Mansion House bridge project completed, the D&L has shifted its focus to closing trail gaps in the Lehigh Valley, with hopes of someday liking the entire 165-mile corridor.
And they are banking on families continuing to return even after COVID-19 restrictions are relaxed.
"We're looking at the data and hoping people won't forget that when they can get into the movie theaters and shopping malls, and still balance that with the fresh air and exercise," Sadler said.