A ride of their own: Charity provides adaptive bicycles, strollers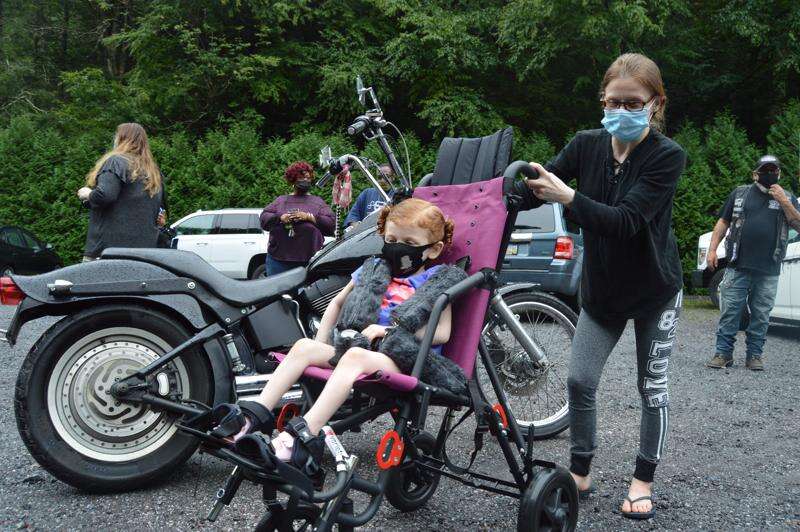 Published September 03. 2020 02:45PM
by Chris Reber creber@tnonline.com
At Flying Aces Motorcycle Club, there is usually a wide array of interesting rides.
But on Wednesday, there were some particularly unique bikes in the parking lot right alongside the Harley-Davidsons: therapy bikes for children with special needs.
Flying Aces hosted 10 students and their families who received brand-new bikes and strollers at no cost, thanks to a charity based in Pittsburgh.
"It's awesome. It's like the first time getting on your own bike. It's a great feeling," said Flying Aces member Steve Cerullo.
The students, most from the Carbon Lehigh Intermediate Unit, received bicycles or strollers provided by Variety of Pittsburgh with help from AFSCME Council 87.
The equipment makes it easier for them to access parks, buildings, and school buses.
Most IU students only have one mobility device, a wheelchair which provides the support they need on a consistent basis, said Maia Geiger, a school social worker with CLIU 21. However they're not designed for everyday accessibility.
"It's all about access to the community, equal access to everybody being able to get out there and do the same things as a family," Geiger said.
Variety of Pittsburgh has made it their goal to distribute therapy bikes, strollers and communication devices to children across the state. So far they have funded more than $3 million worth of equipment.
Schools and Intermediate Units across the state can apply to Variety to receive grants to purchase the bikes. The bikes are made by a company in New York called Rifton.
Geiger and another social worker applied for grants from Variety to purchase the bikes and strollers. Some of the students have also received communication devices funded by Variety which provide them with a voice to communicate with their family and teachers.
The equipment can be life-changing for students.
Isabella Lopez, 15, used to ride bikes with her dad and brothers. But as she got older her differing abilities made it difficult.
After receiving her bike on Wednesday, she wasted no time pushing the pedals, picking up right where she left off.
"She had a lot of fun riding bikes when she was smaller," her dad, Justin Frace, said. "It's awesome to have this for her."
Damir Brooks, a CLIU student at Panther Valley, called it the "best day ever." He received a stroller which his foster mother said is much easier to set up and break down when traveling in their vehicle.
Variety and AFSCME Council 87 thought that the Flying Aces would be an appropriate place for kids to get their bikes. Club members let the kids park their bikes right alongside theirs.
The motorcycle club holds fishing derbies and benefits for kids. The IU students and their families got to feed fish and were treated to pizza.
Variety board member Mickey Sgro has taken part in countless events like Wednesday's distribution over the years. And he said it never gets old seeing kids receiving their bikes.
"It's as special as it is the first time to see these kids do something no one thought they would be able to do. This lets them do that and get off the porch and be just like every other kid riding up and down the street," Sgro said.