Kunkletown man's life story is marked by large antique collection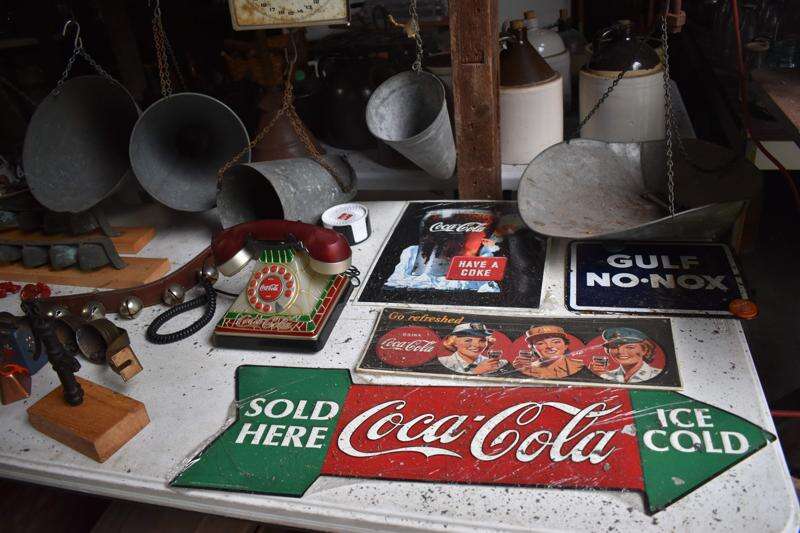 Published July 11. 2020 07:18AM
Talk to anyone who's lived in Kunkletown for a long time and the name Barlieb is bound to come up in the conversation.
Herman Barlieb purchased Flory's Milling in 1948 and renamed the business, Barlieb's Feed and Grain Service. A Simplicity Lawn and Garden equipment center was added in 1958 and the original mill was shut down in 1970. Herman retired in 1971 and died in 1995.
His son, Vernon lived with his wife, Marietta and their son, Chris in the house next to Herman's until Vernon's passing in April of 2019.
The public life of Vernon Barlieb was well known, but his private collection of antiques was not revealed until a series of auctions were announced for the sale of the items.
A family history
Chris Barlieb, a graduate of Pleasant Valley High School and now a retired school counselor, holds many endearing memories of his grandfather and his dad.
"At the mill, Herman took the raw material of corn, oats, and wheat and ground it together into custom-made mixes that he sold to farmers back then," he said.
Workers shoveled the grain into 100-pound bags.
Then customers drove their empty pickup trucks into a scale house where the trucks were weighed by a large scale underneath the floor. The bags were then hand loaded onto the trucks and the total weight determined the price of the custom mix.
Chris recalled his childhood days helping his Pappy with the chickens in the barn.
"I collected eggs from some 750 chickens he had and weighed each egg on a scale that determined their sizes from small to jumbo. Herman then would place the eggs in the appropriate boxes to be sold to customers."
He spoke with a tone filled with sentimentality and nostalgia about his grandfather. "I loved working with him. A lot of kids back then thought their grandparents were much cooler than their parents."
Chris also recalled that about 4 acres of the property had to be cut with rotary blade hand mowers and an outhouse stood 50 yards from the main house. Come rain, snow, heat, cold and in the dark of night, family members made the long trek to go to the bathroom.
A hobby becomes a passion
Vernon Barlieb graduated from East Stroudsburg University and then received his Master's degree in psychology from Lehigh University. He was a special education supervisor at the Carbon Lehigh Intermediate Center for 26 years.
Marietta, his wife of 53 years, had a 32-year career as a special education teacher at the LB Morris Elementary School in Jim Thorpe.
"My father worked for the FBI for two years and then he became a licensed psychologist," Chris said. "He was a very smart man and he had a real passion for education."
Vernon retired in 1992. Wanting something to occupy his time, he drove his 1987 Dodge pickup to buy and bring home whatever items that caught his eye. What once were some of the 14 relatively empty buildings on the property of the old mill were soon filled with countless numbers of antique farming tools, old metal tobacco and beer signs and anything else that grabbed Vernon's fancy.
"There were old butcher meat scales and brass cash registers from the early 1900s," Chris said, "and metal Tonka toy trucks and front loaders. The farm tools he brought home had forged wooden handles with no nails for attachment. He collected heavy wooden orchard carts that are about five times the size of a wheelbarrow."
Other items include signs, clocks, gum ball machines, and milk cans.
Vernon never intended to sell anything he had bought.
"He grew up during the Great Depression so like many people from that era, he wouldn't let anything go and he rarely showed anyone his collection," his son said.
"My mother wasn't really aware of how much stuff he was bringing home. She worked another nine years after he retired so he did his thing and she did hers. When she finally realized he was coming home on weekends with his truck full of stuff, she said to him, 'Where you going to put all this?'"
'The man who saved Kunkletown'
When he wasn't collecting, Vernon Barlieb was passionate about his community and conservation minded.
He and his brother Leon honored their mother Verna who played the organ for over 50 years at St. Matthew's church by having chimes installed in her memory.
"They chime the hour beginning at 8 a.m. until midnight," said Chris.
Vernon's love for Kunkletown became more evident about five years ago. Nestle had plans to erect as water extraction plant in the town and Vernon led the protests.
"My father was very experienced with state governments and their rules and restrictions. He would spend hours and hours researching reams of documents to prove that what Nestle wanted to do was illegal. He went to all the meetings and spoke in opposition of the permits needed for the project," Chris said. "He pointed out that the company intended to use their equipment too close to houses and he explained that the constant noise from their trucks would change the dynamics of the town."
Nestle gave up the fight.
Chris likes to think of his father as "the man who saved Kunkletown."
His life's passion
Chris Barlieb, who himself has collected Michael Jordan limited edition sneakers, has been managing the process of selling off his father's collection.
"We've had five auctions so far with four more scheduled. My father attended the first one in 2018," he said, while kidding that the collection would have been a great find for the "American Pickers" TV show.
After Vernon's passing and with many more items still left in the collection, Chris has mixed feelings about selling off the majority of the items.
"It's been hard because it meant so much to him. We are having everything valued and a good amount has been tossed into several dumpsters," he said, but "you can't put a price on sentimentality."
Each time Chris Barlieb looks at his father's collection, he understands that after everything is gone, what remains is the lesson he has learned that he will not forget.
"My father started a hobby that became his passion," he said, "and if you do not have a passion in your life, you do not have a life."
This Sunday's auction will be held at the Barlieb farmhouse at 10 a.m. in Kunkletown. Future dates for other auctions are Aug. 2, Sept. 20 and an October date yet to be determined.