Wenzel's baker relic discovered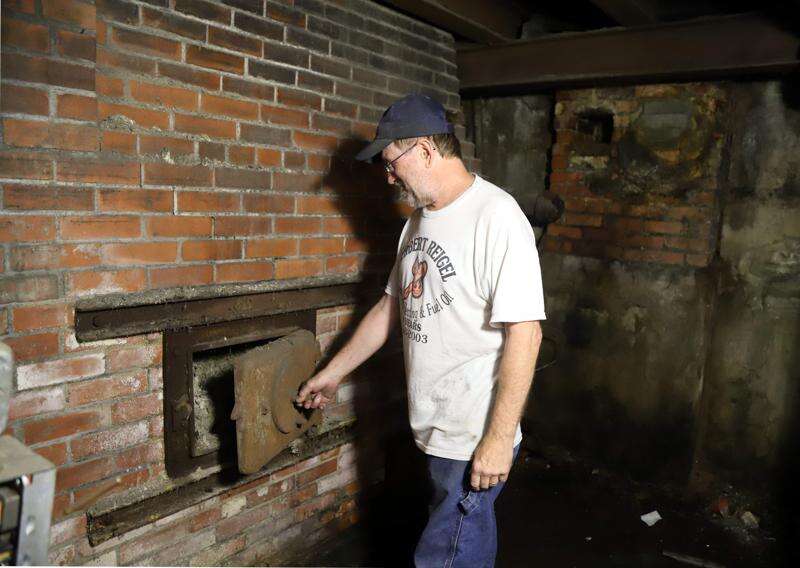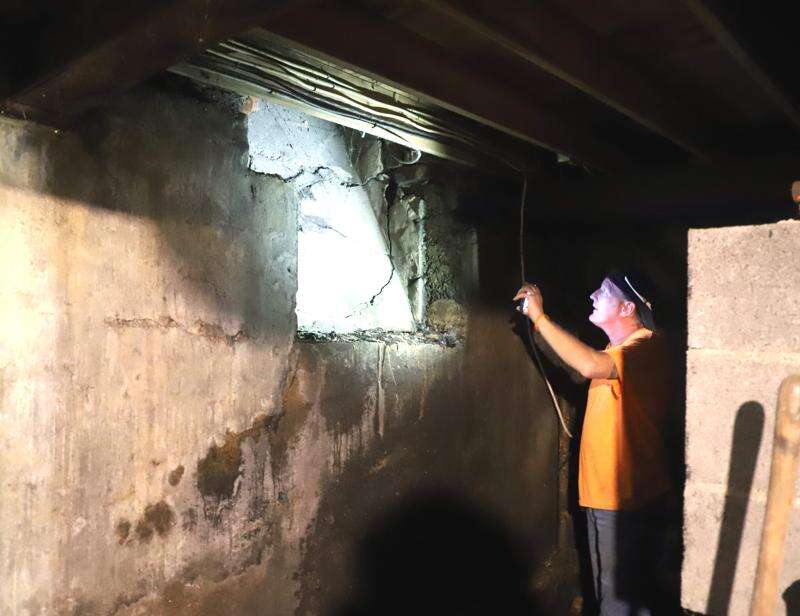 Published June 30. 2020 02:45PM
It's looks like an oven and acts like an oven. It's also a furnace, a space heater and a hot water heater.
But most of all, it's a piece of Tamaqua baking history, even if there were no cupcakes found inside.
Workers preparing an old commercial building for a new business on Monday went into the basement at 125 E. Broad St. and discovered a large, brick furnace-oven which dates back to the early days of Wenzel's Bakery.
The unit is located at the rear, east-side cellar wall, directly below the kitchen of the former bakery.
"It's really something to see this," said Dan Reigel of Reigel Plumbing and Heating of Tamaqua. "You can trace the pipe from the furnace to this water tank, so you can see that it also heated the hot water."
Family members say the unit was constructed by bakery founder George Wenzel Sr., who passed in 1968. And while it resembles an oven, there were never any pies or cupcakes inside. Instead, it was meant to supply heat to ovens situated inside a kitchen directly overhead.
"He bought a gas-fired oven from a company in Ohio but it became expensive and wasn't giving him the results he wanted," said Carol Wenzel of Zellwood, Florida. Carol married Robert Wenzel, son of George.
Wenzel said her father-in-law expanded the heat plant and converted it from gas to coal. "He actually crawled inside."
She said Wenzel "wouldn't give up, and was an extremely intelligent man."
The coal-fired unit was the efficient answer to heat needed in a busy bakery, which required extra-large ovens.
"I remember the oven had electricity to it, too," said Mary Karen Wenzel Shoff of Tamaqua, the founder's granddaughter.
Shoff grew up living above the bakery and has many fond memories of what became a Tamaqua institution.
The commercial building housing the unique furnace is in the heart of the Tamaqua National Historic District and was built in 1910. A Sanborn map of 1925 lists the site as a drugstore.
Coaldale roots
In 1941, George Wenzel moved his Coaldale bakery, begun in 1933 at 149 Moser Ave., to Tamaqua. Within a short time, the operation was housed at the adjacent commercial buildings at 125-127 E. Broad.
Many family members were employed by the bakery.
At its peak, the operation grew to include other locations in Pottsville, Mahanoy City, Lansford and Allentown.
Wenzel enterprises blossomed, incorporating a Nash automobile dealership and a skating rink and dance hall, all located at one time or another at a large Center Street commercial complex.
After a devastating fire on Oct. 13 1981, the bakery shop consolidated operations at 125 E. Broad St. The building at 127 E. Broad was eventually razed.
After 73 years of continuous operation, Wenzel's Bakery closed just before Thanksgiving in 2006.
However, family members retain the original recipes for Wenzel's sweet treats, such as fruit pies, cutout cookies and square-shaped cupcakes.
"Everyone loved the cream doughnuts," said Shoff.
The bakery building will soon house the The Wheel, which bills itself as a gourmet grilled cheese restaurant and is hoping to open in July. The Wheel also built an adjoining dining room, expanding onto the lot where part of the original Wenzel bakery business was destroyed by fire.