Historic Palmerton home goes on the market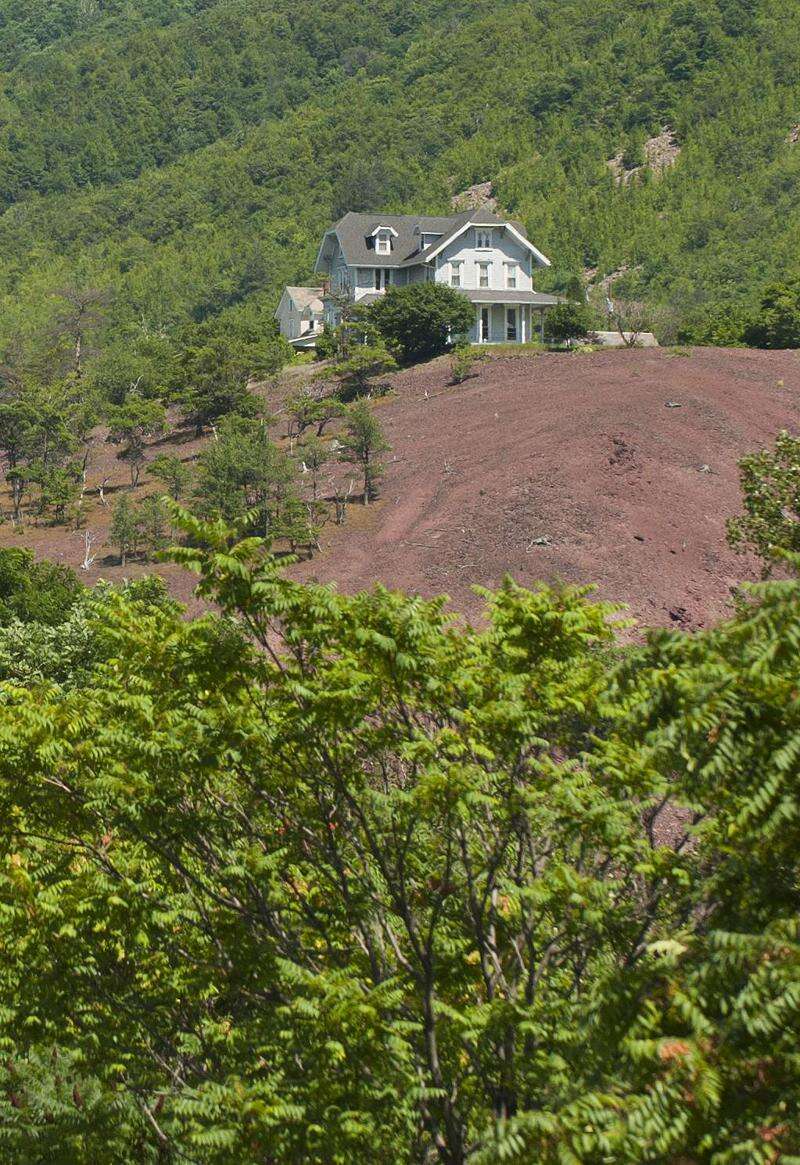 Published June 27. 2020 07:13AM
Passing the Palmerton exit on Route 248, one can't help but look up and notice the mansion on the hill. First owned by a Union Army officer in the Civil War, the historic home hit the real estate market this week with an asking price of $375,000.
"I think it is undervalued for the potential it can bring," said Cass Chies, broker/owner of Diamond 1st Real Estate, who listed the home Thursday. "It's not every day a property with this much history becomes available in Palmerton. It's probably a once-in-a-lifetime occurrence."
The main home, boasting 10-foot ceilings, original parquet floors throughout the downstairs and 8-foot high solid doors and windows, was built in 1881 by four area carpenters: Alex Beers, Paul Snyder, Charles Prutzman and John Boyer. Its owner was Elisha Marshall, a Seneca Falls, New York, native who was given charge of the 13th New York Volunteer Infantry in the Civil War.
"It would be a great house to raise a family in, but then again I see maybe an investor who would want to preserve and protect and maybe contribute it to the historical society," Chies said. "I know the historical society has interest in it, but they didn't have the funds to purchase or maintain it. I also think it would be an awesome bed-and-breakfast. The views and the layout are tremendous and it's such a unique homestead."
The price tag, according to the real estate listing, reflects some of the repairs that are needed.
Having been vacant for about five years, the property is managed by Eldercare Solutions and maintained by Cass' husband, Mike Chies.
"He comes up two or three times a month to check on it and make any immediate repairs," Cass said. "The really neat thing is almost everything, right down to the remote control, is just where William Gordon, the most recent occupant, left it."
History
Marshall and his regiment gained notoriety at the Second Battle of Bull Run in 1862 and later that year at Fredericksburg. He was eventually designated a Brigadier General to honor "his gallant and meritorious service."
In 1865, Marshall married Jennie (Janet) Rutherford, his second wife, whose family owned several ore mines and a processing mill in the local area.
According to media reports and Palmerton Historical Society information, Marshall fell in love with the view of the pristine Lehigh Gap and the surrounding mountainsides, and purchased "Eddy's Hill" in 1879. Less than 18 months after the home was completed, however, he sold it to his father-in-law, James Rutherford. Marshall passed away several years later on Aug. 3, 1883.
Marshall's widow lived in the mansion until shortly before her death at age 67. At the time, the mansion and the caretaker's home next door was valued at $8,125.
She passed down the property to her brother Henry, and following his death, the mansion was sold in 1916 to Jacob Mooney.
Lester Kern, a Palmerton contractor, bought it in 1959 and remodeled the caretaker's home for himself and his family.
Current owner William Gordon, who was then a professor at Drexel University, bought the property in 1986. He hired a crew from The Service Team, which rebuilt the front porch, and installed 51 vinyl windows, a new roof and light blue vinyl siding.
Gordon lived in the mansion until about five years ago and is now a resident at The Village at Palmerton, an assisted living facility.
"It's my understanding his room there has a view of the mansion so he can keep an eye on it," Chies said.
A famed Palmerton landmark
The 3-acre property consists of the three-story, four bedroom, one-and-a-half bath Victorian home; a separate guesthouse with carport; and a detached one-car garage.
Locals and out-of-towners alike have long hoped to get a glimpse inside the mansion, but often their efforts have failed.
"When I was with the Palmerton Concourse Club, I had approached the owners of the house to see if we could make it part of the Christmas tour just because this is such a huge attraction," Chies said. "They respectfully declined."
Tales have been handed down several generations about the mansion being haunted.
"I was up here last weekend taking pictures, and when I put the camera down my shutter just kept flashing," Chies said. "I wasn't even touching the buttons. I just looked down and said 'come on, guys, knock it off.' Other than that, we haven't had any experiences like that."
Although it is for sale, the property is not going to become a spot for just anyone to tour.
"This will not be an open house venue," Chies said. "It will be qualified and restricted potential buyers only. We just can't have a lot of people coming through."
The guest home next to the mansion has not been checked for stability, and any potential buyer is likely going to have to sign waivers as it is in need of a total rehabilitation.
"I think it's very possible for someone with a vision," Chies said, "and probably a lot of cash to renovate it or restore it to what it was back in the day."