Lehighton business feeds grads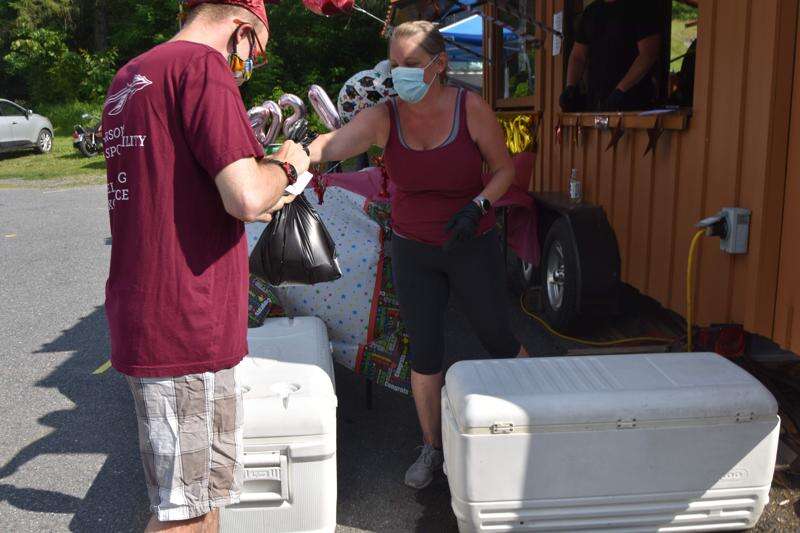 Published June 13. 2020 07:21AM
It's been said that food never tastes quite as good as when it's on the house.
Thanks to the generosity of a local business, Lehighton Area High School class of 2020 graduates were able to put that theory to the test on Wednesday.
Big Creek Bar-B-Q, located along Blakeslee Blvd Drive E. in Lehighton, served free meals to members of the recent graduating class during a four-hour span.
As part of their free meal, the graduates were able to choose one main, one side and one drink from the menu, according to owner Dan Graver.
"This menu was made specifically for them," Graver said. "It was to make things move a little bit faster."
The students - who graduated June 5 - were able to choose from a Pulled Pork sandwich, 50/50 sandwich, Beef Brisket sandwich, chicken drumsticks, and loaded cheesy seasoned potatoes (vegetarian option) as their main food. Side dish choices included Mom's Homemade Coleslaw, corn on the cob with butter, and herb roasted potatoes. Drink offerings included canned soda or bottled water.
Graduate Katie Aaron said she chose the 50/50 sandwich, herb roasted potatoes, and a root beer.
"I think it was nice that this area showed a lot of community support," Aaron said.
Fellow graduate Matthew Schaffer selected the Beef Brisket sandwich, coleslaw and a Sprite.
"I also feel kind of good about it," Schaffer said.
Graver explained why he chose to honor the graduating class.
"I just think it's absolutely horrible that they lost their senior year," he said. "My senior year was definitely one of the most amazing years of my life."
Graver said his heart also goes out to the businesses that weren't as fortunate as his during the coronavirus pandemic.
"I feel terrible for the people who were unfortunately affected," he said. "We've been doing exceptional."
Graver thanked those who have continued to support his business, especially during COVID-19.
"I sure appreciate my customers," he said. "If not for them, this would not have been possible."
Above all else, Graver explained his true wish for the class.
"I want them to get to back to a normal life," he said.