Over a dozen stage protest in Lansford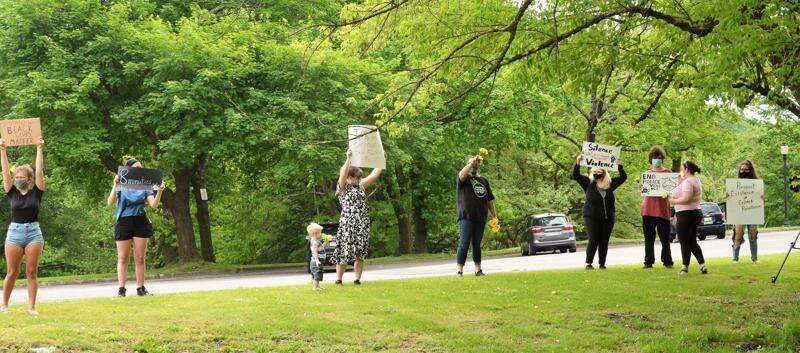 Published June 05. 2020 02:45PM
A protest was held in Lansford on Thursday afternoon over the death of George Floyd, who died while in police custody in Minneapolis on May 25.
More than a dozen people participated in the event, held in the parking lot of the closed Lansford swimming pool. The protesters stood in a grassy area at the edge of the lot, facing Route 209.
Many motorists honked horns, apparently in support of the protesters.
The rally was organized by Macy Bittner of Lansford, a Northampton Community College student.
Until now, most protests over Floyd's death have been occurring in major cities, although one was held along Route 443 in Lehighton for several days this week.
Bittner, who obtained a permit to hold the Lansford protest, said she made the decision on Tuesday afternoon to organize it.
"So many protests are going on in large cities and (local) people can't always go there," she said. "It was a ruthless murder that happened."
Floyd, who is black, died while in the custody of four police officers in Minneapolis. One of the police officers had a knee on the throat of Floyd for eight minutes and 46 seconds. At one point Floyd told police, "I can't breathe."
He had been apprehended by police after allegedly passing a fake $20 bill at a convenience store.
The officer who had Floyd pinned to the ground has been charged with second-degree murder. All four officers are facing charges, according to news reports.
"This country needs to know we support them and black lives do matter," she said. "There needs to be justice done."
Bittner said although the idea for the protest was solely hers, she received assistance from her mother, Christine Bittner, her sister Larissa Smith of Lansford, and her partner Luke Voyer of Reading.
All the participants in the protest were white. All wore masks as protocol due to the COVID-19 outbreak.
Victoria Veron of Lansford, a junior at Panther Valley High School, carried a sign which read "black lives matter."
She said she joined the protest because, "I don't think people should be judged on their skin color."
Some of the protesters wore yellow flowers in their hair.
Signs ranged from "God doesn't hate" to "End police violence."
Sarah Hill of Tamaqua displayed a sign which said, "The power of the people is stronger than the people in power."
She said her reason for participating is "the police brutality." She said, "I would like to see some new laws come into effect over this."
Hill said she doesn't feel all police officers resort to brutality, but she feels there are too many who do.
The protest in Lansford over Floyd's death occurred as a memorial service for him was being held in Minneapolis. The memorial service was broadcast live by the major TV networks.