From a Colt to a Viking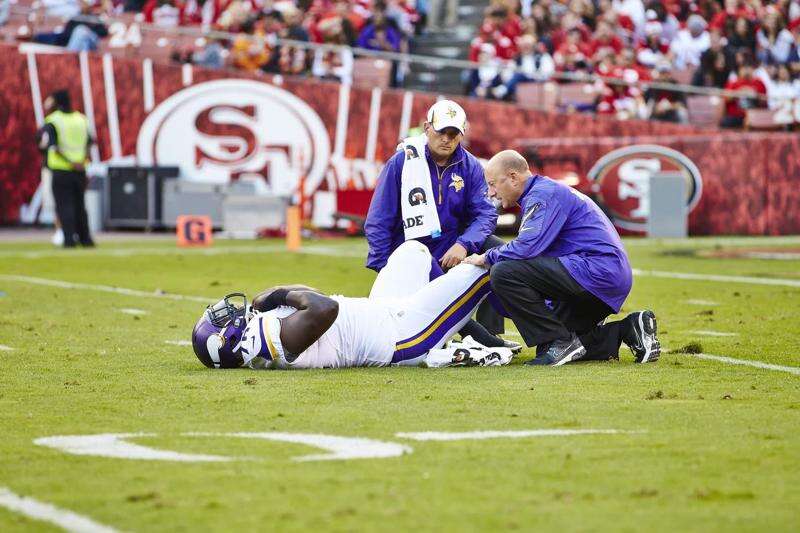 Published June 02. 2020 11:24AM
(EDITOR'S NOTE: This is the first in a two-part series on Minnesota Vikings Assistant Athletic Trainer Rob Roche. Roche, a Marian graduate, will be the featured guest on the Professional Football Athletic Trainers Society's Instagram Live Q&A session Tuesday, June 9 at 8 p.m.).
Football has given Rob Roche the chance to see the world.
But the Tamaqua native hasn't forgotten his roots.
Now an Assistant Athletic Trainer with the Minnesota Vikings, Roche has fond memories of the experiences that led him to an opportunity with the NFL franchise.
"There really wasn't anything else (I wanted to do) career-wise," said Roche. "I started when I was at Marian, and I was a student athletic trainer there for Coach (Stan) Dakosty. They were great there. They took care of me, and the booster club would send me to the summer athletic training courses, and I just thought it was a great mix of being able to do science, and being a part of athletics.
"I figured, well, if Marian High School has an athletic trainer, surely they have athletic trainers in professional sports. I thought it would be a great career choice."
Roche, who assists with the evaluation and care of all injuries sustained and helps implement proactive treatment and rehabilitation programs for Vikings' players, earned his bachelor's degree in health and physical education with an emphasis in athletic training from West Chester University in 1998. During his undergraduate tenure, he served an internship in athletic training at the school working with the football team.
After his graduation from West Chester, Roche went to the University of Illinois to earn his master's degree in kinesiology where he served as a teaching assistant in the kinesiology department and was a graduate assistant in the school's Rehabilitation Education Services. He earned his MS degree in 2000.
It was during that stint at Illinois when Roche's was first exposed to the NFL, working as a training camp intern for the Chicago Bears in 1998 and 1999.
"From there, I was really hooked on professional sports," said Roche.
Roche's experience in pro football continued in 2000 when he was an assistant with the Frankfurt Galaxy in NFL Europe and in 2001 with the World Bowl IX champion Berlin Thunder.
"I would say NFL Europe was a great breeding ground for young professionals, not only for the players, but for the staff," said Roche. "We had a lot of young equipment managers, video directors, PR people, athletic trainers, and even young coaches, that got to cut their teeth over there.
"I did two stints - one as an assistant and one as a head athletic trainer - and it wasn't a lot different than working with an NFL team. The fans were very passionate, especially the two places I worked in Frankfurt and Berlin. It was a lot of fun traveling to the different cities in Europe. We would fly in early, and sightsee as a team, and it was just a blast."
During his time with the Vikings, Roche returned to Europe twice when the team played games in London in 2013 and 2017.
"The fans are amazing, and the Vikings fans travel so well," said Roche, who completed his 14th season with the Vikings in 2019. "No matter where we go, there's always a sea of purple. And In London, there were just so many Vikings fans; they made us feel like we were at home."
That passion for the game is something Roche experienced well before working in professional football, however.
Roche's ties to the Coal Region run deep. His enthusiasm for the sport grew during his time with the Colts.
"I'm a 1994 Marian graduate, so I was really coming up in that golden age of Marian football. My freshman year, when I really started working with the football team, we won the state championship. It was a great experience.
"At the end of it, Coach Dakosty took care of me like I was one of the players, and at the end of that season, I received a medal, a plaque, a jacket, and all the championship swag. I remember Coach (Charles) Connelly handing it to me at the banquet and he said, 'So, are you going to come back next year?' And I said, 'Of course! This is amazing."
Roche was captivated by the camaraderie and the competition, setting the wheels in motion for what was to come.
"Coach Dakosty has been a mentor for me and a big part of my career. It really started because of him," said Roche. "We've been in contact, and we talk a couple times a year. He's really supported me in my professional career, and because of that, I try to give back. I'll try to send the school some extra supplies that we have, I'll try to call him and give him some tips, some advice, whether it's on recovery or sports medicine; I'll let him know what we're doing at the NFL level that can trickle down that he can use.
"This week, I'm actually going to get on a Zoom call with the team and talk to them a little bit. He's been having a lot of alumni get on calls with them to give advice and inspiration, especially with the tough times right now. And when Coach (Pat) Morgans was there, I was very supportive of him and when he got the job, I called him and told him to let me know if he needed anything. He did a great job.
"It's fun to see Coach Dakosty come back. Hopefully they'll do well. You always want to see Marian football at the top."
Coming Thursday: In part 2 of the feature, Roche will talk about his experiences in the NFL