Brodheadsville family starts campaign to make cards for Meals on Wheels recipients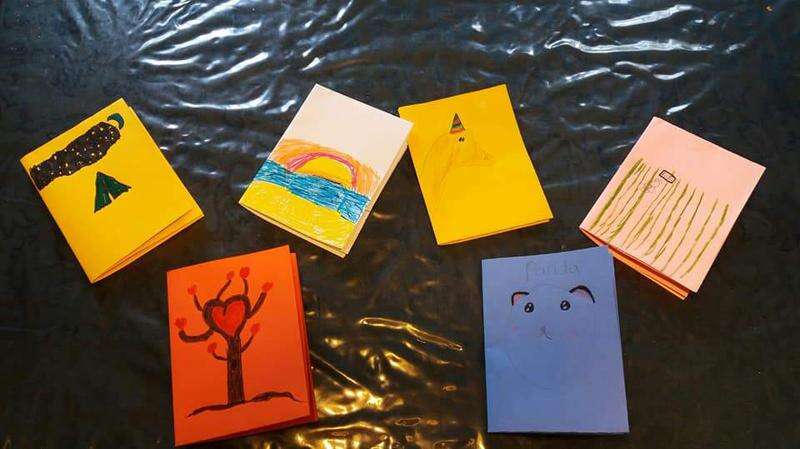 Published May 29. 2020 01:03PM
by Kristine Porter kporter@tnonline.com
A few weeks ago, it occurred to 12-year-old Michael Tuin, of Brodheadsville, that people who get meals from Meals on Wheels are probably pretty lonely right now.
The sixth-grade student at Pleasant Valley Intermediate School remembered how much his grandmother, who receives the meals, enjoys her conversations with her Meals on Wheels visitor. Now with the need for social distancing, the meals still come, but the conversations are gone.
"Those Meals on Wheels meals were more than just a meal," said Michael's mother, Kim Tuin. "It was the company of the people who came to bring the food."
Tuin's grandmother is fine, but Michael wanted to do something for those who are lonely.
"They're people out there that don't have anyone," he said.
That's when he came up with the idea to make uplifting cards and letters with messages inside them. These cards would accompany the meals, "so they know people care about them," he said.
Michael got his 8-year-old sister, Lauren, to help, too. but he didn't stop there. No, he asked his Boy Scout Troop 98 to make cards and write letters, as well as his sister's Little Flowers group at Our Lady Queen of Peace in Brodheadsville.
"I wanted other kids to feel good that they are helping people in need," he said. "It felt good, because I knew it would go to somebody who would probably enjoy it."
Kim Tuin also reached out to her peers, a couple mothers' groups in which she is a member.
"It's so important to give when you can," she said. "This just makes everybody feel connected."
Children from at least 22 families have joined the Tuins, but they would love to have even more families get involved. So far, they have created more than 250 cards and letters.
Kim said the cards are easy to make, just take some construction paper, crayons, markers and any craft decoration item available at home and decorate the cards.
If the children are having a tough time coming up with something to make, she suggests a picture of a spring day, the beach, hearts, handprints or someone helping someone else. Also include only the child's first name and first initial of his or her last name. The age can be included, too.
"It will surely brighten their day," she said.
Once the cards are done, they can be mailed to Stacey Koeck, the coordinator of Special Events and the Pet Program for the Meals on Wheels Monroe County, or they can be scanned into a computer and emailed to her at skoeck@monroemeals.org.
The mailing address is Monroe County Meals on Wheels, Attn: Stacey (Boy Scout Michael T. Project) 901 Polk Valley Road, Stroudsburg, PA 18360.
"One small act of kindness can be a ripple effect and bring enormous amounts of joy," she said.
Kim Tuin also said she is proud of her son for coming up with the idea, but not surprised he would.
"I think is just a part of who he is," she said. "It's the thing I hear the most from people about him - his kindness and his helpfulness."