Foundation foots cost of groceries during shopping hour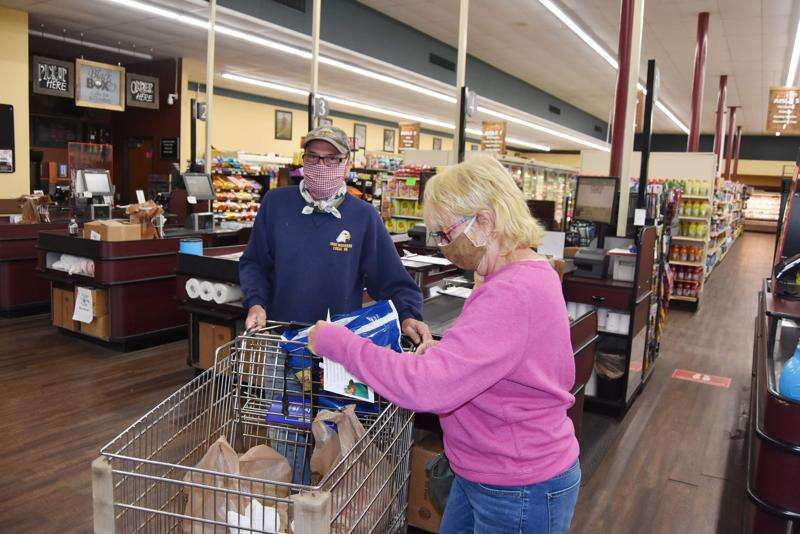 Published May 20. 2020 02:45PM
Roxanne Christman entered Country Harvest Family Market in Palmerton early Tuesday morning to do her shopping as she has since the coronavirus pandemic.
A short while later, Christman left the store feeling as if she had just won the lottery after she was told her grocery bill - which came to around $60 - was on the house.
The Carbon County Community Foundation surprised customers by footing the cost of their groceries during the special shopping hour for seniors and immunocompromised.
"I was in shock," Christman said after she received a note from her checkout clerk. "I gave her the card, and she said, 'No, you don't need it.'?"
Christman, of Palmerton, said she thought at first that she may have misheard the clerk.
"It's just wonderful with the times we're having," she said. "It's a feeling like you won the lottery."
Emily Bradbury of Palmerton was also surprised by the unexpected gesture.
"I'm amazed, thrilled; I got a good amount of stuff," Bradbury said. "It was even better when I realized; it's unbelievable, really impressive, generous."
Donny Smith of Palmerton said he's appreciative of the good deed, especially in this time of the COVID-19 crisis.
"Shocking," Smith said. "It's time for us to be good to each other."
Larry and Pat Nothstein of Palmerton were also grateful for the experience.
"It was very nice, very appreciated, and surprised," Pat said.
During the morning hour reserved for senior citizens and immunocompromised people, customers who shopped at Country Harvest had their bills paid, thanks to the COVID-19 Community Response Fund at Carbon County Community Foundation.
More than 100 customers were in the store during that first hour, as cashiers rang up more than $1,500 in complimentary sales, according to Sharon Alexander, CCCF President.
Alexander said that Country Harvest Family Market also provided a discount for each customer in order to stretch funds a little further.
"Through conversations with our partner nonprofit organizations, we know that many residents in the Carbon County region are struggling as a result of the COVID-19 pandemic," Alexander said. "Food pantries in particular are seeing an increased need for their services as more and more face unemployment."
Store co-owner Chris Anthony, who along with his wife, Sheri Anthony, are founding members of the CCCF, said the business was glad to participate in the endeavor.
"It's kind of a way to pay it forward," Anthony said. "Not everybody needs the help, but there might be some people that do."
As they checked out, customers received a slip of paper that said, "The Carbon County Community Foundation is pleased to cover the cost of your groceries this morning as part of its COVID-19 Emergency Response Efforts.
The foundation
The foundation's focus is to improve the quality of life for Carbon County residents, and we hope we have helped to brighten your day today."
The slip also urged the shoppers, if they're able, to join the CCCF in helping their neighbors.
"Through the generous support of our funders, the Carbon County Community Foundation is dedicated to improving the quality of life for those in our area," Alexander said. "We are glad to have been able to provide a nice surprise for shoppers at Country Harvest this morning, and plan to continue helping our neighbors as much as we can through the end of this pandemic and beyond."
Alexander said last month, the foundation partnered with the Greater Lehigh Valley COVID-19 Community Response Fund to issue $27,000 in emergency funding to nine nonprofit agencies providing safety-net services, like shelter and food access, to the residents of Carbon County. These grants were made as part of a larger distribution to nonprofit agencies also serving residents of Lehigh and Northampton counties, she said.
In addition, as the only approved Educational Improvement Tax Credit organization in Carbon County, the Foundation is seeking innovative education programs, especially those that are virtual or remote, to support area students. Funding is available for programs that can help address the summer slide, the time when students lose some of the achievement gains made during the previous school year, which will have an even greater impact this year after the months that schools were already closed due to the pandemic.
Organizations in need of assistance, either through EITC or the COVID-19 Response Fund, can should contact the Carbon County Community Foundation at 855-545-1311
The Carbon County Community Foundation was formed in 2015 with the mission to improve the quality of life for residents of the Carbon County region, now and forever.
Learn more about CCCF at cccfoundpa.org or by calling 1-855-545-1311.