Tamaqua dig unearths early ash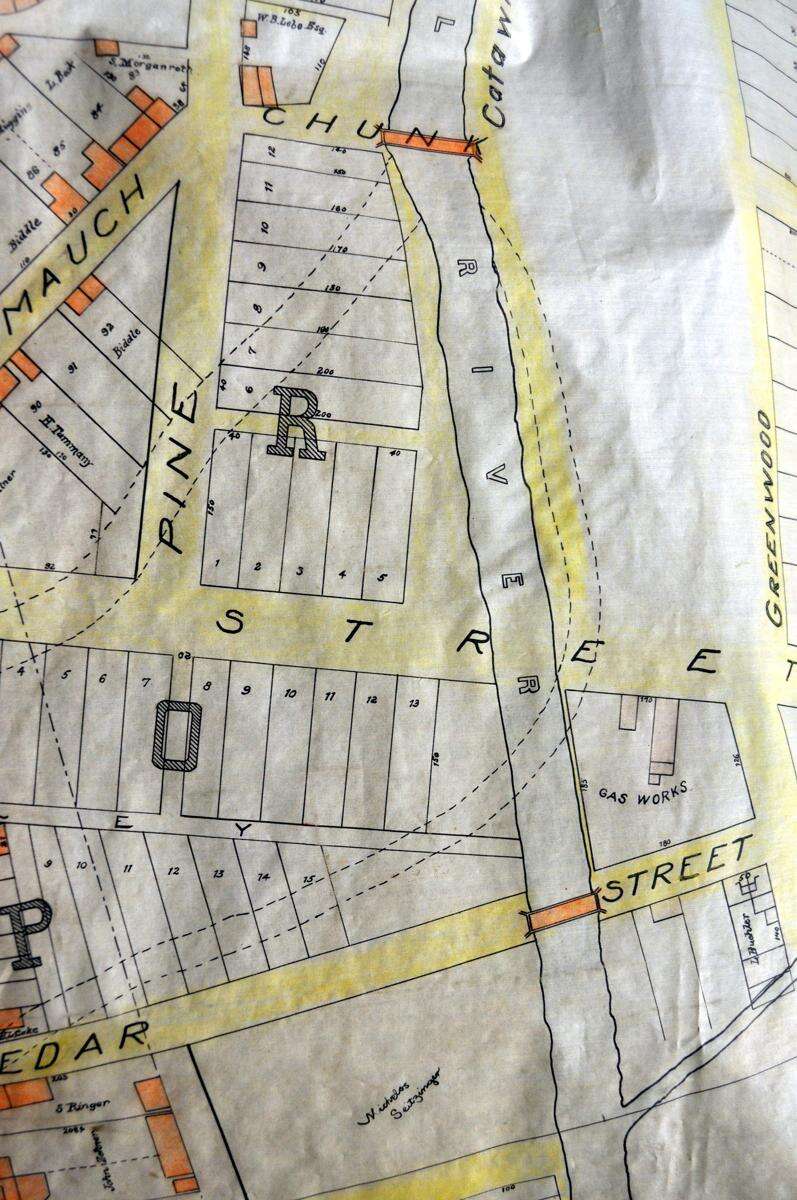 Published May 14. 2020 02:45PM
Ashes found while digging beneath a Tamaqua street might be a throwback to a river diversion project dating back to the earliest days of the town.
On Monday, workers from the borough street department began excavation on Water Street to replace approximately 75 feet of retaining wall that was in poor condition and had partially collapsed, according to an advisory issued by Rob Jones, public works director.
The project has uncovered a large area where ash fill had been used, a reminder of a major land moving operation dating back to the town's early history.
The area is located in the general vicinity where, in the early 1800s, the Little Schuylkill River, then called the Tamaqua River, was diverted, according to early documents.
An 1858 map of Tamaqua illustrates where the river's course was changed just south of the East Mauch Chunk Street Bridge, which was then a covered bridge.
The river originally split into two smaller waterways at that location.
One tributary crossed diagonally through the first block of Pine Street. The channel then crossed beneath the area now occupied by the former Moose building, flowing diagonally across the first block of East Broad Street and crossing Center Street just below the site of today's M&T Bank building at the Five Points.
The other tributary flowed beneath the area of the Amandus Lutz house on Cedar Street, a Victorian home located directly across from today's Boyer's Market. That channel then flowed toward Center Street, crossing at the site of today's Burger King before reaching confluence with the other branch where the railroad tracks are located.
Interestingly, both tributaries would have bisected the Wabash Creek in the area to the rear of today's Fegley's Mini Market.
Historians believe the separate waterways of the Tamaqua River were combined into one channel in a move by the Little Schuylkill Coal and Navigation Railroad to claim valuable land for the rail line.
The date of the river diversion project is unclear. It might have been done as early as 1826 when construction of a canal was attempted and failed.
On April 23, 1829, a charter was granted to develop a 20-mile railroad between Tamaqua and Port Clinton. The horse-drawn railroad opened on Nov. 18, 1831, with two coaches built by Richard Imaly, Baltimore, Maryland. The feat allowed coal to reach the Schuylkill Canal and ultimately, the Philadelphia market.
Historical accounts say the grand opening drew cheering Tamaqua miners.