Marian sophomore uses 3D printer to help health care workers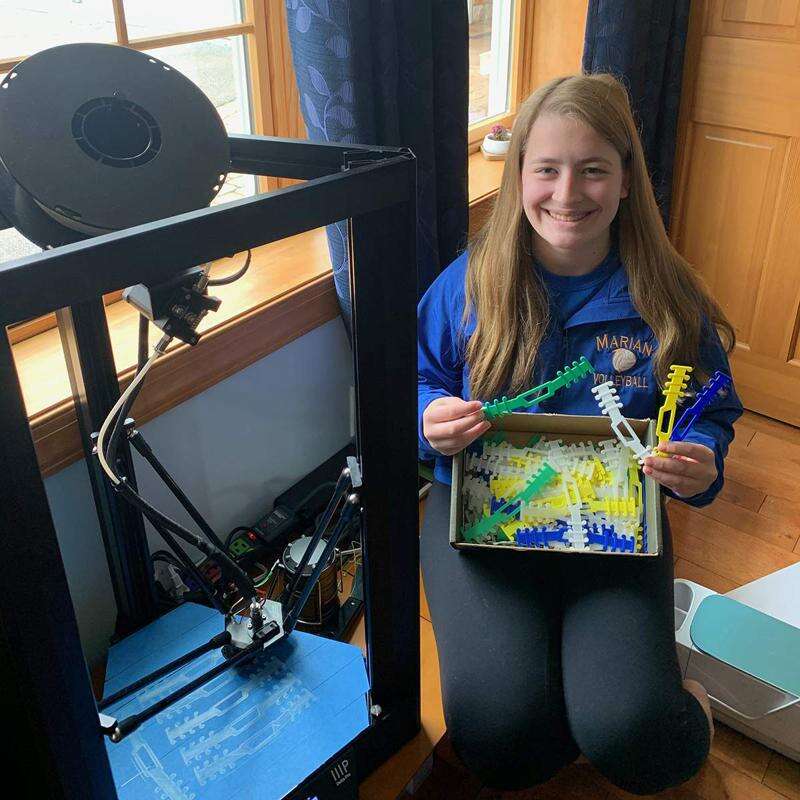 Published April 28. 2020 02:45PM
by Amy Miller amiller@tnonline.com
A Marian Catholic sophomore is answering the call to help those at the front lines stay safe during the COVID-19 pandemic.
Lauren Reaman, who has an interest in STEM activities, recently collaborated with St. Luke's physician Joanne Calabrese on a project to provide health care staff who are in direct contact with those who have been diagnosed with COVID-19.
"I wanted to do this for the health care workers because they are doing so much to protect and help all of the sick people," the 16-year-old said. "This is such a big crisis, and to just provide a little comfort for all those giving so much is important to me."
The initiative first began with a conversation between Calabrese and Reaman.
"When I saw online topics related to health care and 3D printing I would send them to Lauren to help pique interest," Calabrese said, noting that she met the teen a few months earlier and knew she had an interest in both the medical field and 3D printing. "When (the) coronavirus struck, there were several articles regarding the 3D mask project through St. Luke's and then the mask straps, which I forwarded for her to read."
Reaman said Calabrese explained that the medical safety masks hospital staff are required to wear daily were irritating their ears.
After that conversation, Reaman jumped into action, asking the Tamaqua-area doctor how she could help.
The high school student then went to work and found a design that she could use on the 3D printer that she has in her home.
"She worked long hours and selflessly," Calabrese said.
Reaman has printed over 200 of the mask extenders that link mask cords comfortably on the back of the head instead of around the person's ears and said she continues to make approximately 18 a day, which will be distributed to health care workers.
She also recently delivered the first batch of 91 connectors to the St. Luke's Tamaqua Medical Center for distribution at the Miners Campus in Coaldale.
"I would like to thank all of the workers on the front lines who are working so hard to help all those who are getting sick and all who continue to put themselves at risk to help others," Reaman said.
"When I first met Lauren, I was struck by her innovation and curiosity," Calabrese said. "She brought a renewed sense of hope and excitement to me for the future, and now I know her future is so bright. I was the messenger of sorts (but the) full credit goes to Lauren for her generous spirit and heart."
Marian Catholic officials recently said in a press release, "Marian Catholic is proud of Lauren Reaman for applying her STEM knowledge - along with her Catholic faith - to help our real-life heroes, our medical and health care providers. Great job."